Report On Business® Roundup: June Manufacturing PMI®
July 01, 2022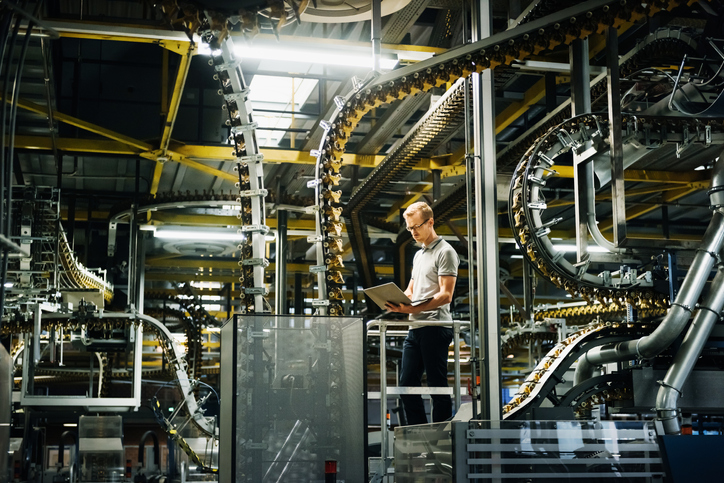 In an economic environment in which seemingly every piece of sobering data is kindling to fuel concerns of a recession, the release of the Manufacturing ISM® Report On Business® on Friday did little to extinguish the flames.
The Manufacturing PMI® was 53 percent in June, the lowest reading in two years, as the New Orders Index fell into contraction territory, and the Employment Index stayed there. Stock market gains were wiped out after the 10 a.m. ET release of the data, with the S&P 500 falling 46 points, though it later rebounded above Thursday's closing figure.
Heads up @TheBondFreak @AtlantaFed GDPNow model for Q2 likely to show further contraction after today's ISM data. May construction spending & June ISM manufacturing, both inputs to model, weakened from prior reports.

On Thursday model revised to -1.0% from 0.3%, July 2020 low. https://t.co/RXfuxpw9Ui pic.twitter.com/hlb3YFp6D1

— Danielle DiMartino Booth (@DiMartinoBooth) July 1, 2022
While there are numbers in the report that one could use to light a recession siren, the overall data does not suggest such a switch should be flipped, said Timothy R. Fiore, CPSM, C.P.M., Chair of the Institute for Supply Management® Manufacturing Business Survey Committee. A key reason, he told reporters on a conference call, is employment: While the index registered 47.3 percent — a second straight month in contraction — companies are overwhelmingly trying to hire, which belies fears of a looming economic slowdown.
"There's no indication on the manufacturing side that a recession is looming," Fiore said, echoing his comments on Bloomberg TV earlier on Friday. "(Business Survey Committee respondents) are continuing to hire at similar rates as in previous months, but they are still struggling to get people on the factory floor. If there were worries, you'd see comments about hiring freezes because of uncertainty about interest rates or fuel costs. They wouldn't be hiring at the rate that they are."
The New Orders Index reading of 49.2 percent ended a 24-month stay in expansion territory, and it's a sign of softening demand. However, Fiore said that is likely a product of companies dipping more into current inventories — still healthy from pandemic-fueled buying sprees — as they try to wait out high prices and long lead times.
At 78.5 percent in June, the Prices Index fell below 80 for the first time in four months, indicating a trickle of relief that felt like a flood to many beleaguered buyers, as "only" 65.2 percent of respondents reported paying more for raw materials in June, 8.3 percent said they paid less. Still, Fiore said, purchasing patience was prevalent, especially with lead times at all-time highs in two — Capital Expenditures (186 days) and Production Materials (100 days) — of the three categories ISM has tracked since 1987.
The first comment in the ISM manufacturing report sums it up:

"Backlog is high, but incoming orders slowing this month."

— ForexLive (@ForexLive) July 1, 2022
"The new orders level was a bit of a disappointment," Fiore said, "but I think panelists' companies and other customers over-ordered and are still in the adjustment process." He added that if lead times come down while new order levels stay low, that will raise concerns about demand: "That would be the real indication here that we have a true softening that significant enough to really talk about," he said.
U.S. manufacturing companies are not getting much help from international partners, Fiore said. The New Export Orders Index decreased 2.2 percentage points to 50.7 percent, as COVID-19 restrictions in China and the war in Ukraine have impacted demand. Though the Imports Index returned to expansion, the reading of 50.7 percent was not strong, with ports congestion a factor. "It's not about demand as much as lack of ability to get products to their end locations," Fiore said.
The Report On Business® roundup:
Bloomberg: U.S. Manufacturing Growth Weakens to Two-Year Low as Orders Slump. "Stocks erased gains after the release, while Treasuries extended their advance and the dollar strengthened. The results are consistent with several regional Federal Reserve bank surveys that show a clear pullback in June factory activity. Gauges of manufacturing in Texas and in the Fed districts of Philadelphia and Richmond dropped to the lowest levels since May 2020."
US ISM manufacturing index 53.0 vs 54.6 forecast. #DowJones and #SP500 down around 1.24% after positive opening. US 2-year yields have completely erased the post-CPI move. #Gold bounced back 1% despite the rise of the #Dollar breaking a recent resistance level at 105.50.

— ADSS (@adssgroup) July 1, 2022
Logistics Management: June Manufacturing Output Falls With Growth Still Intact. "On the employment front, Fiore said that manufacturers would not be hiring people if they were concerned about laying them off in September or even January, adding that by continuing to hire, the manufacturing community is saying that whatever is happening on the new orders and demand side is not viewed as pertinent to the near future over the next six to 12 months."
Mace News: U.S. June ISM Manufacturing Growth Slowest in Two Years on Softer New Orders. "Fiore (said) manufacturers continued to hire in June at similar rates as seen in the previous two months. … China has eased COVID-19 lockdowns, but U.S. firms are still concerned about their ability to import products as port disruptions linger, he said."
MarketWatch: Manufacturers Grow at Slowest Pace in Two Years, ISM Finds, But Inflation Pressures Also Ease. "Manufacturers are still operating at high capacity, but business is not growing quite as rapidly as it was last year. New orders contracted in June for the first time in two years. Ongoing shortages of supplies and labor are part of the problem, but customers have also scaled back their orders because of high prices, long lead times and excess inventory. It's another sign the U.S. economy is slowing."
Significant US #manufacturing slowdowns shown by both major soft data private sector surveys for June, but industry overall is still in growth mode. A big exception: contracting new orders: https://t.co/HlYN8HG5xf & https://t.co/GcISzxvwyH #ISM #mfg #economy #PMI #recession?

— (((Alan Tonelson))) (@AlanTonelson) July 1, 2022
Reuters: U.S. Factory Activity Slows to Two-Year Low in June. "Slow orders growth was a recurrent theme among most businesses, with only a few, including transportation equipment manufacturers and electrical equipment, appliances and components makers, saying demand remained strong, the ISM survey showed. … Still, manufacturers have plenty of work on hand to keep factories humming. Backlog orders continued to accumulate at a steady pace in June."
The Wall Street Journal: Stocks Retreat After Worst Start to Year in Decades. "Markets swung lower after the Institute for Supply Management's report on U.S. factories showed that manufacturing activity decelerated in June. Data released this week showed U.S. household spending slowed in May. 'We can see the foundations are being set for a recession,' said Seema Shah, chief strategist at Principal Global Investors. She expects to see a recession at the start of next year if the labor market, which she said remains strong, weakens."
ISM's Services PMI® will be unveiled on Wednesday, and the Hospital PMI® on Thursday. For the most up-to-date content on the reports under the ISM® Report On Business® umbrella, use #ISMPMI on Twitter.
(Photo credit: Getty Images/Tom Werner)