Report On Business® Roundup: June Services PMI®
July 06, 2022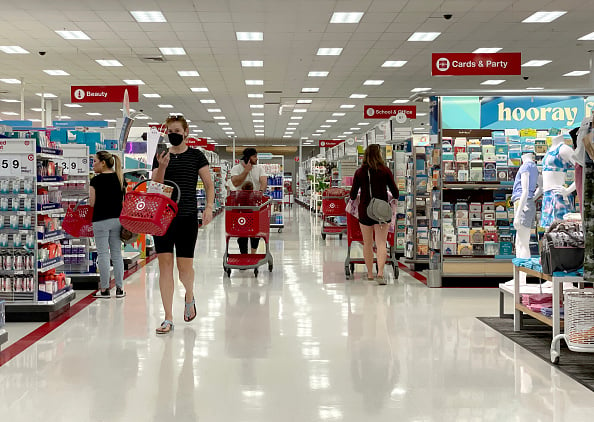 Few recent releases of the ISM® Report On Business® have elicited as much of a mixed bag of reaction as the Services PMI® data on Wednesday.
The composite index reading of 55.3 percent in June exceeded analysts' expectations and indicated a services sector that has been resilient in the face of continuing employment constraints and supply chain snarls. However, that was also the lowest Services PMI® in two years, which raised the antennae of those worried about a potential economic slowdown.
ISM Services a real mixed bag. Most of the forward-looking indicators are pretty good, but employment is pretty weak. Not sure how to square that with the beat in JOLTS openings. My instinct remains that companies may be starting to choose to live w/ the staffing they have.

— Tom Graff🇺🇦 (@tdgraff) July 6, 2022
With investors on the hunt for recession red flags, the Dow Jones Industrial Index slipped 100 points on Wednesday morning. Much focus was on the June Employment Index reading of 47.4 percent, which continued a Services yo-yo between expansion and contraction. With the Manufacturing Employment Index figure also below 50, some analysts classified the combined ISM data a harbinger for the federal jobs report that will be released on Friday.
Anthony Nieves, CPSM, C.P.M., A.P.P., CFPM, Chair of the Institute for Supply Management® Services Business Survey Committee, noted in a conference call of reporters on Wednesday that all 18 industries reported growth in June. He added that the data and survey respondents' comments suggest continuing slow growth — but not contraction.
"The sentiment from respondents echoes that of previous months and our Semiannual Economic Forecast (released in May) that this growth might not be as strong as what we've had in the past, but demand is still there despite inflation remaining high," Nieves said.
However, demand is not as strong in some industries, Nieves said, adding that the Services subindex numbers were impacted in June by high prices, long lead times and rising interest rates. While the Business Activity Index increased 1.6 percentage points to 56.1 percent, the New Orders Index decreased 2 points to a still-robust 55.6 percent.
June ISM Services 55.3 vs. 54 est. & 55.9 in prior month; new orders dipped to 55.6, supplier deliveries edged up to 61.9, and backlogs spiked to 60.5; prices paid eased to 80.1 … unfortunately, employment fell back into contraction and is at lowest since July 2020 pic.twitter.com/0tKnN3gRua

— Liz Ann Sonders (@LizAnnSonders) July 6, 2022
Nieves said the new orders pullback is due in part to companies slowing down after bulk buying during the pandemic; this dynamic was evident in the glut of goods available at retailers. Well-stocked back rooms and product markdowns at many stores were not indicative of the entire services sector, as the Inventories Index fell into contraction in June at 47.5 percent. The new orders decrease was a factor, Nieves said.
"(Companies are) still not able to replenish inventories fast enough," he said. "In the past, with (factory and port) closures overseas — especially in China due to COVID-19 cases — orders were increased, sometimes doubled or tripled to try to keep up with the demand. Many of those orders still haven't been received or are in transit, so they've cut back on replacing some of that inventory. … This goes hand in hand with what we're seeing at some companies on the retail side, where inflation has impacted (consumer) demand."
The Prices Index was 80.1 percent in June, a 2-percentage point decrease compared to the previous month. A Business Survey Committee respondent in Public Administration wrote, "It seems like everyone is jumping on the bandwagon (of) raising prices under the guise of inflation, cost of energy and shortages. Costs on even software renewals have gone up between 5 and 10 percent. This is getting out of control, and we need to be diligent in researching the cause of rising prices on every transaction."
Also, the impact of interest-rate increases was likely felt in June: Business activity was flat for Real Estate, Rental & Leasing (RER&L), the sector's biggest industry, contributing 14.2 percent of services gross domestic product. New orders contracted for Construction, and RER&L reported lower inventories and inventory sentiment.
Fewer job openings reported in professional and business services as well as manufacturing. Both ISM manufacturing and services surveys indicate labor shortages continue to be a prevailing factor.

— Mark Hamrick (@hamrickisms) July 6, 2022
Perhaps the most critical inventory shortage, however, continues to be of labor. The ISM Employment Index data reflected the frustrations of survey respondents, who overwhelmingly state their companies want to hire but struggle to find qualified workers. That is consistent with the federal Job Openings and Labor Turnover Survey (JOLTS) for May released on Wednesday, which revealed far more job openings than people looking for work.
"(Respondents) are saying the situation is mostly due to a restricted labor pool," Nieves said. "That's creating difficulty in back filling open positions as well as finding new hires. There have been some layoffs, but that's isolated to companies and specific industries. Overall, companies are still contending with a lack of availability in the labor pool."
The Report On Business® roundup:
Bloomberg: U.S. Services Gauge Slips to Lowest Level in More Than Two Years. "While ISM's index of new orders dropped two points, a measure of business activity — which parallels ISM's gauge of factory production — strengthened. That suggests demand growth remains firm, albeit more moderate than late last year. The overall index has declined in six of the last seven months amid decades-high inflation and is down over 13 points from a series peak in November."
"Softening, but could have been worse" @IanShepherdson on ISM Services Survey #PantheonMacro

— Pantheon Macro (@PantheonMacro) July 6, 2022
Dow Jones Newswires: U.S. Services Activity Unexpectedly Held Up in June. "(T)he reading came in above the 54.0 consensus forecast that economists expected in a poll by The Wall Street Journal. The inventories index also fell to contraction, signaling firms' difficulties to replenish inventories. However, the business activity index increased to 56.1 from 54.5, the data showed. Other indicators suggested little improvement in supply-chain pressures."
Mace News: Service Sector Growth Continues but Slowest in 2 Years Amid Labor Shortages, Supply Delays, Inflation. "(A)ll 18 industries still reported growth in June, Nieves told reporters. Rising inflation dented demand in the retail sector, he noted. … The real-estate, rental and leasing sector, a large contributor to services output in the GDP, has also seen demand pull back slightly because there is not enough inventory online, Nieves said."
MarketWatch: U.S. Businesses Grow at Slowest Pace in Two Years, ISM Shows, as Economy Softens. "The economy is decelerating because of high inflation, as the ISM surveys found. The Federal Reserve is trying to tame the surge in prices by raising interest rates. A higher cost of borrowing usually slows the economy by making it more expensive to buy a house or a car or take out a business loan. The more aggressive Fed strategy has also raised worries the central bank could drive the economy into recession. But for now, both ISM surveys indicate demand is still fairly strong and the economy is fairly stable."
US services-sector growth continues to slow, but the deceleration is gradual and doesn't appear set to go negative in the near term, based on the ISM Services PMI through June. The data suggests the odds still look low that the US is now in recession or a recession is imminent: pic.twitter.com/MhKZ8fc1bV

— James Picerno (@jpicerno) July 6, 2022
Reuters: U.S. Service Sector Index at Two-Year Low, Employment Shrinks. "The sector is being underpinned by a rotation in spending back to services from goods. The moderation in growth is in line with recent data showing rising interest rates cooling demand. Consumer spending rose modestly in May, while housing starts, building permits and factory output softened. ISM reported last Friday that its (Manufacturing PMI®) hit a two-year low in June."
In case you missed Friday's Report On Business® Roundup on the release of the June Manufacturing PMI®, you can read it here. The Hospital PMI® will be released on Thursday. For the most up-to-date content on the three indexes under the ISM® Report On Business® umbrella, use #ISMPMI on Twitter.
(Photo credit: Getty Images/Justin Sullivan)