Report On Business® Roundup: April Hospital PMI®
May 06, 2022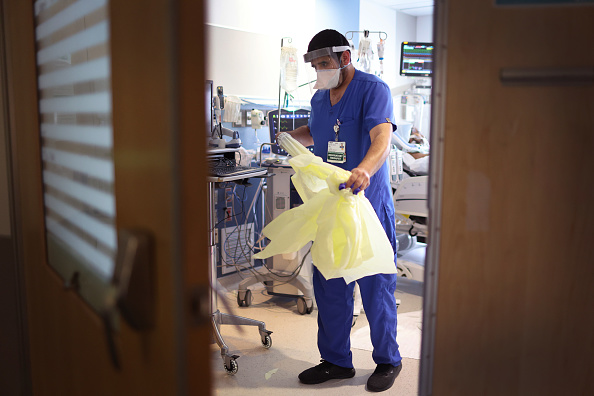 Institute for Supply Management®'s monthly manufacturing and services reports have been around for long enough that a "sweet spot" — a range that would define ideal business conditions — exists for the composite PMI® and many of the subindexes.
No such zone exists for the Hospital ISM® Report On Business®, not only due to its still-nascent status, but also because that 18-month public existence has been during a once-in-a-century pandemic that has stretched and stressed the U.S. health-care sector. "And to say that COVID-19 is behind us is overly optimistic," Nancy LeMaster, MBA, Chair of the ISM Hospital Business Survey Committee, told a conference call of reporters on Friday.
She continued, "I think we're in a good spot and are moving toward finding out what the 'normal' in this industry would be. But we're not there yet." Until then, the Hospital PMI® numbers will be crunched through a month-by-month lens, and the data for April was encouraging — facilities had another rebound from pandemic challenges, though COVID-19 remained an imposing presence.
The composite PMI® registered 56.3 percent, a gain of 5.9 percentage points compared to March, with sizeable boosts in the Business Activity and New Orders indexes as facilities, with fewer COVID-19 patients, switched to elective procedures. (Success in this transition was largely predicated on labor resources, and the Employment Index provided little encouraging news; more on that in a moment.)
Hospital @ISM® Report On Business®: While the #COVID19 patient census was lower in April, such nagging pandemic issues as #employment (which fell into contraction) and supply shortages remained. The Hospital PMI® was 56.3%. https://t.co/JbemXwue4Z #ISMPMI #economy #healthcare

— Institute for Supply Management (@ism) May 6, 2022
According to U.S. Centers for Disease Control (CDC) data, the COVID-19 omicron BA.2 subvariant has fueled a 139-percent month-over month increase in the seven-day rolling daily reported cases average, to 61,712 on Tuesday. In the same period, average daily new hospital admissions was up at a far slower rate — 54 percent, to 2,219.
That trend is consistent with the Case Mix Index increasing 4 percentage points in April, though it remained in contraction at 47 percent. LeMaster said that suggests a thinning out of COVID-19 patents, with elective procedures only starting to be scheduled; the index should return to expansion as more such surgeries and treatments are provided.
However, hospitals and other health-care facilities need staff, but the Employment Index decreased 4.5 percentage points in April to fall into contraction — a disappointment, LeMaster said. In recent months, some facilities had recruitment success through incentives, and workers generally expressed comfort with returning to a hospital environment. "I thought the index would at least hold the line, but it may fluctuate for a while longer," she said.
LeMaster cited a Business Survey Committee respondent comment that, for nonclinical employees that can't work remotely, including food service and janitorial personnel, wages have not kept up with inflation: "If there are no good public transportation options, rising gas prices eat into those wage increases," she said. "So, those workers can end up seeking options closer to where they live."
In its monthly report of Friday, the U.S. Bureau of Labor Statistics reported a health-care employment increase of 34,000 in April, although it remains 250,000 jobs below its February 2020 level — one of the largest deficits among business sectors. (Some of the jobs counted in the federal jobs report are outside the ambulatory, inpatient and nursing home-type facilities covered by the Hospital ISM® Report On Business®.)
.@ISM Hospital PMI® survey respondent: "Many #healthcare facilities can't simply pass higher costs along to customers due to reimbursement limitations by the government and payers. This #inflation will take time to pass along." https://t.co/1fbvQgiJ1Y #ISMPMI #economy #healthcare

— Dan Zeiger (@ZeigerDan) May 6, 2022
In other subindex news:
The Inventories Index increased 10 percentage points in April to return to expansion, as many facilities felt the need to boost stocks due to lead-time uncertainties. However, shortages remained for such items as IV solutions, lab supplies and resin based products, and some facilities were burning through personal protective equipment (PPE) inventories before their expiration dates.
The Touchless Orders Index reflected facilities' frustration in procuring some supplies, with fewer fully automated transactions: The index fell 4.5 percentage points and into contraction, at 47 percent in April.
The Technology Spend Index indicated slower growth, down 3 percentage points in April, to 53 percent. Such capital investments could be challenged if hospitals continue to face higher prices for supplies and labor.
The Prices: Pharmaceuticals Index remained comfortably above 50 percent in April, and it has been in "increasing" territory for each of the 49 months of Hospital PMI® data collection. That streak might not end soon, LeMaster suggested: "Every January and July, (pharmaceutical companies) raise their prices. It's just a question of magnitude."
In case you missed the Report On Business® Roundup on the release of the April Manufacturing PMI®, you can read it here. The Roundup on the release of the Services PMI® can be read here. For the most up-to-date content on the three indexes in the ISM® Report On Business® family, use #ISMPMI on Twitter.
(Photo credit: Getty Images/Scott Olson)