Report On Business® Roundup: March Hospital PMI®
April 07, 2022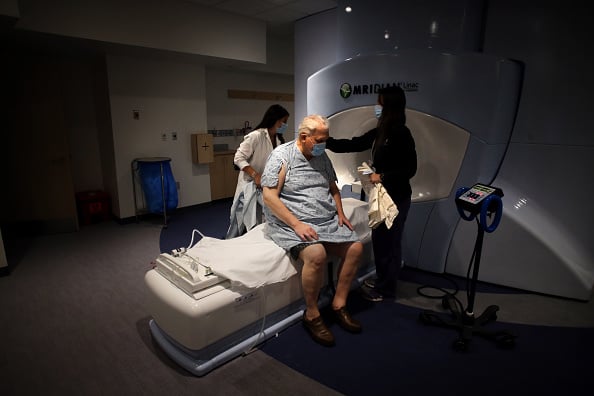 Many of the monthly economic indicators released over the last week — including the Manufacturing and Services ISM® Report On Business® — had the same theme: The country's business and economic communities are cautiously optimistic that recent positive trends won't be derailed by another coronavirus surge.
On that note, it's appropriate that perhaps the last word comes from the economic subsector on the pandemic's front lines. And much of the Hospital ISM® Report On Business® data in March suggested a COVID-19 corner had been turned. That was partly a product of the fewer positive cases that came through the doors of health-care facilities, but survey respondents' optimism was also evident, said Nancy LeMaster, MBA, Chair of the Institute for Supply Management® Hospital Business Survey Committee.
The Hospital PMI® decreased 6.5 percentage points to 50.4 percent, thanks to declines in the Business Activity (which fell into contraction territory) and New Orders indexes. As this space has discussed before, in the health-care sector, high levels of business activity are not always a good thing, and in March, it reflected a decreased number of COVID-19 patients while hospitals began a slower-than-expected transition to elective procedures.
Hospital @ISM® Report On Business®: A pullback in business activity and new orders, as well as a Case Mix Index shift, indicate a loosening of #COVID19's grip. The Hospital PMI® was 50.4% in March, down 6.5 percentage points. https://t.co/wSx29YZEuY #ISMPMI #economy #healthcare

— Institute for Supply Management (@ism) April 7, 2022
"It's cautious optimism, because if anybody has felt the brunt of the waves of COVID-19 variants, it's been health-care professionals," LeMaster told a conference call of reporters on Thursday. "I would expect to see (patient) volume numbers come back." She added, "It's not like flipping a switch from COVID-19 patients to elective care. There are staff and other elements that need to be (transitioned)."
The Business Activity Index was last in contraction in May 2020, when hospitals cleared their elective patient loads to brace for the initial deluge of coronavirus cases. In March, the Case Mix Index, which measures the Medicare/Medicaid mix of patients, fell 12.5 percentage points to 43 percent, was another indicator of a loosening COVID-19 grip.
The biggest impediment to a smooth transition for health-care facilities is the continuing shortage of labor. The Employment Index decreased only slightly and remained in expansion territory in March, but Business Survey Committee respondents still noted inadequate staffing levels and difficulty filling open positions. "Lower levels of new orders and business activity doesn't mean hospitals were empty. … They're still struggling with labor," said LeMaster, who added that a survey respondent noted that military clinicians were needed on-site to help with patient care.
Perhaps the biggest sign of facilities' optimism: The Technology Spend Index increased 2.5 percentage points to 56 percent, its highest level since June 2021 (57.5 percent). That suggests hospitals aren't hesitant to make such capital investments.
"There is some confidence in spite of other cost pressures," LeMaster said. "They're still investing in their businesses and looking at getting the technologies they need." (The New Orders, Business Activity and Employment indexes directly factor into the Hospital PMI®; the Case Mix and Technology Spend indexes do not.)
.@ISM Hospital PMI® survey respondent: "We are utilizing our stockpiled supply of personal protective equipment, expecting that #PPE use requirements will lessen due to the decline in community #COVID19 transmissions." https://t.co/8U2ho5mdr3 #ISMPMI #economy #healthcare

— Dan Zeiger (@ZeigerDan) April 7, 2022
In other news, dwindling federal COVID-19 funding has eliminated free testing and treatment for the uninsured in many areas, and little to no relief is expected in the stripped-down package that appears to be in Congressional purgatory. LeMaster said that could put pressure on hospitals' margins, making a swift return of elective procedures even more of an imperative.
Inflation should not be a reason for consumer hesitancy to seek care, at least not in the short term, LeMaster said: Facilities' ability to change prices is limited because managed-care and Medicare rates are generally fixed, per contract terms. The Prices, Prices: Supplies and Prices: Pharmaceuticals indexes stayed in strong increasing territory, but all three were lower compared to February.
"In March, there was a pretty significant drop in volume but some improvement in our supply chain measurements," LeMaster said. "In the end, everybody is holding their breath to see what happens with elective procedures coming back. The wild card remains labor and if hospitals can get enough people on staff to meet the demand."
In case you missed the Report On Business® Roundup on the release of the March Manufacturing PMI®, you can read it here. The Roundup on the release of the Services PMI® can be read here. For the most up-to-date content on the three indexes in the ISM® Report On Business® family, use #ISMPMI on Twitter.
(Photo credit: Getty Images/Craig F. Walker/The Boston Globe)