Report On Business® Roundup: December Hospital PMI®
January 07, 2022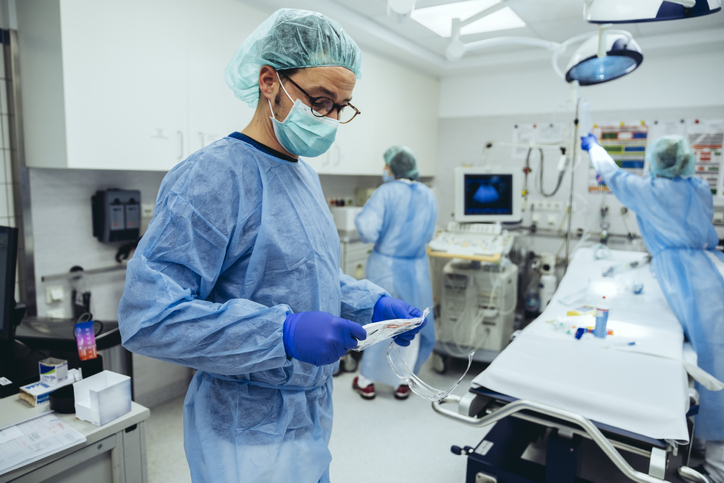 The Manufacturing and Services ISM® Report On Business® releases earlier this week had a parallel theme — much of the December data was compiled before the degree of the coronavirus omicron variant's spread was fully evident, so both sectors began the new year bracing for impact.
That was, not surprisingly, not so for the report that covers the U.S. economic subsector that has been on the front lines of the pandemic. The Hospital ISM® Report On Business® revealed that omicron had begun walloping health-care facilities, filling emergency rooms and intensive-care units (ICUs), straining labor resources and putting critical medications and other products in short supply.
A rough start to 2022 with a Hospital #PMI of 63.8% more at https://t.co/plBIAlxAD8

— Kristina Cahill (@KristinaMCahill) January 7, 2022
And, as with previous COVID-19 surges, the situation will get worse before it gets better, Nancy LeMaster, MBA, Chair of the Institute for Supply Management® Hospital Business Survey Committee, told a conference call of reporters on Friday. "Our hospitals are full of very sick people," she said. "I don't think there's much of a silver lining to look for in the short term. It's a very (challenging) start to 2022."
The Hospital PMI® was 63.8 percent in December, fueled by a Business Activity Index that was at its highest point in 2021. As this space has explained often, increased business activity in the health-care sector is not always a good thing, particularly when it's in the form of COVID-19 hospitalizations, which are soon projected to reach a single-day high in the U.S.
The Case Mix Index, which measures the shift Medicare/Medicaid patients and can also be described as "how sick a hospital's census is," was 59 percent in December, a 2021 high. And the Backlog of Orders Index increased 3.5 percentage points to its highest reading since April 2020, indicating more delays in elective procedures.
While hospitals have gotten more astute at balancing coronavirus patients and elective care, LeMaster said she expects more facilities to significantly curtail the latter in January, mostly due to staffing concerns. "Elective procedures will likely be ratcheted back because many of the nurses will have to be moved to acute-care areas," she said. "There are still labor shortages and burnout, so there's a lot of pressure on hospital staffs."
.@ISM Hospital PMI® survey respondents: "Back orders and supply disruptions have been a challenge, especially in last half of 2021." Also: "Delivery issues continue, and #omicron slowing return to business as usual." https://t.co/a8XfQXwhdz #ISMPMI #economy #healthcare #COVID19

— Institute for Supply Management (@ism) January 7, 2022
Though the Prices and Supplier Deliveries index declined in December, suggesting some easing of supply chain issues, sourcing of medication and equipment remains a challenge — even without omicron, as hospitals were scrambling for supplies in anticipation of another winter COVID-19 surge. LeMaster said that for many facilities, the main issue is not product shortages but substitutions: "There were a lot of (Business Survey Committee) respondents commenting about how they've always bought Brand A but getting Brand B — which is better than nothing at all."
In other subindex news:
The Employment Index rose 7 percentage points but remained in contraction; in its monthly jobs report on Friday, the U.S. Bureau of Labor Statistics indicated "little or no change" in health-care employment.
The Days Payable Outstanding Index was unchanged at 47.5 percent; the reading in contraction territory suggests facilities paid suppliers faster, which LeMaster said is typical as invoices are settled before the end of the calendar year.
Omicron did not significantly curtail hospitals' technology investments in December. The Technology Spend Index was down just 0.5 percentage point, to 52 percent.
While 2022 brought new COVID-19 clouds for the manufacturing and services sectors, health-care facilities were already working to weather the storm, and the forecast for January remains uncertain. "It's a very challenging situation for hospitals in terms of the supply chain — which is obviously a key part in taking care of patients," LeMaster said.
In case you missed the Report On Business® Roundup from last week on the release of the December Manufacturing PMI®, you can read it here. The Roundup on the release of the Services PMI® can be read here. For the most up-to-date content on the three indexes in the ISM® Report On Business® family, use #ISMPMI on Twitter.
(Photo credit: Getty Images/WestEnd61)