The Monthly Metric: Active Suppliers Accounting for 80% of Sourceable Spend
December 20, 2021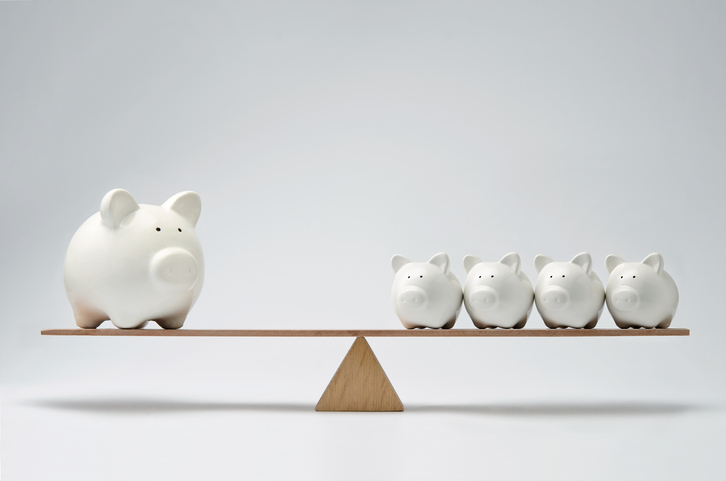 The Monthly Metric began in 2017, so it's inevitable that this space would get around to revisiting analytics covered before — which seems appropriate amid the coronavirus pandemic, changing many dynamics of supply management, including how performance is measured.
We last focused on suppliers accounting for 80 percent of total spend in January 2018, before the global trade war caused procurement organizations to consider alternate sources of supply. A pandemic? That was science fiction for many executives and practitioners.
With COVID-19 necessitating further reflection on the ideal supplier base size, Jim Fleming, CPSM, CPSD, Manager, Product Development and Innovation at Institute for Supply Management® (ISM®), was invited back to discuss how much the metric has changed, if at all. A look at The Metrics of Supply Management (Cross-Industry) Report by CAPS Research, the Tempe, Arizona-based program in strategic partnership with ISM and Arizona State University, indicates little movement on the data.
In the most recent report, released in October, percentage of active suppliers accounting for 80 percent of sourceable spend is slightly higher (7.4 percent) than in 2018 (5.3 percent), but perhaps not as big of a difference as one might expect in the era of COVID-19.
"As much as we would have liked to say we wanted to shift reliance from international locations and become a little bit more resilient by finding more regionalized suppliers, COVID-19 gave us two crises: the inability to make things, then the inability to ship them," Fleming says. "So, the bandwidth we had to find other suppliers became devoted to getting products no matter where we can find them. You may have had only one source able to get things out of the door. So, instead of a double-digit increase, it went up only 2.1 percent."
That assessment is validated by survey results and ISM® Report On Business® data that indicates that many supply managers prioritized building inventories from reliable suppliers over finding alternate sources. And even those that wanted to build their supply bases were reminded that process does not happen overnight. Still, Fleming says, it's a metric to watch in the next year or two, especially if figure increases.
Meaning of the Metric
As this space elucidated in 2018, the percentage indicates how well a procurement organization's resources are being leveraged, especially in an era of lower supply management head counts within companies (more on that in a moment). A high percentage suggests a fragmented and less-manageable supply base, while a lower figure indicates more control and reliance on trusted suppliers — but could also signal that a procurement team is failing to generate competition.
The Pareto principle (or 80/20 rule) is often associated with this metric, meaning that an ideal benchmark is 20 percent of suppliers accounting for 80 percent of spend. Today, as in 2018, Fleming says that notion is oversimplified and overstated. Three years ago, he believed a share of 7-8 percent was ideal; it's possible the pandemic has increased the recommended figure to slightly more than 10 percent.
"Organizations will have to test the waters on this," Fleming says. "It's a newer strategy for supply chains. There may be pitfalls to getting too many suppliers, and there are other unknown variables. It will be one of the questions we ask as we determine what strategic looks like in the future. We thought we knew what it looked like a few years ago."
In addition to the ideal percentage, Fleming says, procurement organizations will be asking questions about how suppliers will be evaluated, on-boarded and managed if supply management workforces are shrinking. This year, the CAPS Research Cross-Industry Report found the percentage of supply management full-time employees (FTEs) among all company FTEs down slightly from the 1.7 percent reported in 2018.
"If you start looking at too many suppliers with a reduced head count, you will be more dependent on technology or alternative ways of managing that degree of complexity," he says. "That will be a balancing act. It should be one of the factors that plays into how many more suppliers you look at: How can you resource adding and managing them?"
Alternate Sourcing Easier Said Than Done
Some procurement organizations have strived to build their supply base, but the process takes time. As The Monthly Metric discussed in March, the time to on-board a new supplier can take up to six months at many companies, even as some tried to streamline the process during the pandemic. The semiconductor shortage has facilitated discussion on breaking Taiwan's grip on the global market, but building a chip factory — or fob — takes years and millions of dollars.
Also, Fleming says, "Just because you want to get another supplier doesn't mean that there is one." A survey by McKinsey & Company in May 2020 revealed that 53 percent of supply chain executives planned to dual source, and 40 percent expected to nearshore and increase their supplier bases. A 2021 follow-up survey found that a majority (55 percent) have dual sourced, but an even greater emphasis has been placed on building inventories.
"People are looking for stability in the supply chain and not finding it," Fleming says, so in many ways, procurement organizations are sticking with what they know. In recent months, all three editions of the ISM® Report On Business® — Manufacturing, Services and Hospital — have chronicled supply executives' pursuit of building stocks to "sleep better at night."
While sentiment to reduce manufacturing and sourcing reliance on Asia and build supplier bases is clear, significant action by companies has yet to be captured by data. As a result, an increase in the share of active suppliers accounting for 80 percent of sourceable spend could indicate that companies are finding alternate sources.
"I think organizations have found that regional suppliers don't exist in the quantities they need right now, or they can't deliver the same quality, capacity, cost or infrastructure (as current suppliers)," Fleming says. "It may be two or three years down the road for them to grow that capability. So, a shift may come, but it will probably take a little longer to get there."
Have a Metric Christmas!
As has become custom around the holidays, The Monthly Metric cherishes its most valuable KPI: the level of insight from the subject matter experts we speak with from month to month. Much thanks to Fleming and this year's other contributors:
Lisa M. Ellram, Ph.D., MBA, C.P.M., Rees Distinguished professor of supply chain management at Miami University in Oxford, Ohio
Nancy LeMaster, MBA, Chair of the Institute for Supply Management® Hospital Business Survey Committee
Brian Peters, senior director of procurement at Gilead Sciences, a biopharmaceutical company based in Foster City, California
Tracey Smith, MBA, MAS, CPSM, president of Numerical Insights LLC, a boutique analytics firm in Charlotte, North Carolina
Geoff Zwemke, Director of Product at CAPS Research, the Tempe, Arizona-based organization in strategic partnership with ISM and Arizona State University.
In January, this space enters its sixth year. The Monthly Metric wouldn't have lasted this long without our guest experts' wisdom and readers' support. Happy holidays!
To suggest a metric to be covered in the future, email me at dzeiger@ismworld.org.
(Image credit: Getty Images/Pogonici)