Report On Business® Roundup: November Hospital PMI®
December 07, 2021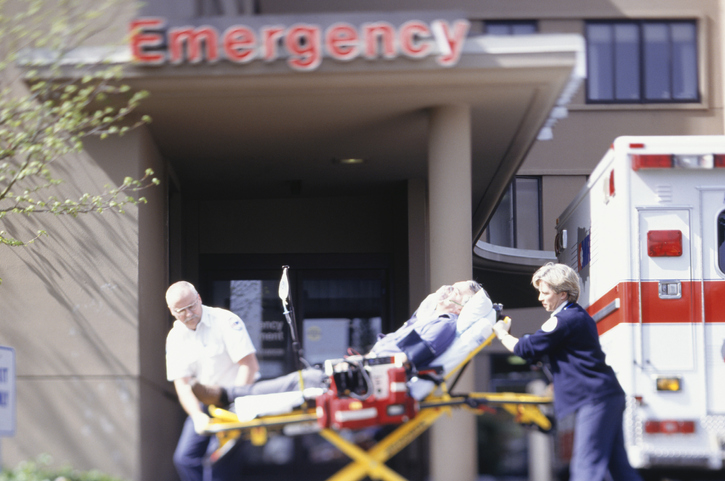 As policymakers and health-care professionals have braced for the impact of the emerging COVID-19 omicron variant, early indications are that it could be more transmissible, but less deadly, than previous coronavirus strains.
If such projections hold, that will elicit a sigh of relief, but among the U.S. hospital subsector and its workers, little is expected to change. With the pandemic entering its third year, the Hospital ISM® Report On Business® continues to reveal that facilities are dealing with the same dynamics since the virus hit American shores.
The Hospital PMI®, released on Tuesday, registered 64.5 percent, its highest level since July 2020 (68.9 percent), with the "growth volume (subindexes) the highest they've been all year," Nancy LeMaster, MBA, Chair of the Institute for Supply Management® Hospital Business Survey Committee, told a conference call of reporters. However, elevated Business Activity and New Orders indexes are not always a good thing, as — unlike in manufacturing and services — volume does not guarantee profits in the hospital subsector.
"The patient mix and the type of patient play a huge factor," LeMaster said. "With employee labor costs going up and now supply chain cost going up, there's a lot of pressure on health care, in terms of the margins for those hospitals. … Regionally, the U.S. is experiencing very different levels of the coronavirus."
As #healthcare facilities and workers braced for #OmicronVariant, the Hospital @ISM® Report On Business® found increased business activity and new orders in November, but #employment issues continued. The Hospital PMI® was 64.5%. https://t.co/WSfaca7Cbh #ISMPMI #economy #COVID19

— Institute for Supply Management (@ism) December 7, 2021
Some regions of the country continue to have emergency rooms and intensive care units overflowing with COVID-19 patients, amid hospitals still struggling with staffing. As a result, the states in which National Guard units were deployed to augment treatment in November included Minnesota, New Mexico, New York and Tennessee.
On Monday, the seven-day rolling average of coronavirus cases in the U.S. was 119,751, a 50.9-percent month-over-month increase, according to data compiled by The New York Times. On December 6, 2020, that number was 197,090, on its way up to a seven-day rolling average winter peak of 251,232 on January 11, before vaccines were readily available.
Even if omicron is less severe, its still likely means an influx of patients for facilities already hit hard by the delta variant. With (1) the availability of vaccines and boosters and (2) hospitals balancing COVID-19 patients and elective procedures better, this winter's surge should be more manageable than last year's, LeMaster said. However, as manufacturing and services businesses have accepted the coronavirus as a way of life, perhaps indefinitely, it's especially true for health-care facilities.
"I don't think we'll see in most cases a total shutdown of electives like we've had before, but due to capacity issues, it may happen in certain locations," said LeMaster, who added she is hopeful that antiviral drugs can soon enable at-home COVID-19 treatment, curbing hospitalizations. "It's too early to say anything about omicron, but every time we get hopeful that this virus is winding down another variant or another unknown comes.
"We're going to have to learn to live with it, just like we're having to learn to live with caring for patients with fewer staff members."
What did living with it look like in November? There were two other factors in the volume increase, LeMaster said: Patients scheduling elective procedures by the end of the calendar year for insurance purposes, and the seasonal flu. The Backlog of Orders Index increased 1.5 percentage points and remained in strong expansion, reflecting heavy elective procedure scheduling.
Amid this activity, facilities still lacked labor resources, the Employment Index increased just 0.5 percentage point and remained in strong contraction territory. "There's a lot of concern about how long hospitals can staff and manage these high volumes without being able to tap into more employees," LeMaster said.
In its monthly report last week, the U.S. Bureau of Labor Statistics reported a negligible (2,000 jobs) increase in health-care employment in November, although it remains 450,000 jobs below its February 2020 level — one of the largest deficits among business sectors. (Some of the jobs counted in the federal jobs report are outside the ambulatory, inpatient and nursing home-type facilities covered by the Hospital ISM Report On Business®.)
Hospitals boosted inventories in November, as they bought more (from wherever it could be procured) and paid more. The Inventories Index increased 6.5 percentage points to land in strong expansion territory, and the Prices Index sprung 10.5 points to land comfortably above 70 percent, driven mostly by personal protective equipment (PPE) and other supplies. And the Imports Index elevated 13.5 percentage points to move into expansion.
.@ISM Hospital PMI® survey respondent: "The #healthcare #supplychain is still challenged with the excessive delays and back orders from medical device manufacturers." https://t.co/Ts550VIJnP https://t.co/NhdGMILFH5 #ISMPMI #economy #COVID19

— Dan Zeiger (@ZeigerDan) December 7, 2021
While health-care price levels are traditionally drive by pharmaceuticals, the Prices: Supplies Index indicated a stronger growth rate in November, increasing 7.5 percentage points to its highest level since October 2020. "There's some fear buying and a little bit of hoarding going on because (facilities) know they're not seeing a letdown of COVID-19 while getting high demand for electives," LeMaster said, "and we don't know what the flu season is going to bring. So, some stocking up is going on."
Shortages and back orders remain prevalent, as evidenced by the Touchless Orders Index, which measures facilities' ability to work with suppliers to automatically refill inventories without manual intervention. In November, the index fell into contraction, at 49.5 percent. The Supplier Deliveries Index was down 1 percentage point from its all-time high in October; as with ISM's Manufacturing and Services reports, this index is inversed, meaning a higher reading indicates slower deliveries.
"We've got a better balance of patients, which is good for the hospitals," LeMaster said. "But the demand is still high. We'll see what the December data brings, but I don't see anything that indicates it's going to back off."
In case you missed the Report On Business® Roundup from last week on the release of the November Manufacturing PMI®, you can read it here. The Roundup on the release of the Services PMI® can be read here. Also, ISM's Fall 2021 Semiannual Economic Forecast for the manufacturing and services sectors will be released on Monday.
For the most up-to-date content on the three indexes in the ISM® Report On Business® family, use #ISMPMI on Twitter.
(Photo credit: Getty Images/Keith Brofsky)