Report On Business® Roundup: November Manufacturing PMI®
December 01, 2021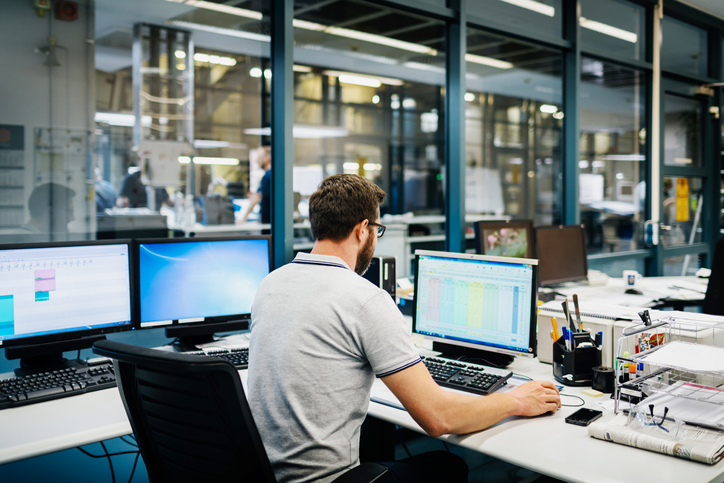 The Manufacturing ISM® Report On Business® for November provided more evidence that the subindex data can tell as compelling — if not more so — of a story than the headline composite number.
The numbers that, directly or indirectly, calculated a Manufacturing PMI® of 61.1 percent revealed continuing elevated activity by U.S. factories despite sustained challenges. The subindexes measuring constraints in customers' inventories and supplier deliveries did so with authority, but those gauging output remained positive, including the New Orders and Production indexes both registering a healthy 61.5 percent.
That production kept up with new orders was indicated by the Backlog of Orders Index increasing at a slower rate, down 1.7 percentage points to 61.9 percent. Those data dynamics suggest that manufacturers are managing demand and supply chains could be unclogging — a fortuitously timed development, as the holiday peak season enters overdrive.
It looks like inventories are keeping up with new orders - a good sign that supply chain issues are easing. #ISM #manufacturing pic.twitter.com/9fLmFvB9ER

— Kathy Jones (@KathyJones) December 1, 2021
"November's consumption output (measured in production and employment) gaining strength offset by the input side (reflected in supplier deliveries, inventories and imports) relaxing is a good sign that the manufacturing economy could be reaching equilibrium," Timothy R. Fiore, CPSM, C.P.M., Chair of the Institute for Supply Management® Manufacturing Business Survey Committee, told a conference call of reporters on Wednesday. "Demand remains at high levels, which is also a positive."
Among the 10 Manufacturing PMI® subindexes, it's hard to find one that did not move in an encouraging direction in November.
The Employment Index increased to 53.3 percent, its highest reading since April (55.1 percent) and consistent with a private-payrolls report by ADP and Moody's Analytics that exceeded expectations — 534,000 jobs were added in November, including 50,000 in manufacturing. Recent Employment Index numbers and Business Survey Committee respondents' comments indicate a "positive trend, not overwhelming," Fiore told Bloomberg TV on Wednesday, noting that much work remains to adequately staff factories and supply chains.
The Supplier Deliveries Index decreased 3.4 percentage points to a still lofty 72.2 percent, but lead times for production materials (96 days) remained at all-time high, while those for capital expenditures (160 days) were at their longest since April 1989. Fiore, however, said there are signs the supply chain snarls could be at a peak.
The Prices Index was down 3.3 percentage points to 82.4 percent — a positive direction, but a reading that will still "reinforce concerns about inflation at the Federal Reserve," Robert A. Dye, Ph.D., chief economist at Comerica Bank in Dallas, wrote in a memo to clients and investors. Fiore said that, as ocean shipping remains a traffic jam, more expensive air freight has contributed to higher costs, though many — not all — companies have been successful in passing them on to customers.
The numbers crunching for November generated what Fiore called a "high quality" composite PMI®, indicating a confluence of positive subindex developments as opposed to readings earlier in the coronavirus pandemic that, for example, were heavily influenced by new orders and production resuming after factory shutdowns or a high Supplier Deliveries number.
The sample comments once again noted supply chain disruptions, shortages of key inputs and soaring costs. Indices for the backlog of orders, supplier delivery times and customers' inventories were consistent with still-significant supply chain problems in the sector.

— Chad Moutray (@chadmoutray) December 1, 2021
"I think we had a fundamental shift that I hope continues in December and into the new year," Fiore said. "New orders are at a good number, backlogs are high and customers' inventories are low. There's output growth, maybe at the expense of supplier deliveries and inventories, which could be a good thing for sustainable performance."
He added, "I really like the PMI® number this month. We had easing on inputs with corresponding gains in consumption, which is a perfect situation."
The Report On Business® roundup:
Associated Press: U.S. Manufacturing Activity Continues Growth in November. "Businesses are also struggling to keep their inventories stocked due to elevated demand. ISM's Customer's Inventories Index registered a reading of 25.1 (percent) in November, the 62nd straight month that it's been what is considered too low. While it's not good for stores to have sparse or empty shelves, it will likely spur more production ahead to remedy that situation, the ISM report said."
Barron's: The U.S. Manufacturing Economy Hums Along. Profit Margins Are Holding Up. "The (New Orders Index), which is a read on future demand, came in at 61.5 (percent), up from 59.8 in October. That's another solid reading for investors to digest. Overall, the report is good news for industrial stocks, although industrial stocks typically only react significantly when the PMI® report is a big surprise. The November number isn't a big surprise. It's the continuation of a positive trend."
Stronger ISM Manufacturing in November at 61.1 vs. 61.2 est. & 60.8 in prior month; new orders rebounded and prices paid eased from 85.7 to 82.4; production at 7m high and, importantly, employment component rose to 7m high pic.twitter.com/pOCHYCjYlp

— Liz Ann Sonders (@LizAnnSonders) December 1, 2021
Bloomberg: U.S. Manufacturing Gauge Reverses Decline in Broad-Based Gain. The ISM figures are consistent with separate data showing firmer manufacturing results in Europe and China. Despite improvements last month at euro-area and Chinese factories, input shortages, high prices and supply-chain woes remain headwinds for producers. The (Employment Index) also rose to a seven-month high, suggesting the pace of factory hiring picked up last month."
MarketWatch: Supply Chain Woes Could be Easing, ISM Factory Data Suggest. "Manufacturers — indeed most companies — are in an odd spot. They have plenty of demand from customers for new cars, appliances, computers and the like. Yet businesses can't make enough products owing to a major shortages of labor and supplies. These bottlenecks have forced companies to pay more and contributed to the biggest surge in U.S. inflation in 31 years."
US ISM'S FIORE Q&A: COMPLAINTS RE SEMICONDUCTOR SHORTAGES REDUCED; REALLY CRIPPLED IN SUMMER BY SOUTHEAST ASIA COVID; HAVE TO SEE WHAT OMICRON DOES #Fiore #ISM #manufacturing

— Mace News (@MaceNewsMacro) December 1, 2021
Reuters: U.S. Manufacturing Sector Picks Up in November. "Global economies' simultaneous recovery from the COVID-19 pandemic, fueled by trillions of dollars in relief money from governments, has strained supply chains, leaving factories waiting longer to receive raw materials. … The long delivery times kept inflation at the factory gate bubbling. The (Prices Index) fell to a still-high 82.4 (percent) from a reading of 85.7 in October."
The Wall Street Journal: Manufacturers' Reprieve Could Be Ruined by Omicron — or Not. "It was the details of the report that were the most interesting, and the most encouraging. Indexes of production, orders and employment growth all picked up, suggesting the year will close out on a strong note. Better still, an index of supplier delivery times, while still elevated, fell from its October level. … (T)he decline in the index suggests that just maybe supply-chain problems are easing."
ISM's Services PMI® will be unveiled on Friday, and the Hospital PMI® on Tuesday. Also, ISM's Fall 2021 Semiannual Economic Forecast for the manufacturing and services sectors will be released on December 13. For the most up-to-date content on the reports under the ISM® Report On Business® umbrella, use #ISMPMI on Twitter.
(Photo credit: Getty Images/Tom Werner)