Report On Business® Roundup: August Services PMI®
September 03, 2021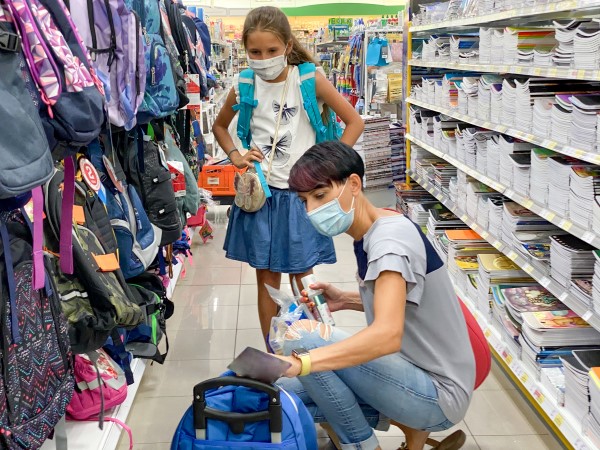 In August, the ISM® Report On Business® data indicated that COVID-19 could be a fact of life for the U.S. manufacturing sector — an "obstacle" to be worked through indefinitely, if not permanently. For the services sector that employs an overwhelming majority of Americans for generally customer-facing work, the pandemic has been an even more imposing hurdle.
Still, as factories have, services businesses have managed solid expansion since withstanding the initial coronavirus storm in spring 2020. In recent months, that growth has been at record levels, as evident by the Services PMI® in August registering a healthy 61.7 percent, but down 2.4 percentage points from July's all-time high.
ECONOMY WATCH: ISM services survey slips to 61.7% in August from record 64.1% in July. Still extremely strong, though, and doesn't jibe with August jobs report showing ZERO job gains in leisure and hospitality. Delta dinged the economy, but I doubt as much as jobs report showed.

— Jeffry Bartash (@jbartash) September 3, 2021
"The composite index has been setting records, so it's inevitably going to come down," Anthony Nieves, CPSM, C.P.M., A.P.P., CFPM, Chair of the Institute for Supply Management® Services Business Survey Committee, told a conference call of reporters on Friday. "But the number shows good growth, even as I expected a little more of a pullback. But (the sector) is still going strong."
The day's highest-profile economic news was a federal jobs report that was considered a disappointment. The U.S. Bureau of Labor Statistics announced earlier on Friday that just 235,000 nonfarm positions were added in August, less than half of economists' expectations, with a flat number in leisure and hospitality one of the most eye-popping details.
Last month, the record July Services PMI® number helped reinvigorate markets after the release of employment data. There was some relief after the release of Friday's Report On Business® data; the Dow Jones Industrial Average rebounded after a jobs report-fueled drop, but it remained below Thursday's close in afternoon trading.
"Remember that our last look (in July) was the all-time high, and it had a huge impact on juice in stocks," CNBC analyst Rick Santelli said. "We've moved down just a bit. Believe me, 61.7 is awfully lofty in and of itself, considering that the services sector is the biggest swath of the economy. Just for some perspective, in February 2020, before (COVID-19) hit, this number was at 56.7 (percent)."
The Employment Index held steady in August, dropping just 0.1 percentage point to 53.7 percent, though — and it's gotten to the point where hiring managers around the country can say this together — filling open positions remains a formidable undertaking. "There is a shortage of available workers, which is challenging our business operations," wrote a Business Survey Committee respondent in Agriculture, Forestry, Fishing & Hunting, one of four industries that reported an employment reduction in August.
US ISM'S NIEVES Q&A: SOME PEOPLE 'AFRAID OF GOING BACK TO WORK;' BUT DEMAND NOT DROPPING GAUGED BY FOOT-TRAFFIC; 'BIG STRAIN' ON RESTAURANT STAFFING, CAPACITY; Q&A ENDED. #Nieves #ISM #services #economy

— Mace News (@MaceNewsMacro) September 3, 2021
The situation is no more evident than in Accommodation & Food Services. There was little anecdotal evidence in the respondents' comments that COVID-19 is restricting operations, but Nieves said that many restaurants still have limited seating not due to public-health protocols, but because they lack the employees to service a full dining room.
As the readings for the Business Activity (60.1 percent) and New Orders (63.2 percent) indicate, demand remains strong. However, satisfying those customers with limited manpower is a pandemic way of life for services businesses that, at this point, has no end in sight.
"We had all of that pent-up demand, and after the initial rush, there seems to be a lot of catching up," Nieves said. "Demand is still very strong, and we see (the impact) with many customer-facing businesses, where they can't even staff enough to handle the customer volumes coming in. Restaurants are feeling it, and in retail, shops are closing early because they can't manage all the shifts."
Has #inflation peaked? For buyers, a combined 13.2-percentage point dip in #ISMPMI Manufacturing and Services Prices Index in August is welcome news. Services fell 6.9 points to 75.4%, though lumber was the only commodity listed as down in price. https://t.co/O2vZiMNLqz #economy

— Dan Zeiger (@ZeigerDan) September 3, 2021
The Report On Business® roundup:
Associated Press: Growth in Services Sector Slowed in August From Record Pace. "The July figure was the fastest pace since (the Services PMI®) began in 2008. Any reading above 50 (percent) indicates growth in service industries. On Wednesday, ISM reported that its survey of manufacturing industries increased in August (despite continuing struggles) to meet surging demand while at the same time dealing with numerous supply chain disruptions and a shortage of factory workers."
Bloomberg: U.S. Service Industry Expansion Cools From Month-Earlier Record. "The figures suggest that concerns about the highly contagious delta variant are cooling demand for some services like dining out, leisure and travel. Service providers are also facing many of the same supply and labor constraints as manufacturers. Inventories contracted further in August, falling to the lowest level in a year, while a measure of services employment eased slightly."
Reflecting spread of Delta variant, the ISM PMI for #services fell from its July record, by 2.4 points to 61.7 in August, a still very strong reading. Nearly all components of the index are growing, just with fewer firms reporting so. pic.twitter.com/tGDGV6qvbB

— Dr Thomas Kevin Swift (@DrTKSwift) September 3, 2021
Dow Jones Newswires: U.S. Services Sector Lost Traction in August as Shortages Weighed on Activity. "The (Services PMI®) reading broadly matches economists' expectations polled by The Wall Street Journal. … Comments from the August survey didn't provide specific signs that the increase in Covid-19 cases due to the Delta variant was weighing on demand."
MarketWatch: The Economy Slowed in August, ISM Shows, but Shortages a Bigger Snag Than Delta. "A surge in delta cases late in the summer appeared to stunt the U.S. economic recovery, but the ISM survey suggests the virus was not as big a factor as a weak August employment report implied. 'Demand for labor is clearly quite high, but the supply remains limited with people delaying their return to work,' said money-market economist Thomas Simons of Jeffferies LLC."
Very solid @ism services report. The tone of the commentary was very strong in regards to various shortages holding business back. My concern here is that for a restaurant or other provider that lost business, those patrons went somewhere else that could accommodate them.

— Marco Mazzocco, CFA (@MarcoMNYC) September 3, 2021
Reuters: U.S. Service Sector Growth Slows in August; Supply Constraints Easing a Bit. "Economists have sharply marked down their gross domestic product estimates for the third quarter to a low as a 2.9-percent annualized rate from as high as a 9-percent pace, citing the latest wave of COVID-19 infections, fading fiscal stimulus and supply constraints, which have boosted prices."
In case you missed Wednesday's Report On Business® Roundup on the release of the August Manufacturing PMI®, you can read it here. ISM's Hospital PMI® will be released on Tuesday. For the most up-to-date content on the three indexes under the ISM® Report On Business® umbrella, use #ISMPMI on Twitter.
(Photo credit: Getty Images/CasarsaGuru)