Report On Business® Roundup: August Manufacturing PMI®
September 01, 2021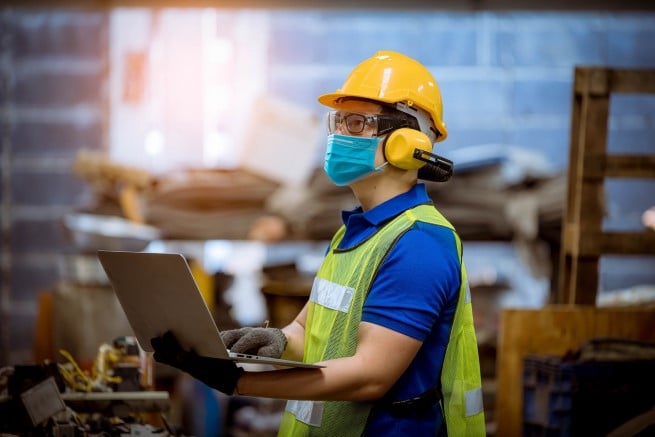 The coronavirus pandemic has surged back with authority, giving U.S. factories no relief from what has become a new normal of product shortages, long lead times and labor hesitancy — a situation that will likely be exacerbated in the wake of Hurricane Ida.
In fact, Timothy R. Fiore, CPSM, C.P.M., Chair of the Institute for Supply Management® Manufacturing Business Survey Committee, described current conditions as "probably the most significantly stressful time on the supply chain and manufacturing communities in a lot of people's memories" in a conference call with reporters on Wednesday.
Amid all that, the release of the ISM® Report On Business® revealed the August Manufacturing PMI® of 59.9 percent, a reading that exceeded analysts' expectations and overcame a number of challenges indicated in the subindex data and Business Survey Committee respondents' comments. However, some of those potholes were smoothed by a continuing push toward what Fiore has called "equilibrium" between supply and demand.
Today's August's @ISM report continues the string of excellent recent reads on US #manufacturing's health. Even contains signs of moderating #inflation for input prices. #Jobs dipped into contraction, tho: https://t.co/dkMFWNFZ2o #economy #recovery #Delta?

— (((Alan Tonelson))) (@AlanTonelson) September 1, 2021
"It was another great month, by any standard," Fiore said. "The three subindexes supporting new orders were positive for the period. … The Supplier Deliveries Index number is getting back to where it's offset by a rising Inventories Index number, even though there are a number of reasons for that (increase). Production is strong. There's more movement toward equilibrium. But the story continues to be employment."
The Employment Index returned to contraction territory at 49 percent, seemingly in step with a private payrolls report from ADP and Moody's Analytics on Wednesday that fell far short of expectations — an increase of 374,000 jobs in August, including just 6,000 in manufacturing. The story remains the same: an "unwilling contraction" of the Employment Index, as companies continue to struggle to fill open positions.
ECONOMY WATCH: ISM manufacturing index edges up to 59.9% in August from 59.5% in July. Better than expected. Supply and labor shortages a bigger culprit than delta. These problems are going to limit the expansion for a while ...

— Jeffry Bartash (@jbartash) September 1, 2021
Fiore said that an index reading of around 60 percent is commensurate with current demand and production levels. He added, "Turnover is becoming a larger part of the problem. It was hoped that September would bring a positive turn with kids going back to school and (extended federal) unemployment benefits running out, so we would see some improvement by November. But now, people still have concern about the (COVID-19) delta variant."
The Inventories Index increased 5.3 percentage points to 54.2 percent, but that might be somewhat of a mirage, Fiore said. Raw materials typically make up two-thirds of manufacturing inventories, he said, and the August boost could be the result of rising "work in process" inventories due to parts shortages and long lead times. The ISM Glossary of Key Supply Management Terms defines work in process as "semi-finished goods, located at some point in the production process" that require additional assembly.
"Given the part shortages and factories needing to absorb overheads, they're building product and moving it aside, waiting for those critical parts to show up," Fiore said. "Maybe it's down to 60 percent raw materials at this point; I think work in process is a bigger part of manufacturing inventory accounts, especially for things like computer electronics and machinery, as (factories) try to get those last parts to assemble and get the product out."
In July ISM manufacturing survey, 36 different products were reported to be in short supply

In August, 27 different products were reported to be in short supply. Still large, and some shortages still loom large (semiconductors, steel, aluminum), but some shortages have abated. https://t.co/FBZxxnpB1u

— Skanda Amarnath ( Neoliberal Sellout ) (@IrvingSwisher) September 1, 2021
Hurricane Ida occurred too late in the month to impact the August data. Fiore said the impact in September could be felt from refinery closures and transportation challenges similar to those in the wake of Hurricanes Harvey and Irma in 2017 and the winter storms in Texas and other Gulf Coast states earlier this year. "It's probably going to push up prices again because material will be scarce, just when we were hoping that ethylene, polypropylene, polyurethane and other plastics resins would start to flow better," he said.
While factories and supply chains will rebound from a hurricane, COVID-19 is likely now a fact of life. Fiore said that the delta variant has created supply issues, especially in Southeast Asia, but he adds that U.S. factories can adjust. However, that adjustment process will likely continue indefinitely.
"I think we're just going to have to learn to live with this obstacle," Fiore said. "There will (probably be) periodic factory shutdowns, but hopefully not the large-scale shutdowns we had before. And those shutdowns are being driven by parts shortages, not unsanitary conditions inside the facilities."
"A welcome surprise, but unlikely to last." @IanShepherdson on ISM Manufacturing Survey, August #PantheonMacro

— Pantheon Macro (@PantheonMacro) September 1, 2021
The Report On Business® roundup:
Associated Press: Growth in U.S. Manufacturing Up in August Despite Problems. "While supply chain problems remain severe, they have eased somewhat in the past few months, with supplier delivery times falling. Labor problems, however, increased. … 'While some of the recent price pressures have faded, supply constraints, and particularly labor shortages are still proving to be a drag,' Michael Pearce, senior U.S. economist at Capital Economics, said."
Barron's: Industrial Stocks Should Get a Boost From Key Manufacturing Gauge. "The industrial economy is not only still growing nicely, it is accelerating. The latest data on the trends should be good enough to give lagging industrial stocks a boost. Institute for Supply Management®'s Purchasing Managers' Index — a key gauge of U.S. manufacturing activity — came in at 59.9 (percent). Economists were projecting 58.5."
Prices pulled back for the second straight month from the June's reading, which was the fastest since July 1979, but remained very elevated. While remaining a significant challenge, the price data do provide a sense that cost pressures might be beginning to stabilize.

— Chad Moutray (@chadmoutray) September 1, 2021
Bloomberg: U.S. Factory Growth Improves Even as Global Supply Woes Linger. "While the highest ISM reading for bookings in three months and firmer production highlight sustained demand, the pickup in order backlogs underscores persistent bottlenecks rattling manufacturers across the globe. … Supply chain bottlenecks for U.S. manufacturers have also been accompanied by labor constraints that have lengthened delivery times."
CNBC: August ISM Manufacturing Data Comes in Better Than Expected. "(The reading of) 59.9 (percent) is a bit better than expected, and anything over 50 is in expansion mode," analyst Rick Santelli said. "The Prices (Index) was expected to be in the neighborhood of 84, it came in at 79.4, and that is quite a good thing. Just a couple of months ago, it was at 92.1, the highest since 1979. The New Orders (Index) at 66.7 was a nice beat. We expected 61, so that's exceptionally powerful. Finally, if you look at the Employment Index, considering the weak (private payrolls report) and the big jobs report out on Friday, it was 49.0 following a 52.9, so that is a disappointment."
MarketWatch: Manufacturers Grow Faster in August, ISM Finds, Despite Delta and Labor Shortages. "The coronavirus delta variant has added fresh stress on the U.S. economy, but companies face an even bigger hurdle in finding the supplies and workers they need to keep pumping out goods. … Businesses have plenty of demand, even with delta variant spreading across the country. The biggest problem (is) broad shortages of supplies tied to the unprecedented COVID-19 disruptions in the global economy and an explosion in pent-up demand after the U.S. mostly reopened this year."
🇺🇸@ISM #manufacturing index +0.5pt to 59.9 in Aug

🟢New Orders 66.7 (+1.8): very strong
🟢Production 60 (+1.6): ramping up
🟡Employment 49 (-3.9): contraction
🔥⤵️Supplier Deliveries 69.5 (-3): easing supply chain issues or adapting?
🔥⤵️ Inflation 79.4 (-6.3): hot but cooling

— Gregory Daco (@GregDaco) September 1, 2021
Reuters: U.S. Manufacturing Sector Edges Up in August. "Manufacturing is holding up even as spending is rotating back to services from goods because of vaccinations against COVID-19. But shortages of labor and raw materials, especially semiconductors, remain a constraint. ... Inventory accumulation, which is expected to be the main driver of gross domestic product growth for the rest of this year and into 2022, has been frustrated by supply constraints."
The Wall Street Journal: Stocks Tick Higher, Building on August's Gains. "Fresh data released Wednesday showed that economic activity in the manufacturing sector grew in August. An index of U.S.-based manufacturing rose to 59.9 (percent) in August from 59.5 in the prior month, according to the Institute for Supply Management®. This Friday, traders will be parsing the monthly jobs report."
ISM's Services PMI® will be unveiled on Friday, and the Hospital PMI® on Tuesday. For the most up-to-date content on the reports under the ISM® Report On Business® umbrella, use #ISMPMI on Twitter.
(Photo credit: Getty Images/DSCImage)