Report On Business® Roundup: August Hospital PMI®
September 07, 2021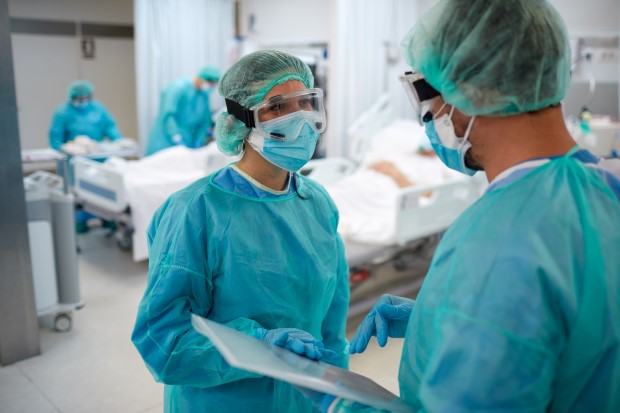 Last week, a sobering theme emerged in the analyses of the ISM® Report On Business® for August, in both Manufacturing and Services: Though both sectors have maintained growth since the initial shock of the coronavirus pandemic, the "obstacle" of COVID-19 will remain with business and supply chains indefinitely, if not permanently.
On Tuesday, ISM released its monthly report on a sector of the U.S. economy that has the most hour-to-hour contact with the pandemic, and the theme was even more prevalent: The Hospital ISM® Report On Business® for August featured a Hospital PMI® of 60.4 percent, but subindex data and survey respondents' comments revealed rising COVID-19 cases and elective procedure postponements, employment challenges and staff burnout, and a scramble to stock personal protective equipment (PPE) and other supplies.
Inventories were bolstered, cases kept climbing and many workers were frustrated as #COVID19 tightened its grip on facilities. Those details and more in the August Hospital ISM® Report On Business®; the Hospital PMI® was 60.4%. https://t.co/40ESYvJ19k #ISMPMI #economy #healthcare

— Institute for Supply Management (@ism) September 7, 2021
Redact the month from the August report, and a reader could be forgiven for assuming it was during the previous, pre-vaccines waves of the pandemic. However, with recent surges pushing the U.S. over 40 million coronavirus cases and a new variant detected in 49 states, many health-care facilities are facing a "dire situation," Nancy LeMaster, MBA, Chair of the Institute for Supply Management® Hospital Business Survey Committee, told a conference call of reporters on Tuesday.
And this was before a Labor Day weekend in which Americans gathered in large numbers, especially in college football stadiums. If the Hospital PMI® had a subindex measuring facilities' stress, it would be in strong expansion territory.
"The comments from our panelists really did point out (what) hospitals are fighting," LeMaster said. "It's burnout, as well as clinical and support staff feeling the frustration of seeing another wave of COVID-19 patients. In many cases, there's a feeling that these hospitalizations and subsequent deaths could have been prevented. There's a lot of pressure."
Staff burnout is reflected in the Employment Index, which in August slid further into contraction territory. Pandemic burnout continues among clinical and support staff, and Business Survey Committee respondents indicated some employees would rather quit than comply with vaccine mandates.
ISM Hospital PMI out today says "continuing to see effects of the 2021 COVID-19 surge in our facilities" #weareism

— Kristina Cahill (@KristinaMCahill) September 7, 2021
Also, hospitals are dealing with the same struggles to fill positions — including food service, custodial and maintenance, and laboratory and supply technicians — that companies in other sectors are. "Some hospitals have had to increase wages for those nonclinical (jobs), as they are in competition with every other kind of business," LeMaster said.
In other subindex developments, an increase in the Inventories Index was inevitable after survey respondents indicated in the July report that they were stocking up, but LeMaster said the vault of 14.5 percentage points to 62 percent was a surprise. The Touchless Orders Index declined 9.5 percentage points to 45 percent, meaning less automation and more human intervention was required to replenish stocks.
"Those metrics together, plus (the Inventory Sentiment Index declining) and the comments indicate additional pressure on the supply chain in terms of ability to get products," LeMaster said. "There are a lot of substitute products again being purchased, and the issues from the Manufacturing report about shipping delays and ports congestion are also impacting the hospital market."
The Prices indexes have consistently indicated increases since Hospital PMI® data collection began in 2018. However, a 7-percentage point rise in the Prices: Supplies Index, elevating it to even stronger increasing territory, was notable, LeMaster said. Not surprisingly, the Technology Spend Index — perhaps the most revealing subindex of hospitals' cash-flow confidence — dropped 3 percentage points, to 50 percent.
.@ISM Hospital PMI® survey respondent: "As #COVID19 cases are on the rise, critical care beds are few to come by. Supply shortages and back orders are increasing daily, due to (a surge in) national demand." https://t.co/ixr4ohdAyU #ISMPMI #economy #healthcare

— Dan Zeiger (@ZeigerDan) September 7, 2021
The most recent series of the ISM® Report On Business® brought fear, even resignation, that COVID-19 has or will become a way of life for many businesses. And in health care, more than any other sector of the economy, that harsh reality is evident the moment a practitioner walks through the facility doors.
"(August brought) increased concerns about getting supplies — slower deliveries, more substitutions and higher prices," LeMaster said. "Add the employment challenges, and hospitals have a lot of pressure on their operating margins. We'll have to see if we can get COVID-19 back under control, and Labor Day weekend might have made things worse, not better. We'll have to wait until next month and see what the trends look like."
In case you missed the Report On Business® Roundup from September 1 on the release of the August Manufacturing PMI®, you can read it here. The Roundup on Friday's release of the August Services PMI® can be read here. For the most up-to-date content on the three indexes in the ISM® Report On Business® family, use #ISMPMI on Twitter.
(Photo credit: Getty Images/Tempura)