Report On Business® Roundup: September Hospital PMI™
October 07, 2020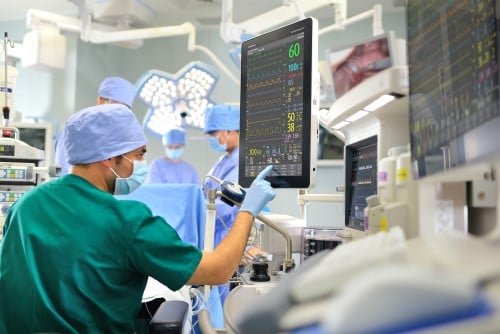 The Hospital ISM® Report On Business® for September found that elective procedures were at pre-coronavirus (COVID-19) levels, employment ticked up, and spending on capital projects and technology resumed after being on hold. In short, there was much to like in the data — but also a lot to keep an eye on.
The Hospital PMI™ of 63.3 percent indicated hospital subsector growth for the fourth consecutive month, and comments by members of the Institute for Supply Management® Hospital Business Survey Committee suggested that many facilities were better managing COVID-19 care. However, that confidence could be tested with coronavirus cases in the U.S. on the rise again, and flu season coming.
#Coronavirus/#COVID19 cases have been on the rise in the U.S. in recent days, but the impact on hospitals was not as severe in September, according to @ISM's Hospital PMI™. The 63.3% reading indicated a fourth straight month of growth. https://t.co/xh30M7PiNw #ISMPMI #economy

— Institute for Supply Management (@ism) October 7, 2020
"One month does not make a trend," Nancy LeMaster, MBA, Chair of the Hospital Business Survey Committee, told a conference call of reporters on Wednesday. "However, it's something to watch."
As this space discussed last month, elective procedures and treatment — outside of pediatrics — typically decrease in the summer, then pick up in September. That dynamic could be at work, but LeMaster added that prospective patients might be more confident that they can receive elective treatment at a facility without risking exposure to the coronavirus.
"Elective procedures remain at near-historic levels, even with periodic and small (coronavirus) spikes within the region," a Business Survey Committee respondent wrote. "Our organization is rolling back and approving some — not all — of the capital projects previously approved for this year and starting to regroup and plan/budget for 2021."
The New Orders Index, which tracks future appointments and surgeries, increased 5 percentage points to 71 percent. That projected revenue growth might be creating a domino effect, LeMaster said, as the September data also revealed a slight increase in the Employment Index and sold growth in the Technology Spend Index, which in previous months vacillated between expansion and contraction.
Hospital PMI™ survey respondent: "We are still gradually recovering from #COVID19 slowdowns. People are gradually coming back to our facilities for regular care, but our volumes are still down from pre-pandemic levels." https://t.co/YZrQ3skWhQ #ISMPMI #economy

— Dan Zeiger (@ZeigerDan) October 7, 2020
"Employment is following growth, but cautiously," LeMaster said. "The revenue hits hospitals have taken due to COVID-19 is significant, and with that correlated to employment, (facilities) have been cautious about bringing employees back."
Regarding technology spend, LeMaster said, "Panelists' comments indicated that in some areas where COVID-19 was less prominent and there have been increases in elective procedures, (facilities) were starting to approve capital-technology spend that had been on hold. That's something we'll continue to watch, but it would indicate that hospitals in general are getting better at managing virus spikes while continuing to serve elective procedures."
The Inventory Sentiment Index elevated 7.5 percentage points to 57.5 percent, in "too high" territory for the first time since February. That, as well as some Business Survey Committee respondents' comments, suggests that shortages of personal protective equipment (PPE) and other supplies could be easing.
Cost concerns could also be a factor, LeMaster said: "The mentality of just spend, just get inventory in here — no holds barred — may be giving way to worries about cash flow and reducing inventory of supplies that are not as critical or absolutely necessary."
Prices "continue to be a sore spot for hospitals," she added. The Prices: Pharmaceuticals Index registered 62 percent in September and has been in increasing territory for 30 months, or every month since ISM began collecting Hospital PMI™ data. The Prices: Supplies Index (70.5 percent) has reflected increases for 10 straight months.
ISM's LeMaster re hospitals index: California fires disrupted shipments of supplies. Some indication that PPP shortages are easing. #ISM #hospitals @coronavirus

— Mace News (@MaceNewsMacro) October 7, 2020
Another dynamic to watch: Business Survey Committee respondents from hospitals on the West Coast indicated recent wildfires have disrupted inventory shipments and potentially stressed supplies of N95 masks. "The fires had a double impact on volumes and inventories," LeMaster said.
In case you missed Friday's Report On Business® Roundup on the release of the September Manufacturing PMI®, you can read it here. The Roundup on Monday's release of the September Services PMI™ can be read here. For the most up-to-date content on the three indexes in the ISM® Report On Business® family, use #ISMPMI on Twitter.