The Monthly Metric: Average Warehouse Capacity Used
August 24, 2020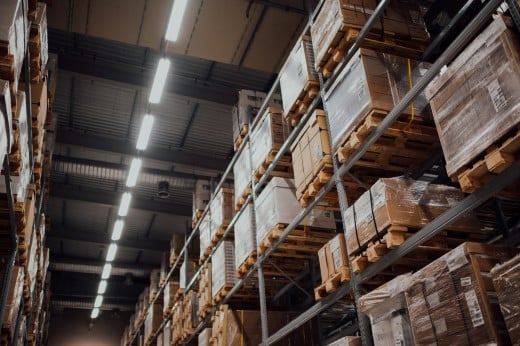 After focusing on trucking industry-specific analytics for the first time in July, The Monthly Metric is again covering new ground: While inventory has been a regular subject in this space, a measurement for warehouses and distribution centers (DCs) had not been spotlighted.
That drought ends this month, and the timing is fortuitous, and not just because of the coronavirus (COVID-19) pandemic that has accelerated the e-commerce surge. With industrial space in high demand in the U.S. for some time, it's critical for companies and distributors to maximize their floor-to-ceiling warehouse/DC space — and procurement professionals can help.
For Jim Hess, director of warehouse business development at Greenville, North Carolina-based Yale Materials Handling Corporation, every warehouse tells a story. "A facility will speak to you just by coming inside and watching how things are done," he says. "We watch the receiving and put-away processes. We watch the let-down procedure and order-picking process. How many orders in a day, how many lines in an order, how many pieces in a line, the equipment used … if there's a better way to do it, that's what we recommend."
When Hess identifies a breakdown in a warehouse process, chances are it will impact others. For example, a delay in getting a product off the loading dock impacts the time required to get the item in storage racks. A lag in a product "let down" from a storage rack to an order-picking slot can result in slower order fulfillment.
With warehouse processes so intertwined, it's no surprise that the annual benchmarking study by the Oak Brook, Illinois-based Warehousing Education and Research Council found that the top operational metric in use — average warehouse capacity used — is a measurement that impacts many others. "Capacity use is kind of a dance," Hess says. "Everything has to move together: Facilities receive the product, verify it, put it in a rack, let it down and turn the order pickers loose. All of that goes into the customer-service metrics that (executives) are tracking, so you need to optimize your space."
Meaning of the Metric
Average warehouse capacity used is measured in a specific interval, such as a monthly or yearly window. Yale Materials Handling considers 85-percent to 90-percent capacity — which indicates maximum space optimization while maintaining the ability to respond to demand surges or other shifting business conditions — a benchmark for a high-performing facility.
In an era of stock-keeping unit (SKU) proliferation and growing orders, efficient use of space becomes an even greater challenge. Among the ways a warehouse speaks that its capacity is being under-utilized:
Vertical space is free, whether under the ceiling or in a storage slot. "You don't want to have a 3-foot-high pallet in a 6-foot opening," Hess says.
The same product is in multiple locations.
Aisles are too wide — or too narrow, if populated with pallets that should be in racks.
Forklifts and other equipment run on lead-acid batteries, which require recharging in a well-ventilated, space-eating separate room.
Procurement professionals sometimes add to a warehouse space crunch, Hess says, because of a tendency to make large or full-pallet purchases at a lower cost. "They get a better price, which helps their bottom line, but then the warehouse has all of that inventory," Hess says. "(For some products), one pallet could be nine months of inventory, as opposed to the 20 cases over two months that the warehouse was comfortable with."
However, with the rising industrial-space demand and SKU glut increasing awareness of the strains on warehouses and DCs, communication and cooperation have improved, Hess says: "I'm seeing a lot more of (warehouse) operations and procurement working together," on finding balance between product cost savings and added inventory resources. "It's about having communication and balance," he adds.
Solutions and Capacity Success
Improving capacity utilization means acting on what the warehouse tells; the first step is conducting a slotting and storage analysis to determine the optimal space and location for each item. Ideal slot sizes and heights — and the right equipment for operators and order pickers to navigate to them — will speed order-fulfillment processes.
Another strategy is cross-docking, the process of moving products directly from the receiving dock to shipping, meaning they spend no time in storage. This practice is especially prevalent during holiday and peak-demand seasons, Hess says.
Also, equipment with lithium-ion technology eliminates the need for spare batteries or charging space. "You not only eliminate the time and labor of charging those (lead-acid) batteries, but you eliminate the space required," Hess says. "You can devote that space to pallets."
In 2015, Goya Foods opened a 643,000-square foot facility in Jersey City, New Jersey to accommodate its portfolio of 2,700 SKUs. Warehouse designers utilized as much space as possible under the 42-foot-high ceiling, with custom racking that provides storage space for as many as nine stacked pallets in some areas. Also, Yale Materials Handling developed a lift truck that could navigate Goya's narrow aisles.
The designs helped the facility move 60,000 to 90,000 cases a day, and the warehouse layout and Yale's lift truck have become standard across Goya's distribution network.
"The warehouse is an asset," Hess says. "So, senior leaders want to ensure that capacity is not too low, because that's empty space that they're paying to maintain. And if it's too high, it affects how long it takes for the product to get in and out of the facility, as well as to the customer. The more a product is touched in a warehouse, the more it's costing the company, so (capacity) is a big thing to track."
To suggest a metric to be covered in the future, leave a comment on this page or email me at dzeiger@ismworld.org.