Report On Business® Roundup: July Hospital PMI™
August 07, 2020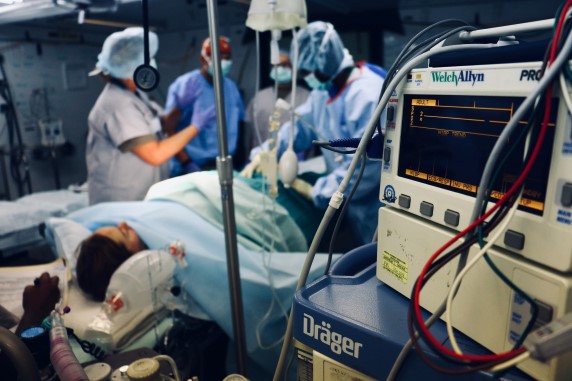 In the development of an economic index, disruptive events present opportunities to test data reliability. And for an index designed to take a monthly pulse of the U.S. hospital subsector, few events offer a more rigorous trial than a global pandemic.
The novel coronavirus (COVID-19) had that kind of impact on the Hospital PMI™, which was unveiled on Friday as the third index under the ISM® Report On Business® umbrella. More than two years of dry-run data collection preceded the debut, in which the composite reading of 68.9 percent indicated growth in the hospital subsector for a second straight month.
"I'd say we were 99 percent comfortable we had a strong index," Nancy LeMaster, MBA, Chair of the Institute for Supply Management® Hospital Business Survey Committee, told reporters on a conference call on Friday. "But COVID-19 came along and really tested that." As coronavirus cases slammed emergency rooms and intensive-care units in March, LeMaster examined the Hospital PMI™ data for that month: Business activity growth slowed as fewer elective procedures were performed, prices increased, and the Suppler Deliveries and Backlog of Orders indexes skyrocketed as personal protective equipment (PPE) and other supplies became harder to procure.
"Everything that happened in March indicated that the index would do its job," LeMaster said. That preparation culminated on Friday with the release of the Hospital PMI™, which — like ISM's manufacturing and services indexes — figures to be dissected by economists and investors. However, LeMaster said, the data should be even more valuable to hospital supply chain executives, as well as pharmaceuticals and health-care product manufacturers, by providing real-time insights that enable proactive decisions on procurement and logistics.
As we've shown with the Manufacturing PMI® and Services PMI™, a chart-form look at the (clockwise, from top left) Hospital PMI™ and Business Activity, New Orders and Employment indexes indicates the #coronavirus/#COVID19 roller coaster. https://t.co/eaIiKNHRlC #ISMPMI #economy pic.twitter.com/IImL2ahh6z

— Dan Zeiger (@ZeigerDan) August 7, 2020
On that note, the July data revealed how hospitals are coping with COVID-19. The Business Activity (72.5 percent) and New Orders (76.5 percent) were in solid expansion territory, though the former's growth slowed slightly. That, LeMaster said, indicates elective procedures are returning to normal levels in many parts of the country, though not so much in areas still hit hard by the virus.
In a week of sobering jobs data, the Employment Index increased 14.5 percentage points to 58.5 percent, ending a three-month period of contraction; LeMaster said that jump is largely a reflection of furloughed employees returning to work. (The monthly jobs report released by the U.S. Bureau of Labor Statistics on Friday revealed that the health-care industry added 126,000 jobs in July, 27,000 in hospitals.)
LeMaster devoted some of Friday's call to a tutorial on four subindexes unique to the Hospital PMI™:
The Case Mix Index (61.5 percent) measures the collective health of a patient population; a higher reading means sicker patients, which results in more complex procedures and increased supply costs. "The index contracted in April and May, which made sense because there were no elective procedures due to COVID-19 treatment," LeMaster said. "Many of those cases were severe, but when you take surgeries out of the mix, the case mix declines."
The Days Payable Outstanding Index (55 percent) measures how fast hospital pay their bills and should be a steady indicator, LeMaster said. The index was in expansion territory for an eighth straight month.
The Technology Spend Index (49.5 percent) reading was not unexpected, as the index "has been in a holding pattern," LeMaster said. Hospitals are generally cautious with spending, she added, a dynamic that has been exacerbated by the coronavirus.
The Touchless Orders Index (51 percent) measure how well products flow through the supply chain without human intervention. In July, the index ended four months of contraction.
PPE shortages will continue to be an issue, LeMaster said. Some survey respondents indicated that they are using alternate suppliers of PPE, paying as much as triple the normal price. Another issue is substandard PPE, as hospital workers are hesitant to use equipment they perceive to be of lower quality. "Traditional PPE manufacturers have done everything to ramp up production," LeMaster said. "At the same time, there's pressure from hospitals and government to build stockpiles. The demand from the market exceeds capacity, and that's not going to be a short-term fix. We'll continue to see high prices and alternate sources."
Hospital PMI™ survey respondent: "Despite a small spike in #COVID19 positive cases, our area is in recovery. Many elective procedures are close to historical levels. … Furloughed workers have been recalled, and we're opening positions." https://t.co/eCX3ZTY8Nb #ISMPMI #economy

— Institute for Supply Management (@ism) August 7, 2020
Now that the Hospital PMI has emerged from behind the waiting-room doors, what story will it tell in the coming months? As with the manufacturing and services indexes, ISM typically shies from making proclamations or projections on what the Report On Business® data means for the overall economy, preferring to let the numbers speak for themselves.
However, the Chairs of the ISM Business Survey Committees know their respective indexes — and industries — well enough to project future performance, and LeMaster said the coronavirus impact will continue to be evident in the Hospital PMI™ data.
"Business activity, new orders and employment have been fairly stable," she said. "Those are all tied together, so as hospitals get capacity and (the country) manages the virus better, those indexes have the potential to level out. Supply deliveries and back orders, as hospitals try to get the devices they need, are going to be constrained for a while. I don't expect those to bounce back as fast because COVID-19 has dramatically changed demand.
"Technology spend should be a lagging indicator because hospitals are conservative by nature. They will have to see revenues strengthen before they invest much money. Volume should come back first, but the core supply chain metrics will be a longer haul."
In case you missed Monday's Report On Business® Roundup on the release of the July Manufacturing PMI®, you can read it here. The Roundup on Wednesday's release of the July Services PMI™ can be read here. For the most up-to-date content on the three indexes under the ISM® Report On Business® umbrella, use #ISMPMI on Twitter.