Inside Supply Management Magazine
Transforming Supply Chains ThroughIoT-Enabled Systems
August 12, 2019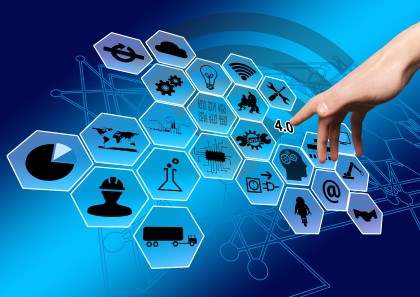 The Internet of Things (IoT) will transform supply management organizations — enabling them to reinvent their supply chains through IoT-enabled next generation technologies that offer growth opportunities, a recent study by research and consulting firm Frost & Sullivan found.
According to Growth Opportunities in the Internet of Things-enabled Supply Chain Management Market, Forecast to 2024, IoT-enabled systems impact planning, forecasting, execution, updating, recalibrating and innovating. They enable organizations to increase efficiency and reduce risk through access to granular insights. Also driving their adoption and implementation, according to the report, are advantages like predictive analysis, transparency and real-time insights.
Additionally, an IoT-enabled supply management organization enables collaboration across the supply chain, including, asset tracking and management, warehouse and inventory management, and connected factories.
Deepali Sathe, senior industry analyst at Frost & Sullivan, said in a press release, "Current supply chains will be reinvented as IoT-enabled systems allow unprecedented end-to-end visibility, remote tracking and control. The increase in automation will significantly improve accuracy of predictions and speed of execution."
IoT-enabled technologies offer a variety of benefits that can be revolutionary: "Predictive analytics based on artificial intelligence (AI), machine learning, and big data analytics will reduce errors and take the guesswork out of planning, forecasting and execution," said Adrian Drozd, research director at Frost & Sullivan. "Technologies such as blockchain can create better and faster processes and prevent fraud, while robotics will enhance automation and precision for greater accuracy."
Adoption of technology already has begun to transform supply management organizations through the introduction of new business models, the research states. "As data siloes diminish, customers can focus on the benefits that can be achieved as a result of improved end-to-end visibility, ability to remotely control devices and automated processes," the press release noted.
There are some restraints, however. These include resistance to change, data security and privacy risks, and the existence of multiple stakeholders across the value chain, the report says. It adds that growth opportunities for suppliers offering IoT-enabled solutions exist in numerous areas:
●In the cybersecurity space, through use of multilayer solutions to reduce potential threats
●For robots and collaborative robots (cobots), which are increasing in demand
●In the development of sensors and tags needed for connected devices
●For the development of chatbots, smart-home speakers and other solutions that help organizations using AI and machine-learning understand and interpret data.