Inside Supply Management Magazine
#ISM2019: Texas-Sized Twitter
April 09, 2019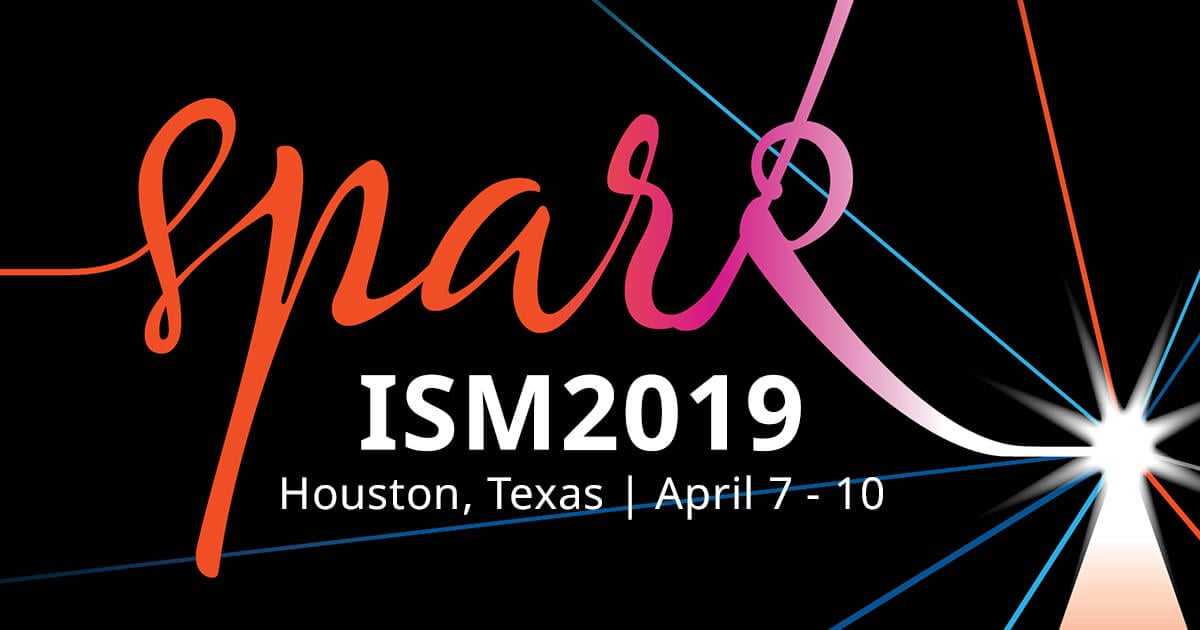 In a city synonymous with space exploration, ISM2019 Annual Conference attendees in Houston had no problem compiling enough succinct and clever tweets to reach the stratosphere. Many Conference-goers arrived late on Sunday night on delayed flights due to storms in the Houston area, but that didn't set back their social-media proficiency or savviness.
The #ISM2019 and #WeAreISM hashtags have gotten liberal use, and while there are enough terrific tweets to fill a week's worth of blog entries, we'll stick to our favorites and continue to encourage attendees to keep posting about their favorite experiences and learnings. We'll compile and present more tweets on Wednesday, as the Conference comes to a close.
Tuesday, the second full day of ISM2019 activity at the George R. Brown Convention Center, featured heavy hitters from the worlds of supply management and economics. The guest of honor was Tom Linton, the 2019 winner of the J. Shipman Gold Medal Award. Linton, chief procurement and supply chain officer at Flex, a San Jose, California-based supply chain solutions provider, is the 88th recipient of the supply management profession's biggest prize.
Congrats to Tom Linton, our Chief Procurement and Supply Chain Officer, on winning the @ism's J. Shipman Gold Medal Award. It is well deserved. https://t.co/dV0yFg6izx

— Flex (@Flexintl) April 9, 2019
The day's keynote speaker was Dr. Janet Yellen, chair, Board of Governors, Federal Reserve System (2014-18), who told attendees that she sees "a decent year" for the U.S. economy. "I would be very happy with the outlook if I were in my old job," Yellen said.
Thank you Dr. Janet Yellen for answering my question about being a woman in a male dominated field! Mentoring is huge and very much needed for the next generation to move up and keep creating change. #ism2019 #WeAreISM @ism pic.twitter.com/aS3eKIVTzF

— Katherine Eboch (@keeboch) April 9, 2019
Dr. Yellen, former Chair of the @federalreserve, credits her husband and his support of her career as key to her success, sharing the work at home and enabling her to have both a fulfilling work and personal life. #ISM2019 #WomeninBusiness #WomeninProcurement

— Ashley Hetrick (@AshleyHHetrick) April 9, 2019
Yellen's insights for women who aspire to be business leaders aligned with a focus at this year's Conference. Similarly inspiring messages could be heard from Monday's keynote speaker, Carly Fiorina, former chairman and CEO of the Hewlett-Packard Company, and during Tuesday's Women in Procurement breakfast.
General Session with Carly Fiorina. "Change is like heaven. Everyone wants to go there, but no one wants to die." #ISM2019 pic.twitter.com/f87KgQ5b1w

— Debbie Sievert (@debsievert) April 8, 2019
"The people closest to the problem are the best ones to solve them if they're given the opportunity and the resources." - Carly Fiorina #ISM2019 #weareism

— Louann Groening Rust (@LuLu5stars) April 8, 2019
"If you have something to contribute, don't shy away from adding value," Susanna Zhu, chief procurement officer at The Hershey Company, told the Women in Procurement breakfast at #ISM2019. #WeAreISM pic.twitter.com/5NObyFze5v

— Institute for Supply Management (@ism) April 9, 2019
While the J. Shipman Gold Medal Award recognizes a lifetime of supply management service, the R. Gene Richter Scholarship Awards and ISM 30 Under 30 Rising Supply Chain Stars honor the future of the profession. Both groups have been honored in Houston.
Future of the Profession!! #Richter #ISM2019 pic.twitter.com/Rk8mNwWX1A

— Nora Neibergall II (@NNeibergallISM) April 9, 2019
Congratulations again to this group of talented professionals! We are happy to sponsor a program that highlights the achievements of rising talent within #procurement and #supplychain. #ISM30Under30 https://t.co/YU8CktAaBj

— Proxima (@Proxima_Group) April 8, 2019
The Signature Sessions and breakout sessions are divided into six tracks: Challenges, Corporate Social Responsibility, Digital Transformation, How-To, People and Sourcing for Value. Many of the presentations that received Twitter buzz have been future-focused.
Checking out the #ism2019 take on "Digital"! pic.twitter.com/IbgnuGinBD

— Bill Huber (@SourceTransform) April 8, 2019
Deborah Stanton (@CAPSResearch) says her biggest challenge when she was CPO at @Mastercard was breaking into Marketing - it was the last frontier in managing spend across the business.

How do you engage them? She says, "Educate, educate, educate." #ISM2019 pic.twitter.com/BeDB1IqGcA

— Vantage Partners (@VantageBoston) April 9, 2019
The Innovation Hall at #ISM2019 was packed for the panel discussion, "Do you have a 360 degree view of your suppliers?". A topic that was addressed by industry experts from @Synertrade @offsetmarket @RapidRatings @riskmethods1 @ism #supplymanagement #suppliers #supplychain pic.twitter.com/Yjbc0gPNGr

— Supply Professional magazine (@SupplyProMag) April 9, 2019
What is the current state of #Procurement software solutions? Great overview on the transformation topics in the last years from growth to eProcurement to #digital by Chris Sawchuk, @TheHackettGroup at @ism #ISM2019 #DigitalTransformation #SupplyChain #Purchasing #tech pic.twitter.com/HtXHo42jAK

— Dr. Marcell Vollmer #StayHome #StaySafe (@mvollmer1) April 7, 2019
So grateful to run into @taniaseary #ISM2019 #Digital #Procurement track. It seems all of the key innovators and thought leaders are in this first session. pic.twitter.com/mam8O4fFQu

— Richard Barnett (@barnettrichard) April 7, 2019
In driving EBIDTA, don't underestimate the small wins and "fast cash," says Clothier. They earn you trust among stakeholders and get the attention of the C-suite. #supplychain #finance #ISM2019

— Shefali Kapadia (@skapadiaDC) April 8, 2019
The Exhibit Hall is a centerpiece of an ISM Annual Conference, and we'll check the best tweets from there on Wednesday. However, it evidently doesn't take much for a, uh, rivalry to form between neighboring booths.
Cool, Bro. We've got cups... Booth 121 https://t.co/TRLRoUUK2F

— Velocity Procurement (@VelocityProcure) April 9, 2019
I go to one session and come back to this! Seems suspicious @Sievo #ISM2019 pic.twitter.com/anSRbKTGb8

— Velocity Procurement (@VelocityProcure) April 9, 2019
Time to call it a truce with @Sievo #ISM2019 #partnersinprocurement pic.twitter.com/oYAKxQGPAR

— Velocity Procurement (@VelocityProcure) April 9, 2019
And finally, Houston has been a great place to be a sports fan in recent years, and it offered no shortage of extracurricular activities for ISM2019 attendees.
This #ISM2019 trip is full of fun and surprises. First NBA game followed by first MLB game! pic.twitter.com/2mJJyfC6dt

— Kelly Singleton (@kllygirl76) April 8, 2019