Inside Supply Management Magazine
Dissecting the ISM® Report on Business®
April 09, 2019
The ISM® Report on Business® (ROB), known as the most reliable non-government indicator of the economy, can help organizations envision the state of supply management — and how their businesses are faring in comparison to others.
The ROB offers has two composite indexes: For manufacturing, there is the PMI®, and for non-manufacturing, the NMI®. Each sector is further divided into individual indexes, such as Prices, Supplier Deliveries and Inventories. The report is based on surveys sent to hundreds of purchasing and supply executives in a variety of industries.
"This report is followed worldwide," says Anthony Nieves, CPSM, C.P.M., A.P.P., CFPM, Chair of the Institute for Supply Management® (ISM®) Non-Manufacturing Business Survey Committee. He and Timothy R. Fiore, CPSM, C.P.M., Chair of the ISM Manufacturing Business Survey Committee, gave a presentation, "Using ISM's Economic Indices: Putting the Report on Business to Work for You," at the ISM2019 Annual Conference this week in Houston.
When analyzing the ROB, it's important to understand business cycles, Nieves says. "The business cycle demonstrates the improvement or decline of business, and it's measured by gross domestic product (GDP)," Nieves says. "By knowing what the business cycles are, we can improve our planning strategically, and we can understand how things affect the supply cycle."
From 1854 to 2009, he says, there have been 33 complete business cycles, with the average expansion lasting three years, the average decline 17 months. However, the current expansion began in June 2009. "It's now 10 years," Nieves says.
He and Fiore recommend using the at-a-glance tables, released with the report each month, to get a snapshot of what's going on. "It tells you exactly what's happening from the standpoint of the 10 subindexes (of each composite Index)," Fiore says.
For each composite Index and subindex, a reading of greater than 50 percent indicates the sector is growing; lower than 50 indicates it's contracting. The report includes tables and graphs on previous-months' readings for the composite index and each subindex. "You can see the trends, the direction of growth — whether it's growing, contracting or the same," Nieves says. "I like this graph because it shows how the report — the composite Manufacturing and Non-Manufacturing — closely tracks the GDP."
Fiore recommends looking at looking the Manufacturing index in terms of (1) demand, which is reflected in the New Orders, Customer Inventories and Backlog of Orders indexes, (2) consumption, the Production and Employment indexes, and (3) inputs, the Supplier Deliveries, Inventories and Imports indexes. He says, "By looking at the three (dynamics) together — although I know they don't sum up to the PMI® — this gives me a better idea for how things are balancing. (For example), is the PMI® going up because of an input issue or output issue, meaning consumption? Or is the PMI® going up or down because of new orders gaining or losing? How do I look to balance that?"
Among other issues:
●Shouldn't the Manufacturing report include a subindex measuring construction? Why doesn't it? "Manufacturing is usually goods produced inside a building, and distributed through distributors or retail, whereas construction gets produced outside," Nieves explains.
●What is Inventory Sentiment? This Non-Manufacturing subindex pertains to "how respondents feel about their inventory and its application to their current business levels," Nieves says.
●Where is the U.S. economy headed? "Everyone asks, 'Where are we going regarding expansion? Are we hitting a recession anytime soon?' An expansion just doesn't up and die," Nieves says. "Usually, something causes it. Moving forward, the possible headwinds could be something geopolitical or the trade situation, or a multitude of things that could cause some difficulty for the economy. But right now, it's still humming along very well."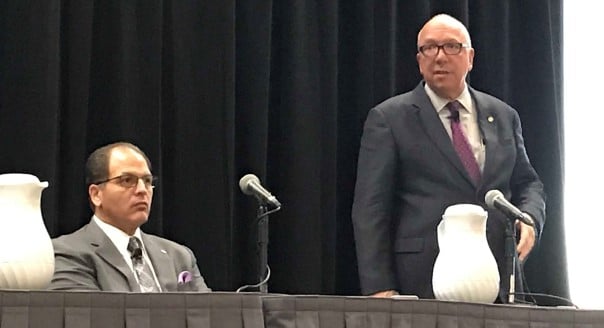 (From left) Anthony Nieves, CPSM, C.P.M., A.P.P., CFPM, and Timothy R. Fiore, CPSM, C.P.M., Chairs of the Institute for Supply Management® Business Survey Committees, discuss the ISM® Report On Business®during a session at ISM2019 in Houston.