Inside Supply Management Magazine
Tips for Better Print Management
March 25, 2019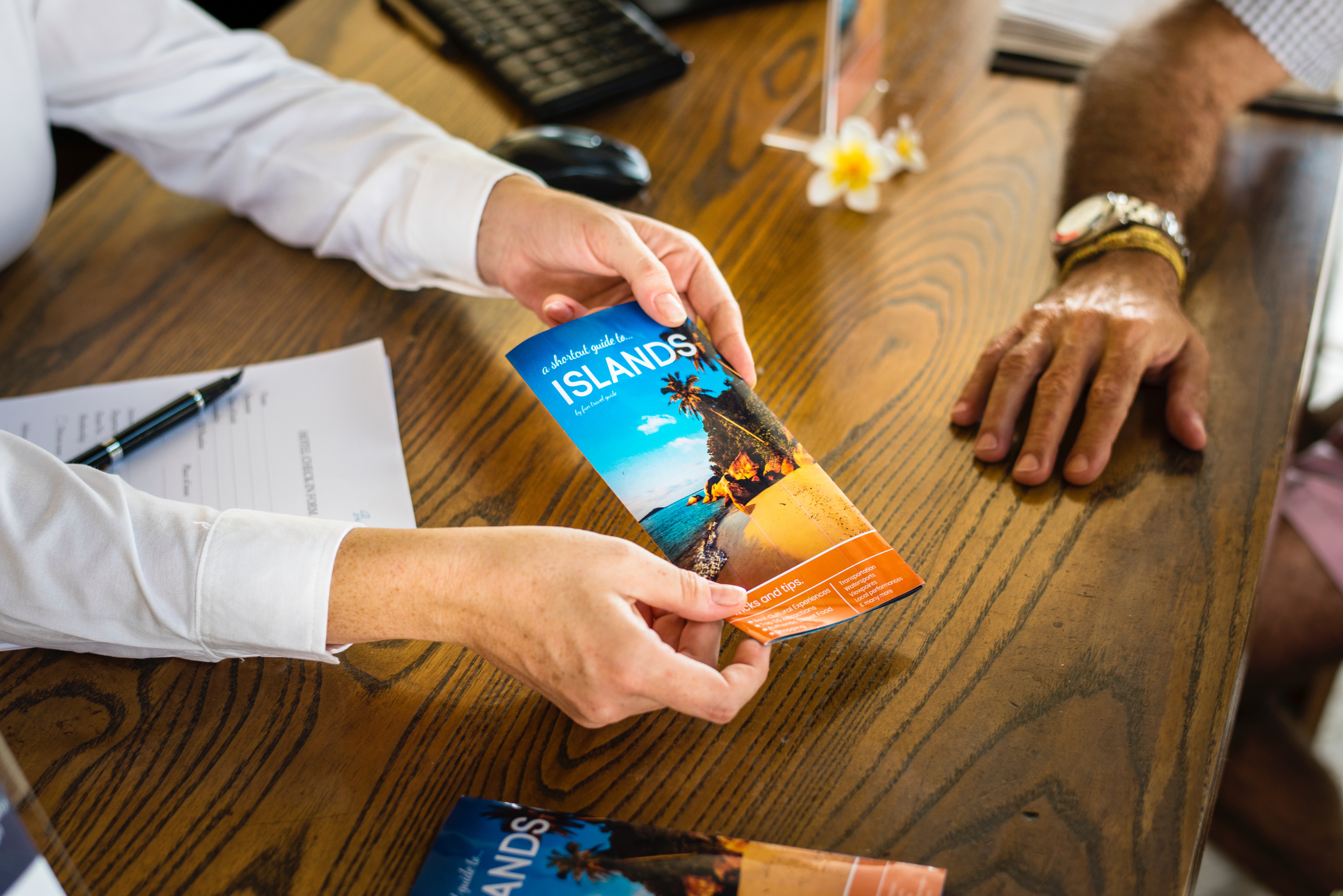 By Graham Crawshaw
Companies' spend on printed marketing materials may have decreased since the growth of the Internet and digital marketing. However, print remains an important part of the marketing mix for many organizations — and, due to its specialized nature, can be one of the most complex categories to manage.
The sheer range of printed products, combined with a fragmented buying approach by stakeholders who deal with multiple local suppliers, has led many organizations to (1) introduce a print-management function or (2) establish in-house print-buying units to apply more control and improve spend management.
Print management remains a popular topic of discussion between delegates at CASME RoundTables. This article shares some of the strategies and experiences — like optimizing spend and controlling costs — from CASME's membership to help procurement professionals improve their print-management capabilities:
Reducing Risk and Optimizing Spend
An organization's print-production needs can include marketing collateral, in-store promotions, direct-mail packs and transactional print. Contracting a print management company (PMC) to coordinate those tasks significantly reduces the number of print suppliers requiring procurement's engagement. The designated PMC will match the client's print specifications to various printers' capabilities. This arrangement reduces risk, optimizes efficiencies and lowers overall costs due to the high volumes that PMCs placed with print suppliers.
Using a single PMC enables procurement to implement one master service agreement (MSA), which includes agreed KPIs and other service requirements. The PMC is responsible for monitoring the quality and delivery of printed materials and dealing with any supplier issues, leaving procurement to concentrate on the many other elements of the marketing services category.
Depending on the organization's marketing and brand strategy, printed marketing materials are often designed to ensure global brand consistency and alignment. However, they can be adapted to targeted areas. Printing can be performed by country- or region-specific suppliers or managed by local hubs of global printing-service providers.
Strategic Sourcing and Controlling Costs
Although some CASME organizations are outsourcing print management through PMCs, a CASME study revealed that 31 percent (see below graphic) are managing print requirements internally and contracting with printers directly.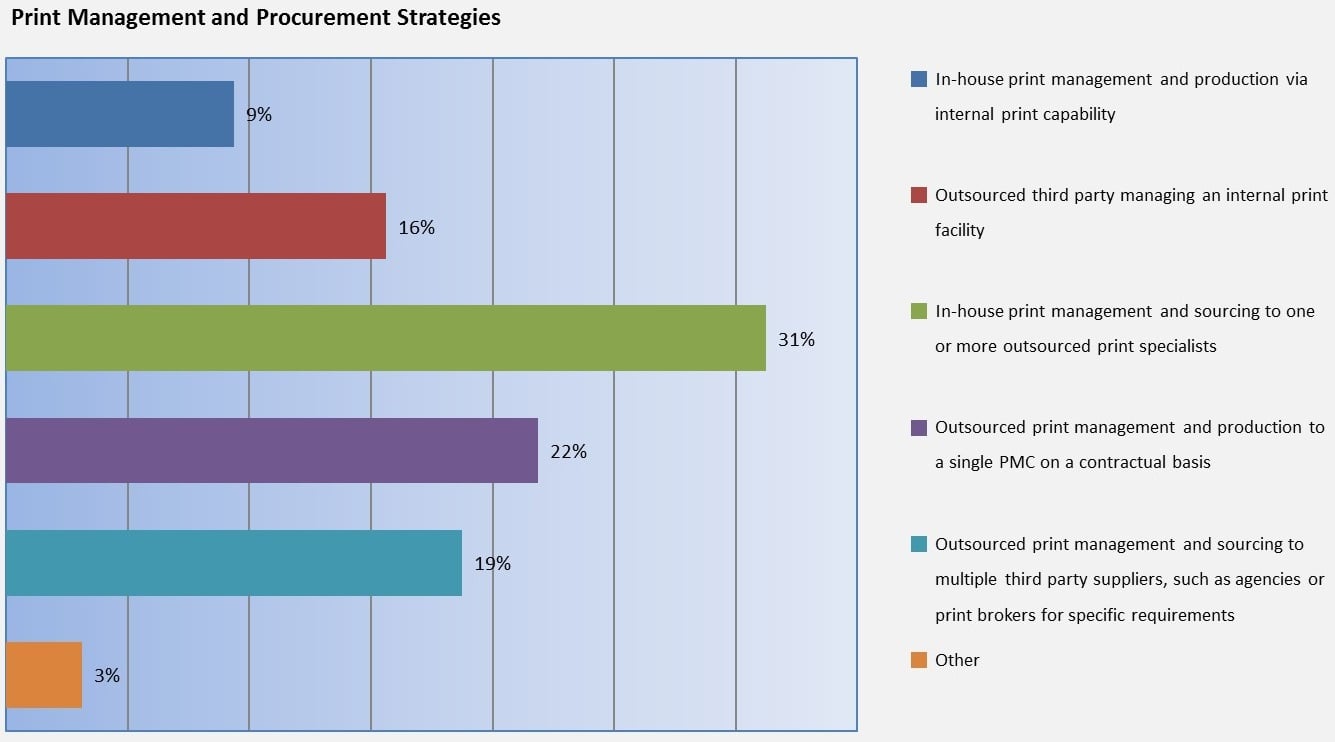 Source: CASME Membership, Print Policy Procurement Examiner
Procurement usually implements a preferred supplier list (PSL) to establish and maintain direct relationships with the supply base. One approach is to use this set of preferred printers for the organization's main print production requirements and to employ another company for the fulfillment of items such as direct mail and promotional packs.  These fulfillment companies can potentially serve multiple printers for distribution and transportation of printed marketing materials.
CASME members report that accurately forecasting print requirements can be challenging. Printed marketing materials tend to be used for a limited time, which can result in high levels of waste due to over-ordering.
Once a supplier has accepted a print job, internal stakeholders could make changes to the scope, specifications and print volume. These changes often result in higher prices from suppliers; therefore, to manage spend, change-request restrictions should be implemented. Also, internal stakeholders should be educated on change costs and encouraged to provide clearer briefing instructions.
Adding Value
Procurement can add value to the print-management process through the following 10 tips from a CASME Good Practice Guide:
1) Source your own print-management technologies; this includes digital-asset management solutions which, when integrated within the creative production workflow process, encourages efficient copy approval and enable consistent brand-image quality.
2) Consider using a PMC to aggregate your print requirements and optimize cost savings. The financial impact of engaging a PMC should be quickly visible and include increased cost efficiencies and bottom-line savings. If volumes permit, allow PMC employees to work on-site, at no charge, alongside the marketing or procurement team. This reduces the company's internal head count provides access to specialist print knowledge.
3) Encourage the PMC to regularly present new creative options and paper types, which will result in greater levels of innovation.
4) Disclose print volumes, but do not make volume commitments. Include sustainability requirements in contracts and statements of work.
5) Request full transparency of the supplied bids to assess the cost of paper, production, finishing, shipping, mailing, overheads and profit. It rarely makes sense to source paper directly from manufacturers, unless for large-volume projects like retail catalogs.
6) Decouple print buying from creative agency contracts. CASME members reported that introducing transparency into the print-buying process can eliminate agency markups of up to 40 percent.
7) Include contractual rights to retain ownership of data and digital assets, which makes it easier to switch suppliers.
8) Apply gain-share models to incentivize print suppliers to achieve greater cost savings.
9) Utilize rebates, typically up to 15 percent with panel printers. This ensures prices are not inflated to recoup such a rebate.
10) Evaluate digital printing as an option for smaller volumes. Digital print quality has improved in recent years as the technology has matured. On-demand printing reduces paper waste and storage/warehousing costs.
Managing the Change
Using a PMC instead of buying print services directly can sometimes be resisted by stakeholders who have developed long-term relationships with print suppliers.
Also, procurement has a responsibility to ensure the transition does not lead to putting current suppliers out of business. One solution is for the PMC to on-board the organization's print suppliers and gradually support them by providing additional work under the new arrangement.
Graham Crawshaw is services director at CASME, a global membership community of procurement professionals headquartered in Bordon, England.