FedEx: Redefining Sourcing and Procurement Through Training and Core Skill Development
The company, which has approximately 550,000 employees worldwide and an annual revenue of US$94 billion, offers integrated business solutions through operating companies competing collectively, operating collabo­ratively, and innovating digitally under the FedEx brand.

In 2013, the global delivery giant began a transformation of its Sourcing and Procurement function. In due time FedEx developed a world-class vision of the function, embodying seven characteristics of world-class sourcing and procurement and establishing new tools, processes, systems, and teams. Read more to learn how FedEx has capitalized on training and knowledge and how ISM is one of the tools that played a role in their transformation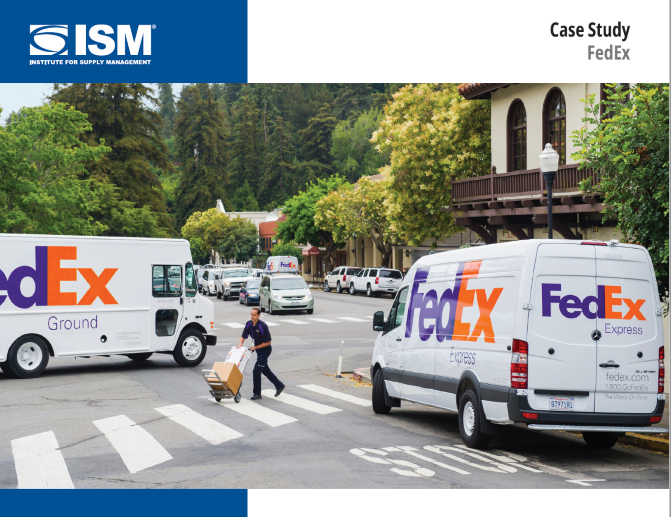 ---
Transformation is never complete. It's a journey for us. We need to continue to make changes and evolve as our core business evolves. For Sourcing and Procurement, ISM is one of those tools we will leverage to help us be at the forefront."
- Quincy McGlown Director of Sourcing at FedEx Services
As the largest global provider of warehouse automaton solutions and the second largest provider of supply chain solutions and materials handling systems, Dematic Corporation has experienced explosive growth and transformation of its procurement organization. Click below to learn how Dematic's leaders, Wanda Jackson-Davis, Senior Vice President, Procurement, and Stephanie Williams, Senior Director, Global Procurement, are transforming the procurement function as a strategic asset and embracing new opportunities.
Access Case Study
DuPont's global procurement oversees the sourcing and delivery of more than US$10 billion worth of goods and services. Follow along as Miguel Gonzalez, CPO, DuPont discusses the company's "evolution journey" in creating a strategic organization, focused on #enabling partners. Learn how ISM provided an "ecosystem of interconnected solutions".
Access Case Study
In a recent interview with Zimmer Biomet's Vice President of Global Sourcing, Howard Levy, we learned the personal story of how his professional development has morphed from "Me to We", thus creating the mindset required to drive organization and team development and growth. Follow along as Levy explains how Zimmer Biomet continuously grows talent to the next level of skills in sourcing and supply chain and how the company utilizes the ISM Corporate Program to develop all team members regardless of career stage.
Access Case Study