July 2021 Manufacturing ISM® Report On Business®
Read More
Manufacturing PMI® at
59.5%
Supply Management News & Reports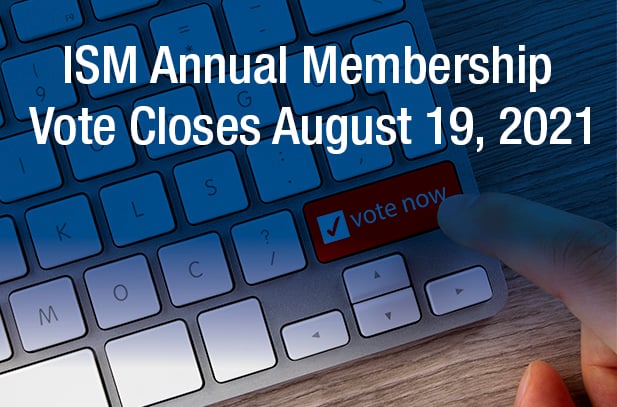 Upcoming Education
August

04-31

2021

GUIDED LEARNING

Your suppliers are your organization's lifeblood, and to be successful, you need them to be on the same page as you to accomplish common goals and objectives. This Guided Learning course will introduce you to the discipline of supplier relationship management (SRM). Designed with today's busy professional in mind, this course will help you to plan and manage your supplier interactions effectively for better outcomes.

August

10-11

2021

VIRTUAL CLASS

It's a given that contracts will be part of any construction project. If you have responsibility for this area, this contracting training will provide you with very specific information to help you succeed in this function. This supply management course will focus exclusively on the legal environment and aspects of contracting for construction projects. You'll have two full days to dive into contract formation, performance, remedies and agency relationships – all reviewed in the context of construction projects. Be sure to have copies of your contracts for reference during the program, so you leave with practical application and experience relevant to your organization. This is a must-attend workshop. **

William D Agee JR, C.P.M.

August

17

2021

Global supply chain disruptions have forced businesses to review their supply chains and existing contingency plans to meet the demands of COVID-19 while planning for recovery. In this session, we will discuss practical crisis management strategies and real-life examples of organizations that have taken steps to mitigate supply chain risk and deal with the crisis.

Aug-Sep

23-24

2021

GUIDED LEARNING

Get prepared for the Supply Management Integration exam with ISM's Guided Learning course. Designed with today's busy professional in mind, this comprehensive, self-paced course will provide a deep understanding of core supply management competencies and set you up for success on the exam.

August

25

2021

Chapter Meeting

Join ISM-Arizona for the Annual Business Meeting where you get to know the Board of Directors and receive updates on the chapter membership, financials and 2021-2022 events.

Sponsor: 020 ISM-Arizona, Inc.
Corporate Program
Increase the agility and broaden access to education, tools, research and more for your supply chain team. ISM offers programs for organizations to help provide a framework for continuous learning and access to valuable membership resources and products 24/7/365
Get Team Building Info
Are You Looking for Individual Membership?
Joining the ISM community gets you access to education, tools, research, events as well as a network of peers who face and solve for some of the same challenges you encounter. Invest in your own professional agility.
Access Benefits Info