A Powerful Pulpit for Procurement In the face of disruption that continues to challenge supply chains, supply management professionals are helping their companies thrive. This issue recognizes the profession's best: Their contributions are moving their organizations — and the profession — forward. Also, ISM®'s 2022 Salary Survey provides insights on compensation and employee trends.
Read Cover Story
ISM® honored
37
award winners this year!
Supply Management News & Reports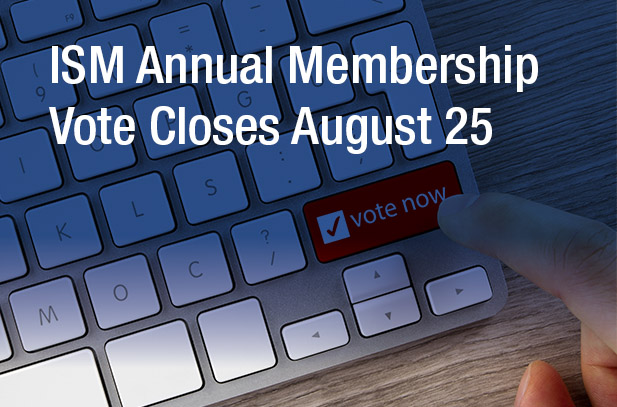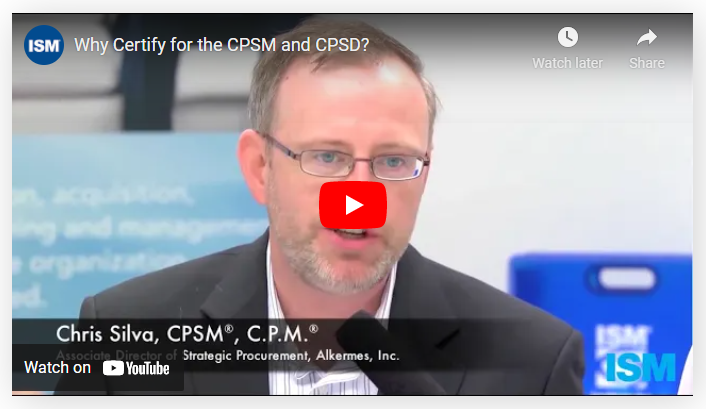 Upcoming Education
August

18

2022

Join our distinguished panel of Procurement experts to discuss the key themes and insights from the new book, "Cognitive Procurement: Discover How to Embark on Your AI Journey", co-authored by Robert Handfield, the professor of Supply Chain Management at North Carolina State University. Join in the conversation and grab your complimentary copy of the book upon attending the webinar.

August

23

2022

Searching "Master's Degree vs. Certifications" on Google generates millions of results. What better way to sort through the noise than to hear from a group of talented individuals who have gone through that same decision process and have come out on the other side? Learn about your options, gain insightful tips, and get your burning questions answered in this interactive session! We'll talk through the differences between an MBA, other business masters degrees, the different certification options that are available from ISM, helpful "hacks," and more to help you optimize your next career move.

August

24-25

2022

VIRTUAL CLASS

It's a given that contracts will be part of any construction project. If you have responsibility for this area, this contracting training will provide you with very specific information to help you succeed in this function. This supply management course will focus exclusively on the legal environment and aspects of contracting for construction projects. You'll have two full days to dive into contract formation, performance, remedies and agency relationships – all reviewed in the context of construction projects. Be sure to have copies of your contracts for reference during the program, so you leave with practical application and experience relevant to your organization. This is a must-attend workshop.

William D Agee JR, C.P.M.

Aug-Sep

29-30

2022

GUIDED LEARNING

Get prepared for the Supply Management Integration exam with ISM's Guided Learning course. Designed with today's busy professional in mind, this comprehensive, self-paced course will provide a deep understanding of core supply management competencies and set you up for success on the exam.

September

12-13

2022

ISM®'s Utility Purchasing Management Group (UPMG) Annual Conference is recognized as one of the premier educational events within the utility supply chain industry. Given the current environment and the impact to supply chain, this virtual event will focus on resilience. Working with our executive committee of utilities professionals, suppliers and thought leaders—and pulling from our continued research data on the impact of COVID-19—we have put together a focused virtual event packed with education, and yes, connection with other supply chain professionals and suppliers within the utilities industry. LEARN MORE AT www.ismworld.org/upmg
Corporate Program
Increase the agility and broaden access to education, tools, research and more for your supply chain team. ISM offers programs for organizations to help provide a framework for continuous learning and access to valuable membership resources and products 24/7/365
Get Team Building Info
Are You Looking for Individual Membership?
Joining the ISM community gets you access to education, tools, research, events as well as a network of peers who face and solve for some of the same challenges you encounter. Invest in your own professional agility.
Access Benefits Info