Institute for Supply Management is closely monitoring the impact of the coronavirus outbreak on supply management. As your professional association, we know in times like these, we are stronger together.
This page is a centralized resource to gather news, resources and upcoming events centered on information you should know and education and research you can access on mitigating the risks impacting the supply chain today. We also invite you to join in the conversation and share your experience and questions through our social channels or by connecting with us at ask@ismworld.org.
ISM RESEARCH SAYS...
A second round of research around the impact of COVID-19 on supply chain was conducted between March 17-30th with more than 550 respondents from our member and professional community. Below are some of the highlights in comparison to the survey conducted on the same topic in late February.
86%
Of respondents reported longer lead times in China (up 8% over February).
---
NEW: 74% see longer lead times in Europe and between 34-44% from North American countries.
28%
Up from 8% of respondents report an impact to operations in the first half of the year.
---
NEW: April is expected to be especially challenging with 39% reporting a severe impact.
-22%
Reduction in target revenue, down an additional 16% over February.
---
NEW:Only 1/6th of respondent pool reported decreasing revenue targets in February, while in March almost half reported negative impact to revenue.
-5%
Reduction in demand for products.
---
NEW: Some industries increasing revenue targets include Food, Beverage & Tobacco Manufacturing (+8.8%), Wholesale Trade (+0.3%), and Management of Companies & Report Services (+17.5%). Significant demand is hitting Health Care & Social Assistance (+50%) even as they adjust their revenue target -30%.
Unprecedented Times. Unparalleled Education.
Must-Watch Webinar Series
Brand new content
Insights from supply management experts
Solutions to address today's challenges
Learn More
Pandemic Toolkit
Gain greater visbility and transparency into your existing supply chains.
Templates and models to help quickly assess risk
Recommended strategies toa lign with action plans
Resource guides to keep you up-to-date and informed
And more!
Learn More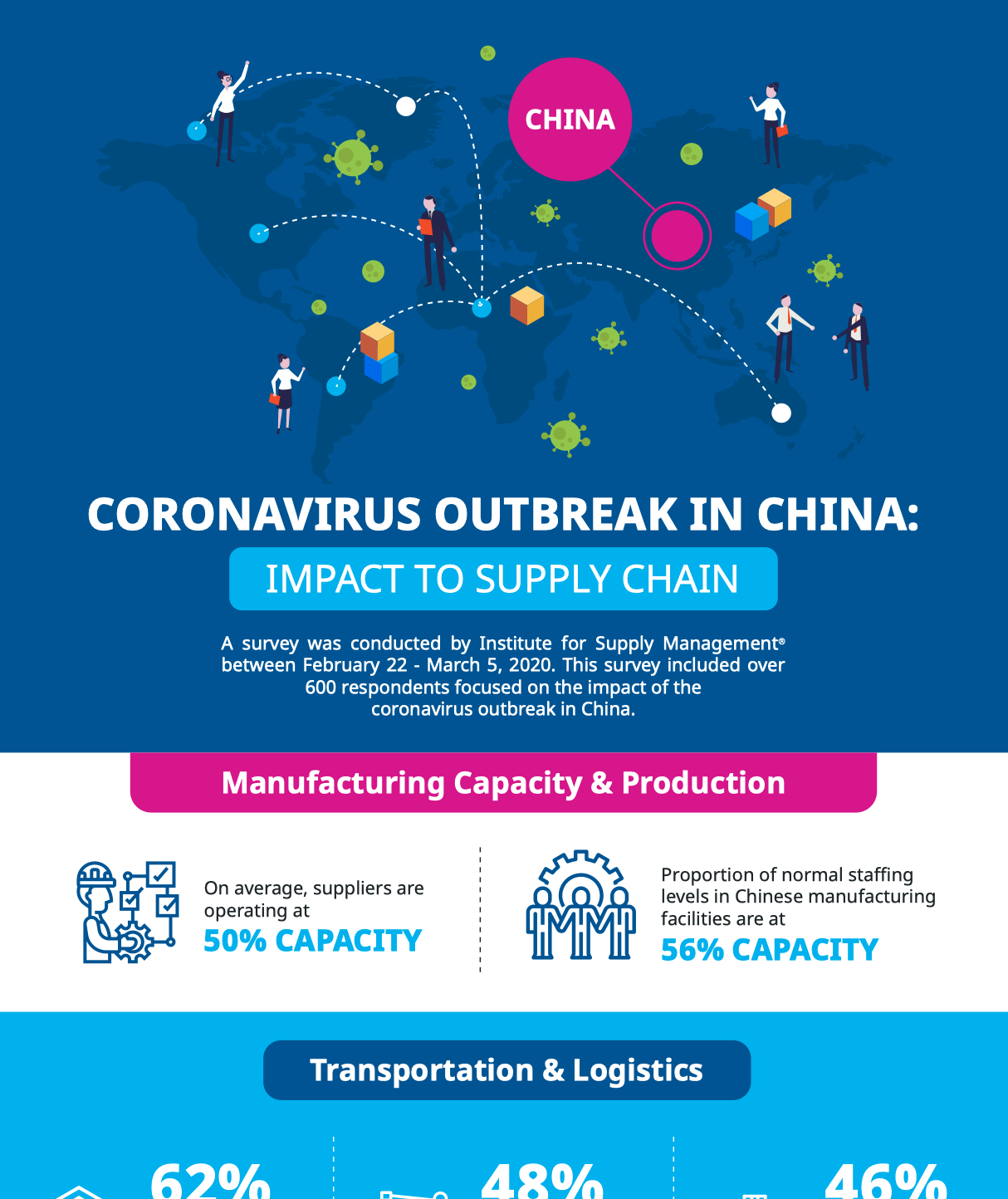 CORONAVIRUS IMPACT ON SUPPLY CHAIN