Today at #ISMWorld2023: Cheers to the Volunteers
May 09, 2023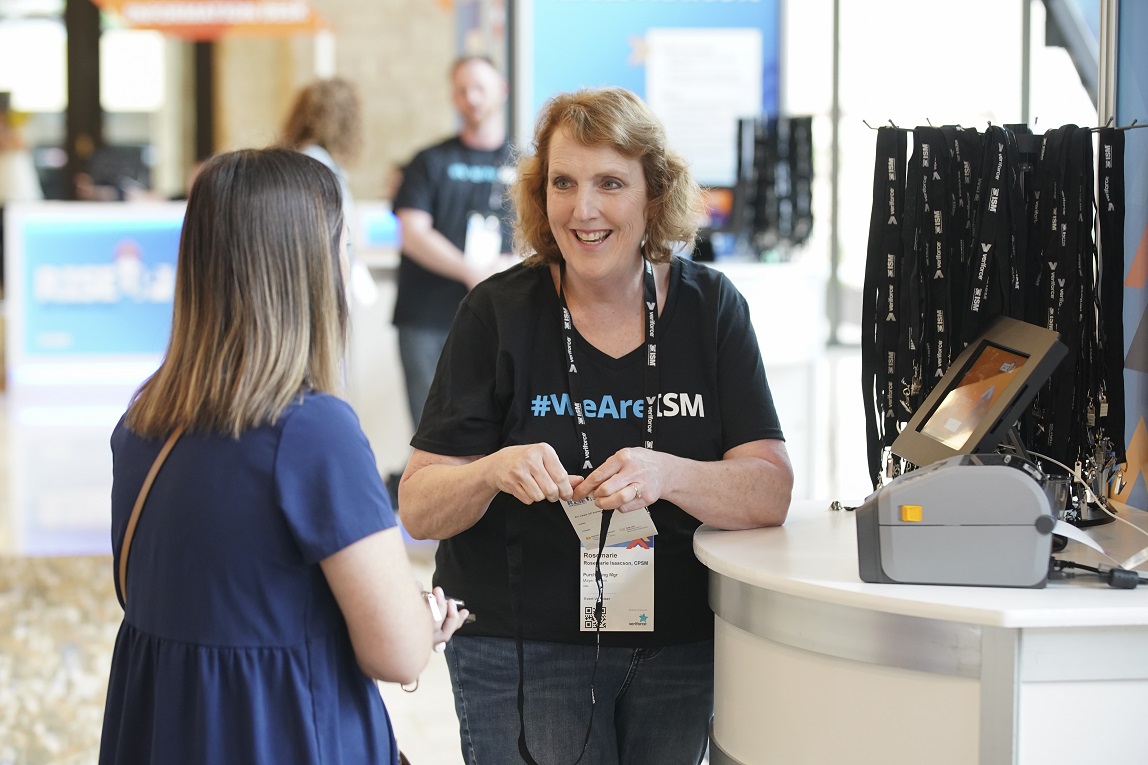 The ISM World 2023 Annual Conference — or any Institute for Supply Management® event — cannot happen without member volunteers.
They have been conspicuous at the Gaylord Texan Resort & Convention Center in Grapevine, Texas by their "We Are ISM" T-shirts, but volunteers work much more anonymously at chapter events around the country.
"That's where you start giving back," said volunteer Maureen Donnelly, CPSM, C.P.M., senior manager of strategic sourcing at Ryder. "You can come to the Conference for a little more high-profile work, but a lot of people do things for local chapters that you don't always see."
On Tuesday at the Volunteer Champagne Toast, ISM CEO Thomas W. Derry, other leaders and employees raised glasses not only to the workers at the Conference, but all of those who help make ISM events work. "It really is nice to be recognized by the organization, even though ISM thanks us a lot," said Sharon Hauht, CPSM, C.P.M., purchasing manager with the Las Vegas Police Department.
ISM World 2023 was one of the more challenging volunteer experiences, due to the presence of former President George W. Bush at the Tuesday General Session. While such past Conference speakers as former U.S. Secretary of State Colin Powell and former British prime minister David Cameron required extra security, a former president is another level.
"We started preparing and discussing long before the Conference, because we knew it was going to be hectic and that there would be parameters that were more restrictive than normal," Donnelly said. "It was intense, but I thought it went well."
Hauht said other associations are more tailored to her role as a public-sector purchaser. However, she said, "I remain an ISM member and keep coming to events because I got started in this organization. I feel a loyalty to ISM and the friendships I've made."
Students Make Their Cases
Masstricht University in the Netherlands began its quest for third consecutive victory in ISM's International Student Case Competition on Tuesday, coming a long way to do it in person. After the 2022 event was conducted virtually, the Gaylord Texan Resort & Convention Center hosted this year's competition.
The four finalists — Masstricht, Wayne State University and two teams from the University of Michigan — were assigned a case study that made them newly-hired CPOs. Their case study, "Strategic Growth of an Innovative Enterprise," required them to design plans for organizational restructuring and bringing inventory turns to a benchmark level, as well as developing a sourcing strategy for rare-earth metals.
"Congratulations on being here today," Miguel Gonzalez, CPO at DuPont and a member of ISM's Board of Directors, told the students. "Being one of the four finalists is a major accomplishment, so good luck and go get it."
The winner will be announced on Wednesday, and a poll on Conference attendees through the ISM Events app factored into the voting.
'Unfiltered' Discussion at Conference
ISM recently rolled out its own podcast series, "Supply Chain — Unfiltered," a media platform designed to facilitate conversation and introduce leading technologies, modifications to best practices, shifting perspectives and more.
"With individuals, teams and organizations searching for ways to stay on top of hot topics and what's next, 'Supply Chain — Unfiltered' is a fresh, informal and informative way to get your fill of information," says podcast host Melanie Stern, ISM Communications Specialist.
During the Conference, three podcasts were recorded:
"How to Gain More Control of Purchasing and Leadership Skills," with procurement leader and author Peter Dill
"Changes in AI Integration and the Benefits of Gen Z Talent," with Naseem Malik, CPSM, managing partner of MRA Global Sourcing
"Creative Sustainability Through Carbon Smart Wood," with Jeff Cohen, vice president, sales at Cambium Carbon.
The podcasts will be added to the "Supply Chain — Unfiltered" episodes page in the coming weeks.
Wednesday's Highlights
At an ISM Annual Conference, the closing keynote address is usually designed to provide actionable information — and inspiration — attendees can immediately put into use at their companies. Alison Levine fits that bill.
Levine is known as a mountain climber, but perhaps "mountain conqueror" is a more accurate term. She had completed several notable climbs and in 2022 was team captain of the American Women's Everest Expedition that ascended to a few hundred feet short of Mount Everest's summit. Her 8 a.m. General Session is titled "Rise Up: Finding Strength and Conquering Challenges in Tough Times."
The Conference concludes with three workshops: "How to Play in Your Zone of Genius and Keep Winning Together!" and "Developing a Strategic Approach to Sustainable Procurement" at 9 a.m., and "Women's Community: Addressing Women's Challenges" at 10:30 a.m. Then, the countdown begins until ISM World 2024 convenes in Las Vegas.
A detailed ISM World 2023 agenda can be viewed here.