ISM World 2023: Semiannual Forecast Reveals Softer Growth
May 08, 2023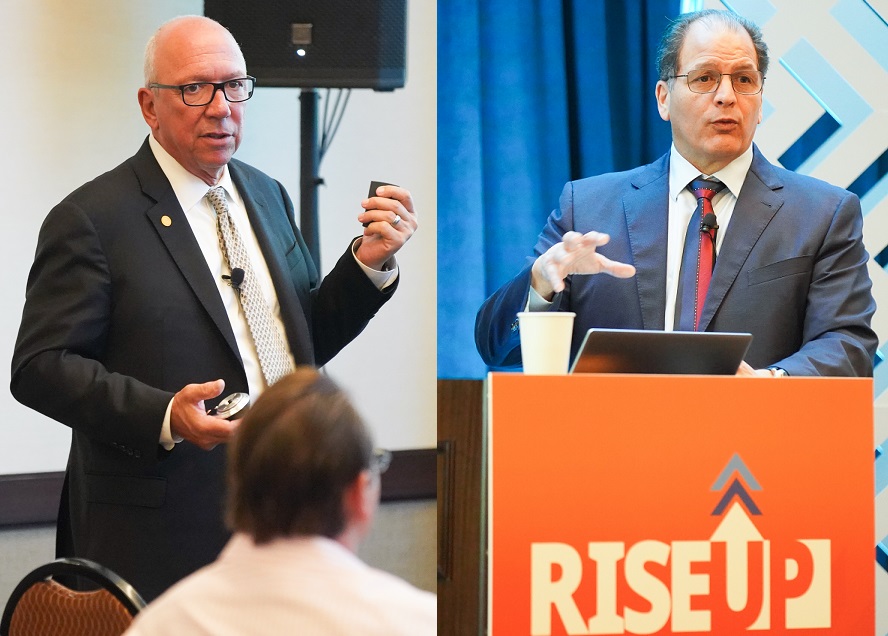 Institute for Supply Management® Business Survey Committee Chairs Timothy R. Fiore, CPSM, C.P.M. (Manufacturing) and Anthony Nieves, CPSM, C.P.M., A.P.P., CFPM (Services) during their session at ISM World 2023 in Grapevine, Texas on Monday.
Institute for Supply Management®'s Spring 2023 Semiannual Economic Forecast, released on Monday, revealed that the nation's purchasing and supply executives expect much slower growth the manufacturing and services sectors that was expected at the start of the year.
Some of the charts presented on during a session at the ISM World 2023 Annual Conference at the Gaylord Texan Resort & Convention Center in Grapevine, Texas, revealed how dramatic the expectations dip is, particularly for the manufacturing sector. Such lower expectations also apply to the U.S. economy; however, the Forecast and session were conspicuous for a word that was not used.
"You wonder if some people are trying to talk us into a recession," said Anthony Nieves, CPSM, C.P.M., A.P.P., CFPM, Chair of the ISM Services Business Survey Committee. "If you look at what causes a recession, it's contraction of GDP (gross domestic product), inflation and high unemployment. Right now, we only have one."
He continued, "The Federal Reserve is tasked with monetary policy, managing inflation and managing the employment picture. There's only one thing that's a challenge right now: inflation, which is what the Fed is trying to stave off and hope it doesn't propel us into something worse."
Still, the data presented by Nieves and Timothy R. Fiore, CPSM, C.P.M., Chair of the ISM Manufacturing Business Survey Committee, indicate sector resiliency amid uncertainties about inflation and geopolitics. But those uncertainties have impacted performance over the previous four months, as well as projections for the rest of 2023, in such areas as revenue, capital investment and employment.
Based on responses from the Manufacturing and Services Business Survey Committees that help compile the monthly ISM® Report On Business®, the Forecast — a comprehensive prospectus is released in December, with a smaller update in May — reports recent sector performance provided by the purchasing and supply executives on the front lines of the U.S. economy, as well as their sentiments for the rest of the year.
"When you talk about the changes since December, in the case of manufacturing, it has changed dramatically," Fiore said. "Respondents were very optimistic in December that, by the time we got to the end of 2023, it would look a lot like last year. The update indicates that things will slump a bit, but in no case are we going into negative territory — which is a conundrum for the Federal Reserve."
Last week, the Fed raised interest rates for the 10th time in a little more than a year in hopes of slowing inflation to a goal of 2 percent.
Manufacturing executives project a revenue increase of 1.7 percent this year, a decrease from the 5.5 percent expected in December. Their 0.4-percent increase in capital expenditures is lower compared to the 2.6 percent forecast at the end of 2022. And a 0.5-percent increase expected for employment is well below the 3.9 percent projected in December.
The differences are much less pronounced in services. In that sector, executives expect a 2.7-percent increase in revenues, just 0.4 percentage point lower than the December forecast. Their 0.7-percent gain in employment is slightly lower than the 1 percent expected at the end of 2022, and the capital expenditure projection went up — 4 percent in the spring projection, compared to 2.8 percent in December.
"Those are great examples of how things are much more cyclical on the manufacturing side," Fiore said.
However, inflation is a bigger headache on the services side, with executives reporting a 5.1-percent increase in prices paid through April and projecting a 4.3-percent increase for the entire year. Manufacturing prices went up 2.3 percent through April, with an expected 1-percent increase for 2023.
While fuel and labor costs are traditional drivers of services inflation, "raw materials prices and metals have been a factor," Nieves said. "Many of the manufacturing companies are suppliers to services companies, and so raw materials prices and costs affected them. Things have trended up, but the majority of price increases are in the first half of 2023. And we've seen many of the prices start to moderate in the monthly reports."
The Services ISM® Report On Business® Prices Index, which registered an all-time high of 84.5 percent in December 2021, has been below 60 percent the last two months.
The current operating rates are 82 percent of normal capacity in the manufacturing sector and 91 percent in services. Nieves often says that anything above 80 percent suggests a company or sector is "humming along," but the manufacturing number is 6.4 percentage points lower than the December figure. That's likely a product of sluggish demand, which Fiore said also played into the lower employment projection.
"That's not a function of quits, it's about a lack of demand," Fiore said. "Companies aren't at a point where they can't find anyone to hire; they don't need all of those people. That's a huge shift in terms of head count."
ISM's Business Survey Committee Chairs typically don't make broad proclamations about the economy beyond what the Report On Business® and Semiannual Economic Forecast data say. Both reiterated that the growth projections suggest that no recession red light is blinking, but the uncertainties hint that the Federal Reserve's hopes of a "soft landing" — bringing down inflation while avoiding a recession — could be dwindling.
"Is a soft landing a right thing for the economy? We could debate about that a while, but I think people are starting to feel it's not," Fiore said. "The soft-landing approach is not getting us where we need to be, which is leading to uncertainty that is factoring into capital investment and employment plans."
ISM's December 2023 Semiannual Economic Forecast figures to indicate if continuing uncertainties will be a drag on projections for next year.