How Supply Management Can Empower Emotional Resiliency Amid Burnout
February 13, 2023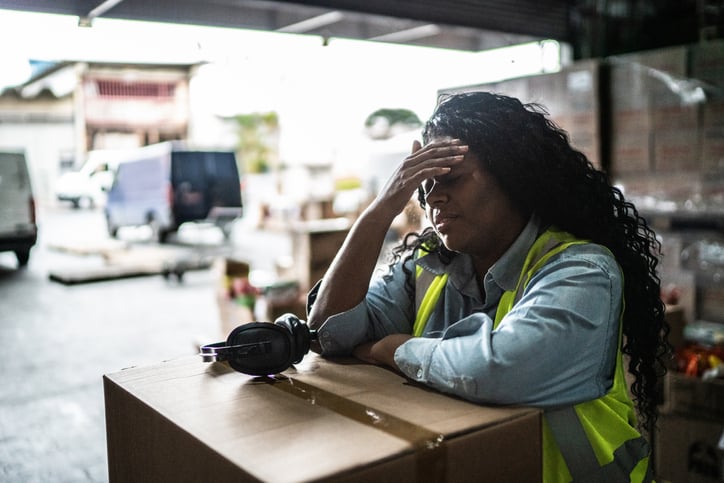 Pressure to perform on the job mirrored global supply management stressors. Black swan events and the need to mitigate or avert them led to unrealistic employee expectations. As many supply chain imbalances have eased, healthy work-based behaviors remain dormant, facilitating burnout.
The World Health Organization (WHO) describes burnout as an occupational workplace phenomenon, characterized by extreme fatigue and difficulty with cognition. Left unaddressed, burnout can lead to anxiety and depression.
Seventy percent of worldwide workforce participants experienced burnout within the last year, according to numerous studies, said Shami Anand, procurement and supply chain executive and founder of Power Your Impact LLC, a company designed to help women elevate their leadership impact in supply management. "Women's Supply Management Community: Identify and Extinguish Burnout," a roundtable discussion moderated by Anand, focused on the growing trend of mental health issues plaguing an already challenged profession.
How did we get here? Anand said it has much to do with the expectations we set on ourselves, and what we expect of others, adding that, "We need to learn how to say no and be OK with that."
Burnout Is a Gradual Phenomenon
Perhaps burnout came to the supply management profession honestly. "For me, the remote work environment brought a catastrophic challenge with employees trying to balance work and home life," said Joe Gallagher, MBA, CPSM, C.P.M. contracting and procurement director at Apache Corporation, an energy company.
Remote work blurred the lines between "at work" and "at home," he said: "Being available all the time, any time, even with a hybrid setup, made employee accessibility instantaneous and damaging. Burnout is more evident leading to quiet quitting, attrition and health issues."
The strongest predictive of burnout is toxic workplace behaviors, whatever "instills feeling unsafe or discomfort," Anand said. While precursors to burnout can be found on the job, employees often face emotional challenges at home, inadvertently bringing them into the workplace. But if it isn't safe to acknowledge or talk about these issues, burnout festers.
Anita Newsom, procurement director at Manscaped, shared her burnout story, saying she was an overachiever when she worked at a large consumer goods company. "At the time, my husband and I were going through a rollercoaster ride of emotions regarding the adoption of our child," she said, "but I didn't feel there was anyone to confide in about it."
"Looking back," she said, "if I had a go-to individual or a support network at work providing advice or comfort, maybe I would have handled things differently." Newsom said for anyone going through a difficult time, handling it alone can be a precursor to burn out.
While some can cite a specific event as a cause, others attest to repeated cycles of burnout. Jeanne Rineer, C.P.M., Apple senior group manager, soft goods supply chain and procurement, recalled her first experience with burnout at the age of 18: "I was working full-time and taking college courses, an insecure overachiever eager to oblige anyone's request." Instead of succumbing to the symptoms of burnout, she "pushed past the signs, fueling it further," she said. Later in her career, it resurfaced.
"When employees left the company, I took on other roles and responsibilities," she said. "I tried to meet personal obligations at home, with the kids," intent upon not allowing burnout to get the best of her. "Sleep lasted only two to three hours each night for six months. It took a three-week medical leave to recover and a full year to get back to 'neutral'."
Burnout within the supply management profession can feel different for each person and alter physical, mental and emotional wellbeing. For Newsom, it was a slower, gradual process.
"My first sense of burnout was a higher rate of energy," she said, followed by irritability and loss of interest in doing things, even self-care, that would normally bring enjoyment. "It felt like a complete loss of control, where I was overwhelmed, not feeling supported, driving me to do things in conflict with who I truly am."
Company Culture Is Critical
Consequences of burnout "affect the individual as well as the company, its culture and the profession," Gallagher said.
For supply management leaders, there are mindful considerations to integrate within corporate culture to help remove toxicity. Some rest on the individual while others are collaborative. It's important to "promote compassionate leadership, from the head and the heart, while prioritizing a culture of inclusivity," Anand said. "Put people first while driving results."
Gallagher recommends working on time management, which can "provide benefit to your life in so many ways." He adds, "Ask yourself why you're stressed and consider the source. Track daily activities in 15-minute increments. Then, lean in to how you feel about it. That's where targeted solutions lie."
Panelists provided other suggestions:
Anand: "Check in with yourself when considering taking on tasks and projects and realize the implications and expectations."
Rineer: "Know your burnout 'triggers' and avoid them. Prioritize a weekly self-check to assess behaviors and adjust decision-making where necessary."
Gallagher: "Don't wait for life to happen to you." Make a life plan for yourself or someone else will, he said.
Newsom: Learn to recognize the symptoms of burnout. "Identify empathic individuals who value privacy in these matters and build a support network," she said.
Anand: "Commit to being present in the moment, no matter where you are or what you're doing."
Newsom: "Choose what you want to focus on and shine. That's what makes you the person you are today," she said, and added that discerning priorities, more importantly what aren't the priorities, can keep work and personal life in balance.
(Photo credit: Getty Images/FG Trade)