Report On Business® Roundup: July Manufacturing PMI®
August 01, 2022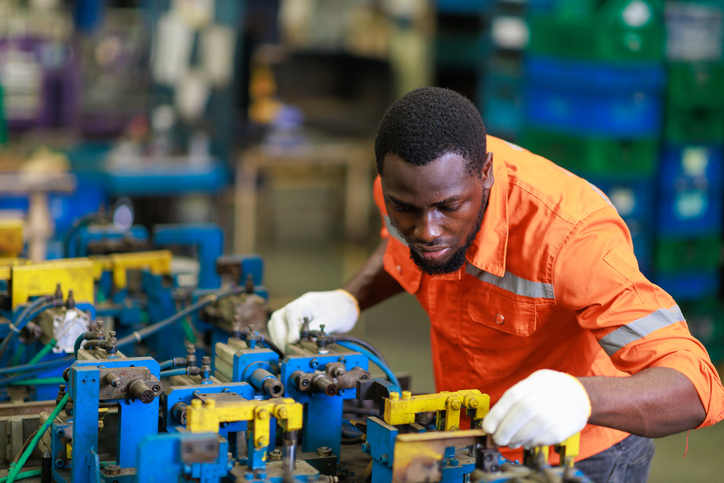 Days after the announcement that U.S. gross domestic product fell during the second quarter — the biggest of the recession red flags — did the Manufacturing ISM® Report On Business® for July offer another signal of a shrinking economy?
Yes and no.
Some observers seized on subindex data consistent with previous recessions, and we'll get to that in a moment. However, the Manufacturing PMI® of 52.8 percent indicates continuing growth (though at the slowest rate in two years) in U.S. factory activity, with supply and demand getting closer to equilibrium, said Timothy R. Fiore, CPSM, C.P.M., Chair of the Institute for Supply Management® Manufacturing Business Survey Committee.
"It was a strong month, similar to June," Fiore told a conference all of reporters on Monday. "The fundamentals (of the data) say that we needed to get to better equilibrium on the supply side versus demand. New order rates slowed, and suppliers improved their (delivery) performance. … But there is still a significant amount of inventory that supply managers don't want to get stuck with."
July ISM Manufacturing fell to 52.8 vs. 52 est. & 53 in prior month; new orders fell to 48 and still contracting; inventories rose to highest since 1984, production at lowest since May 2020, and prices paid fell to lowest since Aug 2020; employment still contracting pic.twitter.com/gTRGxNLWam

— Liz Ann Sonders (@LizAnnSonders) August 1, 2022
There was a lot of action in the data, so let's break it down:
The New Orders Index (48.0 percent) contracted for a second straight month. With the Inventories Index at 57.3 percent — its highest reading since July 1984 (57.8 percent) — buyers are likely holding off on new transactions after months of over-ordering.
The Prices Index (60 percent) no longer resides in sky-high territory following an 18.5-percentage point decrease, the fourth-largest ever and steepest drop since June 2010. Prices growth slowed thanks to energy-market volatility, metals markets softening and cooling chemicals demand.
The Employment Index remained in contraction at 49.9 percent, and labor will continue to be a fulcrum for the manufacturing sector. Companies want to hire but can't keep up with quits and retirements; this negatively impacts factories — the Production Index was 53.5 percent in July, down 1.4 percentage points — and supplier deliveries.
Despite their labor challenges, suppliers picked up the pace of deliveries in July. The Supplier Deliveries Index reading of 55.2 percent was down 2.1 percentage points, indicating slightly faster performance.
Flore told Bloomberg TV on Monday that the improved supply chain efficiency was one of the stories of the July data. However, he added on the conference call that employment issues will continue to be an anchor: "As long as employment remains sluggish, there won't be gains in production. (The index) is still below 55 percent, which is disappointing, but as companies have difficulty hiring, they're not going to reach potential on the production side."
Among those on the lookout for signs of a recession, the relationship between the New Orders and Inventories indexes was a focus on Monday. Subtracting the Inventories reading from the New Orders figure provides a difference of minus-9.3 percent, comparable with previous recessions. Though that figure is considered an indicator of the direction of the composite PMI®, sentiment on the current implications was mixed.
The last 4 times the spread between New Orders and Inventories in the ISM Manufacturing Index was this negative, the US was already in a recession. The 2001, 1990-91, and 1981-82 recessions never had readings this low.

Charting via @ycharts pic.twitter.com/2uaPhJ7HT7

— Charlie Bilello (@charliebilello) August 1, 2022
We do NOT forecast US recession, as consumers are holding up far better than elsewhere. But the US manufacturing sector is definitely getting caught up in the global manufacturing slump. Trough in ISM orders - inventories in 2008 was -13.0 (blue). We're at -9.3 as of July 2022... pic.twitter.com/MvS0wRGNWt

— Robin Brooks (@RobinBrooksIIF) August 1, 2022
Fiore added to the historical-data debate, saying that during each recession dating back to the 1970s, the New Orders Index has dipped below 40 percent. "Right now, we're nowhere close to that," he said.
Further economic softening is inevitable, Fiore said, but any declaration of a recession must consider that — amid a once-in-a-century pandemic — the current economic environment is unlike any other. "It's 26 months into the current economic expansion cycle, and the average is 34," he said. "Now, this may not be a typical economic cycle but (signs indicate) that things still look good through the rest of this year."
The Report On Business® roundup:
Bloomberg: U.S. Manufacturing Expands at Slowest Pace in Two Years. "The figures highlight softer demand for merchandise as the economy struggles for momentum. The ISM overall index is down almost 11 points from its multi-decade peak in March of last year, when producers were scrambling to meet pent-up demand as the economy emerged from pandemic lockdowns. Spending on merchandise has since slowed as consumption patterns started shifting from goods to services."
DailyFX: ISM Manufacturing Activity Cools, but Weakens Less than Expected; Prices Paid Collapses. "(T)he goods producing sector was restrained by a drop in the forward-looking new orders index, which edged down to 48.0 (percent) from 49.2. Sky-high inflation is eroding purchasing power, prompting households to curtail discretionary spending. This situation, coupled with elevated inventories across many industries, may be contributing to the weakening demand profile."
US ISM'S FIORE: I DON'T SEE ANY CHANGE TO FORECAST OF 8% OR 9% GROWTH IN REVENUE FOR MANUFACTURING SECTOR IN 2022 #ISM #manufacturing

— Mace News (@MaceNewsMacro) August 1, 2022
Financial Times: Wall Street Stocks Pause After Best Month Since 2020; Closely Watched Manufacturing Survey Signals Easing Price Pressures. "(A) survey of U.S. manufacturers indicated that cost pressures on companies in the world's biggest economy may be easing. Institute for Supply Management's prices index gave a reading of 60 for July, far below expectations of 75 and down from 78.5 in June."
Mace News: Manufacturing Growth Slows on Softer New Orders; ISM Sees No Recession. "The (Prices Index) fell sharply in July, reflecting weaker demand in China, particularly for copper, and softer petrochemical product prices. … "Panelists are now expressing concern about a softening in the economy, as new order rates contracted for the second month amid developing anxiety about excess inventory in the supply chain," Fiore said. But he told reporters that there is no change to his assessment made last month that there is no sign of recession in the manufacturing sector as firms are still hiring."
MarketWatch: U.S. Factories Grow at Slowest Pace in Two Years, ISM Finds. New Orders Fall Again, in Bad Omen. "The U.S. economy has slowed since the end of last year due to soaring inflation, rising interest rates and the end of government stimulus. … While factories are still running close to full tilt, business has slowed and it could get worse in the months ahead as a decline in orders suggests. New orders reflect future sales. In some cases, customers over-ordered and are waiting to sell the products they have on hand. They are also worried about a recession."
July ISM Manufacturing slight beat but the more important figure - Prices Paid fell from 78.5 to 60. The lowest since Aug 2020.

— Stephanie Link (@Stephanie_Link) August 1, 2022
Reuters: U.S. Manufacturing Slows Modestly; Excess Inventories Weigh on New Orders. "The better-than-expected ISM reading suggested that the economy was not in recession despite a decline in gross domestic product in the first half of the year. But businesses are sitting on excess inventories after ordering too many goods because of worries about shortages, hurting new orders. … Economists polled by Reuters had forecast the index would fall to 52.0. A reading above 48.7 over a period of time generally indicates an expansion of the overall economy."
The Wall Street Journal: U.S. Factories Are Far From Recession. "(T)he overall story on manufacturing is the one the ISM's main index showed — activity is growing more slowly, but it is growing nonetheless. Considering all the worries about how the U.S. might be on the cusp of recession, that is remarkable. … Could there even be a recession without ISM's manufacturing index spending time below 50? That is something that has never happened before, but that doesn't necessarily mean it can't."
ISM's Services PMI® will be unveiled on Wednesday, and the Hospital PMI® on Friday. For the most up-to-date content on the reports under the ISM® Report On Business® umbrella, use #ISMPMI on Twitter.
(Photo credit: Getty Images/Sutthichai Supapornpasupad)