Reaping the Benefits of Supply Chain Collaboration
April 11, 2022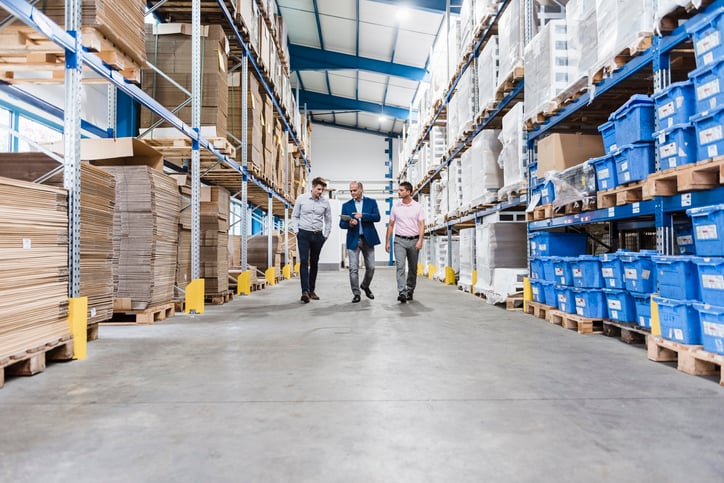 Under intense pressure, businesses must deal with such issues as rising customer expectations around availability and quick delivery, complex supply chains, and fierce competition for labor, material and components.
Inter-company collaboration is essential and enables organizations — retailers and companies in other industries — to achieve their goals and operate smooth supply chains. The many benefits to increased collaboration include:
Decreased long-term costs. One-off or short-term partnerships have supply chain benefits. It's important that partners understand one another's strengths, weaknesses and working methods, but that process takes time. Otherwise, the result is poor communication, which can limit supply chain efficiency, extend lead times and affect the bottom line.
Developing long-term supplier relationships improves supply chains due to collaboration and streamlined communication. A new level of trust develops, and organizations save time and costs by knowing they can rely on their capabilities and communications to fulfill orders completely and on-time. Additionally, indirect costs — operational and otherwise — are reduced. These cost savings are shared by buyers and sellers and can be passed onto customers in the form of lower prices and/or faster, more reliable deliveries.
The importance of employee and customer loyalty. Businesses understand the value of customer retention as well as the level of competition for brand loyalty. But those aren't the only factors for success: Organizations also need to ensure they attract and retain top talent to continue to run smoothly and gain market share.
Companies can often underestimate the resources required to build relationships and new processes that make collaboration work. They need talent who embrace change and are willing to work as a team with trading partners and stakeholders. Often, this is a change to their current responsibilities, but the right staff will see its advantages.
Businesses also must understand key needs and concerns expressed by supply chain employees. For instance, employees need to know the go-to-market strategy — and how a new process can affect the company culture, organization, terminology or even chains of communication.
By receiving employee input, companies can address and improve their supply chains while increasing employee job satisfaction.
Renewed customer experience. Visibility provides better understanding of supply chain challenges and opportunities. When companies collaborate with their suppliers, it allows them access to shared data about the customer experience and offers further insight into their overall supply chain.
With consumers demanding fast and accurate delivery estimates, for example, such visibility can provide the best experience for the customer. Granular visibility that monitors shipping statuses, customs clearance and the like is critical as it could impact delivery, the condition of the goods and the brand's reputation. Lack of visibility can leave all parties without a way to identify, address and prevent issues.
Companies can improve visibility with third-party supply chain solutions that provide better communications about all things related to orders across the supply chain. Visibility and data go hand-in-hand to enable companies to track orders, deploy changes as needed and support reliable decisions.
Additionally, to maintain loyalty and open communication, it's critical that companies provide customers with order-status alerts when there are delays. With today's logistics and other supply challenges, you might want to withhold delay notification out of fear of order cancelations. However, informing customers of such issues allows them to collaborate on a Plan B strategy.
Understanding the importance of time. Most people value time over money. For instance, the majority of consumers feel valuing their time is the most important thing a retailer can do, according to 2018 Customer Service Trends: How Operations Become Faster, Cheaper — And Yet, More Human by research and advisory company Forrester. During my recent discussions with top retailers, they note a shift in the turnaround time for orders. Currently, they're choosing suppliers that can meet their needs right away.
When orders are delivered as promised or the right products are available at the right location, buying organizations show they value the consumer's time and loyalty.
Flexibility in response to growth. Collaboration across internal departments like sales, marketing or finance enables supply chain teams to understand company objectives and requirements. This way, they can act as partners, pivot as needed and get creative about delivering a positive consumer shopping experience.
Sharing real-time data and enhancing communication allows businesses to be more agile and change their assortments or services when shopping or buying patterns change.
Automate to support collaboration. Closer relationships between buyers and suppliers create significant value and help supply chains become more resilient. They enable a collaborative approach to supply chain optimization, such as redesigning processes to reduce waste or maximizing assortments.
However, studies have shown that 70 percent of suppliers don't have systems in place for collaboration and rely on manual processes, which aren't as reliable and can be very time-consuming.
Fortunately, technology solutions are available to help businesses of all sizes transform their supply chains. Using sensors and internet connectivity, among other technologies, companies can collect data at every checkpoint, providing full supply chain visibility.
Organizations employ analytics to drive automation and deliver insights that promote efficiencies such as making on-the-fly route changes to accelerate product delivery.
Technologies enable forward-thinking companies to face current issues such as globalization, increased product complexity and heightened customer demands — and reduce risk in their supply chains.
Trading partner collaboration can help companies improve their supply chains. When businesses are better aligned, they can meet even today's challenging consumer and customer expectations.
(Photo credit: Getty Images/Westend61)