Report On Business® Roundup: September Services PMI®
October 05, 2021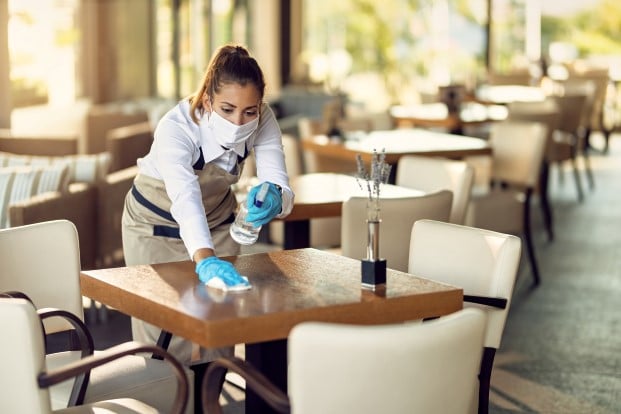 The Services ISM® Report On Business® data released on Tuesday echoed the theme of the last 18 months — businesses are continuing to do more (faster growth in business activity and new orders) with less (supply and labor constraints, among the many obstacles still in place due to the coronavirus pandemic).
The Services PMI® of 61.9 percent exceeded analysts' expectations and was well-received on Wall Street, though any direct impact on Tuesday's numbers was hard to quantify as markets rebounded from the previous day's technology-centered sell-off.
ISM Services numbers look pretty good, of course there are some challenges, but the data suggests the US economy has not fallen off a cliff. Inventory rebuilding down the road should be a net positive, as demand remains very strong #trading $USD $SPX $XAUUSD

— Diego Colman (@DColmanFX) October 5, 2021
The Employment Index fell only slightly to 53 percent, and with ISM's Manufacturing jobs gauge returning to expansion territory in September, it could be a good harbinger for the private payrolls report by ADP and Moody's Analytics on Wednesday, and the federal jobs report on Friday. However, as in manufacturing, employers continue to struggle to fill positions — an even bigger challenge for customer-facing services businesses, where COVID-19 hesitancy still lingers among the labor pool.
The Supplier Deliveries Index indicated continuing lengthy lead times, as evidenced by the parade of container ships waiting outside Southern California ports.
So, with those familiar storylines continuing, what was the key takeaway from the September numbers? It became clear as Anthony Nieves, CPSM, C.P.M., A.P.P., CFPM, Chair of the Institute for Supply Management® Services Business Survey Committee, spoke on a conference call with reporters and in an interview with Bloomberg TV.
After signs of possible relief in August, the Prices Index increased 2.1 percentage points to 77.5 percent, and all 18 industries reported paying more for commodities. Wrote a Business Survey Committee respondent in Public Administration, "We continue to see rising costs for both supply and service inputs. The effects of these price increases have the potential to significantly impact our operations through the end of the year, especially if seasonal trends prove exceptionally strong."
What's more, Nieves said, sentiment from survey respondents is that — as long as demand continues to exceed supply, thanks in big part to product shortages and transportation bottlenecks — inflation will not be transitory. A clearer prices projection should emerge when ISM's Fall 2021 Semiannual Economic Forecast is released in December.
Take a close look at the respondents from today's ISM Services survey. Note the consistent theme...https://t.co/fqpvUusLxp pic.twitter.com/yyVndFnMNs

— Charlie Bilello (@charliebilello) October 5, 2021
"Whenever there's good economy, we always see inflation and price pressure," Nieves said. "That's the nature of supply and demand. (The pandemic) has created an anomaly in the sense that we had all this pent-up demand, and as it's being released, (companies) are still not up to speed on capacity. They don't have the output, and that's why we're seeing the prices where they are."
In the services sector, many price increases are absorbed by the supply chain. Some costs are passed on to customers, though it's hard to determine current levels, said Nieves, who added that higher prices are being eagerly paid. The Inventories Index, which at 46.1 percent was in contraction territory for a fourth straight month, is the most compelling evidence of this dynamic — try as they might, services businesses cannot replenish stocks fast enough to meet demand.
"Consumers are still willing to pay for products and services, even with the increased costs," Nieves said. "We're seeing it in higher transportation costs and freight surcharges that are passed on, and we're definitely seeing it in higher prices on shelves. … I think we'll see some relief, but it's not going to be soon."
ISM Services PMI
Why Traders Care : It's a leading indicator of economic health - businesses react quickly to market conditions, and their purchasing managers hold perhaps the most current and relevant insight into the company' ...#Forex #Fx #ImpactAlert

— Richie (@Forex_RichieG) October 5, 2021
The Report On Business® roundup:
Associated Press: September Expansion is 16th Straight for U.S. Service Sector. "Economists expect strength in the service sector to continue in the second half of this year, reflecting pent-up demand. … As demand has outpaced supply, businesses have had to dip into inventories, which contracted for the fourth straight month. Order backlogs also increased at a faster pace, and prices for nearly everything continue to climb."
Bloomberg: U.S. Services Gauge Edges Up as Business Activity Strengthens. "The report suggests concerns about the delta variant — though still present — are abating some as Americans feel more confident spending money on services like dining out and travel. … Meantime, difficulty hiring, and ongoing logistics challenges have left inventories depleted. A gauge of inventories dropped to its lowest level in more than a year last month and order backlogs grew."
ISM Services stronger in September at 61.9 vs. 59.9 est. & 61.7 in prior month; new orders, prices paid, and business activity all stronger (and expanding) … employment ticked down but still expanding; inventory ticked down and is still contracting pic.twitter.com/h0ckRp5U3i

— Liz Ann Sonders (@LizAnnSonders) October 5, 2021
MarketWatch: Economy Perks Up Again as Delta Ebbs, ISM Finds, but Shortages Still a Big Drag. "Companies still can't hire as many people as they want, however, and they are paying sharply higher prices for supplies compared to a year ago. They are also trying to charge customers more. The broad increase in prices has spawned the biggest surge in U.S. inflation in 30 years in a potential threat to the U.S. economy. Most economists predict inflation will subside in 2022, but consumers can expect to pay higher prices for many goods and services for the time being."
Reuters: U.S. Service Sector Activity Inches Up in September; Shortages Persist. "There was a steady build-up of unfinished work at services industries last month. Companies continued to hire more workers, though the pace slowed a bit from August. That likely reflects difficulties finding workers. (Some workers) are reluctant to return for fear of contracting the virus, while (others) have either retired or are seeking career changes."
US ISM Services PMI Index (Sep) prints at 61.9, above the median expectation of a 59.9 reading and last month's 61.7 print.

The employment component of the survey, a leading indicator for Friday's #NFP report, slipped slightly to 53.0 from 53.7 last month.

— Matt Weller CFA, CMT (@MWellerFX) October 5, 2021
The Wall Street Journal: Delta's Loss Is Service Economy's Gain — Up to a Point. "So much for the services slowdown, perhaps. Institute for Supply Management® on Tuesday said its index of U.S. service-sector activity edged up to 61.9 in September from August's 61.7. Anything over 50 represents expansion. September's number would have been higher if it hadn't been for a slowdown in employment growth — a reflection of how hard it is for many companies to find workers rather than any shift in labor demand."
In case you missed Friday's Report On Business® Roundup on the release of the September Manufacturing PMI®, you can read it here. ISM's Hospital PMI® will be released on Thursday. For the most up-to-date content on the three indexes under the ISM® Report On Business® umbrella, use #ISMPMI on Twitter.
(Photo credit: Getty Images/Drazen Zigic)