As Supply Chains Recover After Laura, Storm Season Continues
August 31, 2020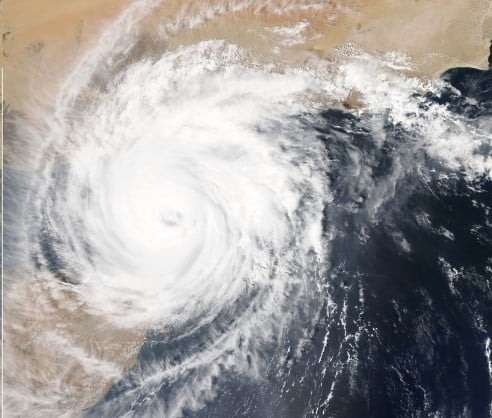 Although damage was still being assessed on Monday, Gulf Coast supply chains and such sectors as agricultural and oil and gas might have avoided a direct hit from Hurricane Laura. However, energy infrastructure was impacted, with one utility company stating that "catastrophic damage" was done to its power-distribution systems.
And with the Atlantic storm season still on a record pace, manufacturers and supply managers will continue to have disruption plans ready.
Laura — which on Thursday made landfall in Louisiana as a Category-4 storm with winds of 150 mph, stronger than those of Hurricane Katrina in 2005 — left much destruction in its wake. In Louisiana alone, more than 300,000 utility customers were without power on Monday, and insured property damage is estimated at US$8 billion to $12 billion.
Hurricane Laura brought devastating winds and rain, severely impairing our transmission and distribution systems across the area. Here is some of the damage our crews have encountered across southwest Louisiana. pic.twitter.com/DmiDOGzBX2

— Entergy Louisiana (@EntergyLA) August 30, 2020
Winds severely damaged Entergy Louisiana's high-voltage transmission lines and other infrastructure. "We expect the recovery to be as difficult and challenging as we have ever faced in the past. Customers should expect extended power outages lasting weeks," Phillip May, president and CEO of New Orleans-based Entergy Louisiana, said in a statement.
Many refineries along the Gulf Coast reported minimal damage and began reopening processes late last week. However, refineries in and near Lake Charles, Louisiana — one of the cities that suffered the worst of Laura's wrath — could be slower to reopen due to the power outages and evaluated employees, according to analysts at S&P Global Platts. The Port of Lake Charles remained shut on Monday, but the Port of Houston and other ports in southeast Texas have reopened, albeit with restrictions.
Farmers exhaled after the storm missed many crop fields. Heavy rains remain a concern, though they will likely only slow harvests and not damage crops, Louisiana Farm Bureau spokesman Avery Davidson told Reuters news agency: "(Farmers) got really lucky," he said, though he added that power outages could impact poultry production facilities.
The damage by Hurricane Laura is significant and historic, but in some areas did not bring the worst many prepared for as the storm brewed, and supply chains might not be as stressed as they were following Hurricanes Harvey and Irma in 2017. Said a Houston meteorologist: "We dodged a cannonball, not a bullet."
Such a warning is not out of line with the 2020 hurricane season projected to be one of the most severe in history. The coronavirus (COVID-19) pandemic has only heightened supply chains' vulnerability to hurricane-related disruptions, according to the 2020 Tropical Storm Season Outlook by Riskpulse, an Austin, Texas-based supply chain risk analytics provider, and Resilience360, a service of German parcel-delivery giant DHL.
For the Season Outlook, researchers compiled sea surface temperature data and advanced atmospheric metrics to project and above-normal storm season in the Atlantic Ocean, a typical season in the Indian Ocean, and below-normal activity in the Pacific Ocean. Also, the report states that Atlantic storms have a higher wind intensity and a greater impact on logistics than those in the Pacific or Indian oceans.
"Due to the severity of the hurricanes, the ports in the Caribbean, Gulf of Mexico and the east coast of the U.S. usually suspend cargo operations for an average of nine days," the report states, while Pacific and Indian ocean ports are typically closed for one to three days. The five most at-risk U.S. ports, according to the Season Outlook, are those of New Orleans; Houston; Mobile, Alabama; Savannah, Georgia; and Jacksonville, Florida.
Among the report's storm-preparedness recommendations are mapping supply chain assets, planning for additional inventory, prioritizing products and manufacturing/sourcing locations, establishing contingency plans and maintaining communication with partners. Such strategies are especially critical with COVID-19 limiting workforces and restricting travel.
Global manufacturing facilities and logistics infrastructure that have already been strained by the pandemic "will now have to prepare and react to the unpredictability of the storm season," Shehrina Kamal, Resilience360 risk monitoring product director, said in the report.