Inside Supply Management Magazine
ROB Roundup: November PMI®
December 02, 2019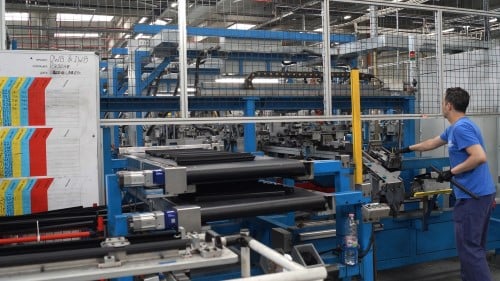 At 10 a.m. ET on Monday, CNBC analyst Rick Santelli stood at his usual location on the floor of the Chicago Board of Trade and delivered a doubleheader of disappointing numbers: U.S. construction spending for October and the Manufacturing ISM® Report On Business® for November, both of which failed to meet analysts' expectations.
"Let's go to more real-time (data): November ISM," Santelli said. "(The PMI® at) 48.1 (percent), a disappointment there as well." After reading some of the PMI® subindex figures, Santelli added, "So, everything this morning is in contraction mode."
A clarification: The Supplier Deliveries Index, a number Santelli didn't share, was in expansion territory at 52.0 percent. But that was the only above-50 number in Monday's report, which combined with an 0.8 percent decline in U.S. construction spending and another tariffs announcement by President Donald Trump, didn't have the markets in a holly, jolly mood at the start of December.
ISM index at 48.1 in November, missing 49.4 estimate. #Construction spending also worthy of a sad face emoji ☹️

— Mike Larson (@RealMikeLarson) December 2, 2019
The composite index number is well above the 42.9 percent figure that generally indicates an expansion of the overall economy, so Monday's data wasn't a disaster. Timothy R. Fiore, CPSM, C.P.M., Chair of the Institute for Supply Management® Manufacturing Business Survey Committee, said in a conference call with reporters that committee members' comments indicate "positive to cautious sentiment" on business conditions. However, U.S. factory activity contracted for the fourth month in a row, and Fiore said that the manufacturing sector's slog will continue until demand picks up.
"Last month, I figured (the PMI®) would be hanging around 48 to 52, and that's where it is, fingernails on the 48," Fiore said. "Production responded well, and that's a good indication of companies trying to close the year by meeting their plans. But without demand coming back, this is where things are going to be."
The New Orders Index matched a decade-long low (tying with June 2012 and August 2019) at 47.2 percent, and Fiore said that was due in part to a 2.5-percentage point decrease in the New Export Orders Index (to 47.9 percent). Those are two of the subindexes Fiore uses to gauge demand; the Backlog of Orders Index dropped to 43 percent, and Customers' Inventories fell to 45 percent. "The Customers' Inventories number was the only positive," Fiore said. "That represents an opportunity to produce and deliver (goods) in successive months."
The ISM #Manufacturing PMI was 48.1 in November, below estimates of 49.4. It was the 4th straight month of contraction in the #manufacturing sector (under 50 signals contraction). The new orders index, a leading indicator for manufacturing, fell to a 10-year low of 47.2. #economy pic.twitter.com/eeFx5GymhI

— Cetera Investment Management (@ceteraIM) December 2, 2019
Only one (food, beverage and tobacco products) of the six big manufacturing industry sectors reported new orders expansion, down from three in October. The transportation equipment sector's new orders and production improved slightly, leading Fiore to conclude that the labor dispute between the United Auto Workers and General Motors has had minimal impact on recent PMI® data.
"I don't think the strike was that big of a factor in the numbers," he said. "The transportation equipment numbers were not that much stronger than October's — they were up a little, but still contracting. With the strike is behind us, I think things are starting to stabilize and return to normal production levels, but making up for the lost time is going to be difficult for the rest of the year."
ISM manufacturing index contracted to 48.1 in Nov. Employment in particular dropped 1.1 pts MoM to 46.6. Despite the GM strike obfuscating last (& this) month's BLS data, #manufacturing remains in an employment slump.https://t.co/sXjztYEk8h

— Daniel Zhao (@DanielBZhao) December 2, 2019
The Employment Index — particularly, the dynamics that go into it — is something to keep an eye on in the coming months, Fiore said. While the non-manufacturing sector has generally struggled to find qualified candidates for open positions, the manufacturing sector is increasingly focusing on attrition. In August, 25 percent of committee members' employment-related comments were on potential staffing-level reductions, Fiore said. That figure was 43 percent in November, amid declining demand.
"More attention is being paid on staffing levels and the reassessment of manpower to meet future demand and production outputs," Fiore said.
The Report On Business® roundup:
Associated Press: U.S. Manufacturing Contracts for Fourth Straight Month. "Economists had expected the overall November index to rebound but remain below 50. President Donald Trump has imposed import taxes on foreign steel, aluminum and thousands of goods from China. Businesses have been reluctant to invest until they have a clearer idea whether, when and how the trade conflicts will end."
Over the past year, ISM PMI has fallen from 59.3 to 48.1 and New Orders index is down from 62.1 to 47.2.

Say what you will about the rest of the economy, mfg is not heading in a favorable direction.

— Willie Delwiche, CMT, CFA (@WillieDelwiche) December 2, 2019
Bloomberg: U.S. Factories Extend Contraction as Index Misses Forecasts. "The figures show the manufacturing sector, while no longer in freefall, lacks upward momentum in an environment of corporate investment cutbacks, subdued global demand and a still-simmering U.S.-China trade war."
CNBC: A Key Manufacturing Index Shows the U.S. Remains in Contraction Territory. "The report shows that manufacturing 'is stuck in a mild recession with little prospect of a real near-term revival. This will weigh on job growth and capex over the next few months, to the point where we are not ready to rule out a further (Federal Reserve) easing in January,' Ian Shepherdson, chief economist at Pantheon Macroeconomics, said in a note. Manufacturing is considered a reliable bellwether for how the rest of the economy is doing, though it accounts for only about one-fifth of GDP."
.@ISM® Report On Business® survey respondent in fabricated metal products: "We're unsure at this point how much of the slowdown is tied to certain events (like the @GM strike), year-end inventory reductions by customers, or a worsening #economy." https://t.co/d9k6JWkEV3 #ISMROB

— Institute for Supply Management (@ism) December 2, 2019
Financial Times: U.S Manufacturing Contraction Worsens in November. "U.S. manufacturers have come under pressure amid slower growth globally, while prolonged trade negotiations between the U.S. and China have weighed on the economic outlook. ISM's sub-index for new orders matched an August reading of 47.2, which was the lowest in seven years. 'This measure continues to indicate that capital goods orders are likely to be weak in coming months,' said Joshua Shapiro, chief U.S. economist at MFR."
MarketWatch: U.S. Manufacturing Sector Slumps Further in November. "Weak export growth and caution among business leaders is hitting the manufacturing sector hard. There had been hope that manufacturing was stabilizing, but today's data throw that theory into questions."
ISM Manufacturing Index came in at 48.1, below the consensus of 49.2. While gloomy, we're still holding above the Jan 2016 & Sept 2019 lows. For now, it's just a slowdown, but a break below these levels would be concerning and a reading below 45 would likely signal recession $SPY pic.twitter.com/10YKAxo2V9

— Matthew Timpane, CMT (@mtimpane) December 2, 2019
Reuters: U.S. Factory Activity, Construction Spending Unexpectedly Fall. "Though ISM said business sentiment had improved, likely as the United States and China inch towards a partial trade deal, November's reading marked the fourth straight month that the index remained below the 50 threshold. Continued contraction in manufacturing could put the Federal Reserve in a difficult policy position. The U.S. central bank in October cut interest rates for the third time this year and signaled a pause in the easing cycle that started in July when it reduced borrowing costs for the first time since 2008."
The Wall Street Journal: Stocks Fall on Manufacturing Report, Fresh Trade Tensions. "Stock declines then accelerated after a gauge of U.S. factory activity came in weaker than economists had expected. Institute for Supply Management®'s manufacturing index decreased to 48.1 in November from 48.3 in October, marking the fourth straight sub-50 reading. … Even with Monday's declines, stocks are still up double-digit percentages in 2019 and headed for their best year since 2013."
The Non-Manufacturing ISM® Report On Business® will be released on Wednesday. Also, ISM's Fall 2019 Semiannual Economic Forecast for the manufacturing and non-manufacturing sectors will be released on December 9. For the most up-to-date content on the PMI® and NMI® reports, use #ISMROB on Twitter.