Inside Supply Management Magazine
Procuring a Preview: November/December Issue
November 12, 2018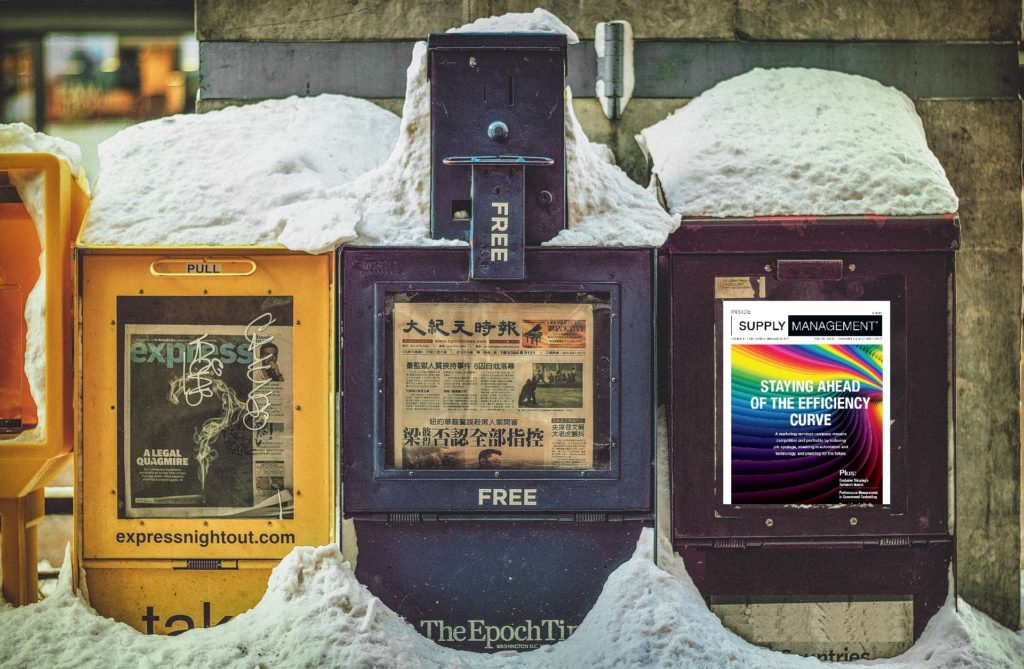 Check your inboxes and mailboxes soon for the November/December issue of Inside Supply Management®, published by Institute for Supply Management® (ISM®).
In this issue:
●Learn how a marketing-services company remains competitive and profitable by reducing job spoilage, investing in automation and technology, and planning for the future in "Staying Ahead of the Efficiency Curve." Author Sue Doerfler discusses how the company, Prisma Corporation, has been able to grow during the past 20 years — and how expansion plans will continue its ability to meet customers' needs.
●Factors like fuel costs, trade tensions, vessel sizes, environmental factors and stagnant freight rates are contributing to uncertainty in the container-shipping industry. In "Turbulent Waters," author Dan Zeiger discusses shake-ups within the industry that have resulted in the formation of three major shipping alliances and how carriers are adjusting their operations and approaches to respond to market changes.
●Sandia National Laboratories has developed an innovative approach to government-like subcontracting to achieve efficiencies, improve cycle time while retaining quality, and facilitate workplace empowerment. Authors James Burt, MBA, CPSM, CPSD, PMP; Nando Betancur, MBA, CPSM, CPSD; Laura Lovato, MBA, CFCM, CPCM; and Heather Spencer, MBA, detail the advantages and challenges of the new model in "The Power of Performance Measurement."
Plus, don't miss our columns and departments that detail supply management trends, issues and more.
In the Research column, honoring physicians' preferences on devices and treatment while controlling costs and adhering to best practices is a delicate balance, writers Gilbert Nyaga, Ph.D., and Eugene Schneller, Ph.D. The two discuss opportunities to enhance procurement of physician-preference items.
"Leading in an Up-and-coming Millennial World" is the title of this month's Insights column. Authors Charlotte de Brabandt and Yannick Blättler discuss how adopting flexibility, embracing clarity, and leading versus managing can be used to create workplaces and work spaces that ensure success.
On the Perspectives pages, Leviticous "Vic" Cleveland, CPSM, talks about the critical steps he has used to help improve business operations. He also notes the most helpful career advice he's received and books that have impacted his career.
In the Voices column, Leah Williams, PMP, CSCP, advises not to underestimate the power of a planted seed to help future supply managers grow.
Focusing on a project's overall objective — and not just on the products that need to be purchased — can increase savings while engaging suppliers, suggests the Competencies column, titled "Starting the TCO Process Earlier Can Pay Off Later."
Finally, check out our usual array of critical information, including the latest ISM® Report On Business®, international news on the Markets pages, and the latest trends in the JIT and Point2Point departments.