Inside Supply Management Magazine
Procuring a Preview: August Issue
August 09, 2018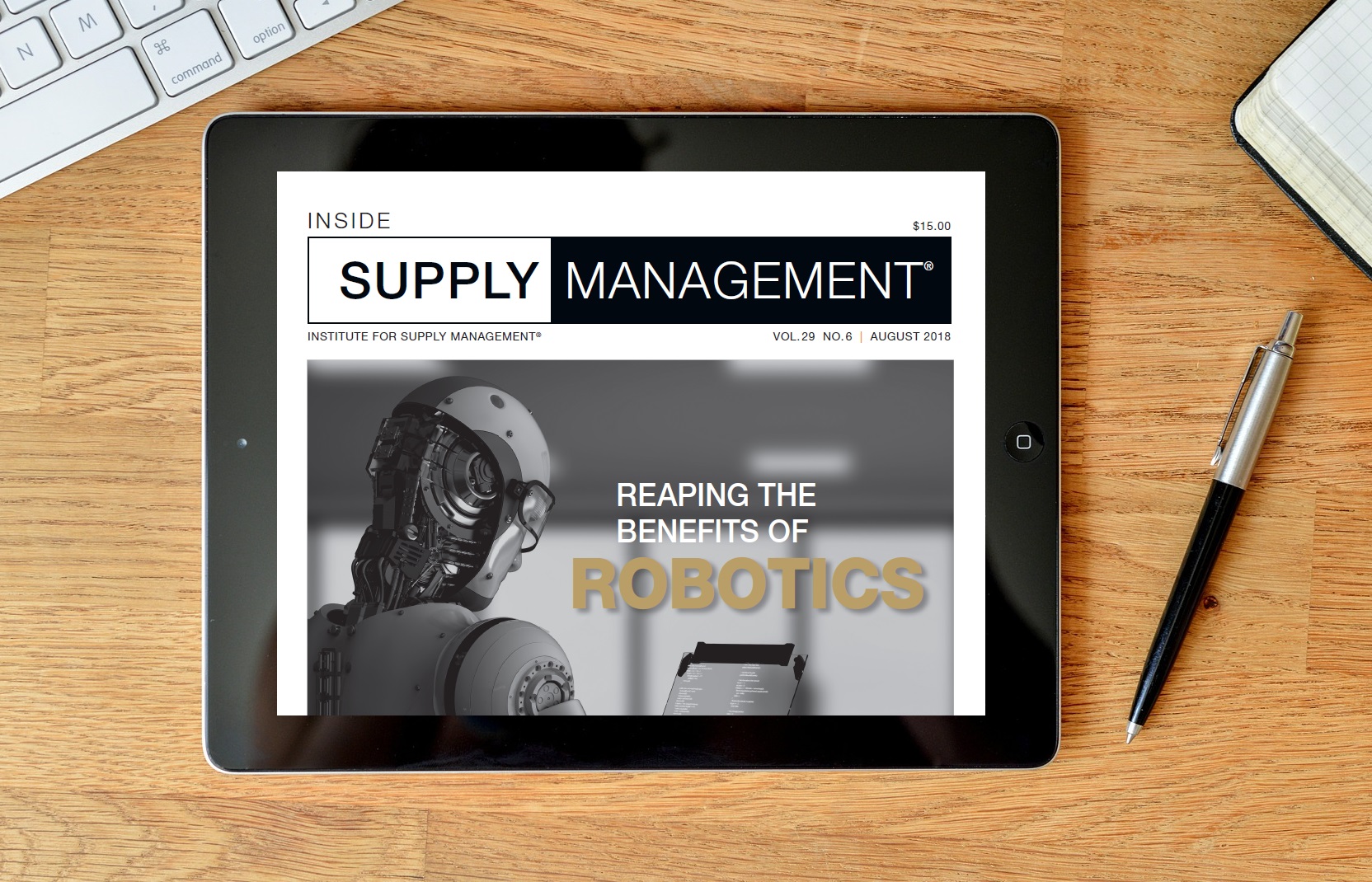 Check your inboxes and mailboxes soon for the August issue of Inside Supply Management®, published by Institute for Supply Management® (ISM®).
In this issue:
●Robots are approaching mainstream use in many of today's supply management organizations. They're picking products and packing them to be shipped out. They're producing goods in facilities and plants. They're becoming integral components in previously untapped industries like health care, where they monitor patients and transport prep materials. Read about the trends as well as how to choose the right system in "Reaping the Benefits of Robotics" by Inside Supply Management® senior writer Sue Doerfler. Plus, learn how four companies are putting robots and robotics systems to use in a sidebar, "Robotics on the Move."
●It might seem that harmonious teams are the most effective. Think again, says author Jennifer D. Nahrgang in "Teamwork's Delicate Balance." She explains how balancing harmony with dissent can open up opportunities for better decision-making. You'll learn ways to achieve this balance — like composing a diverse team or appointing a devil's advocate — so your team can formulate a decision and work harmoniously to reach it.
●In "Using Risk to Drive Supply Chain Performance," author ManMohan S. Sodhi, Ph.D., FIMA, FORS, explains how risk can be used to drive simplicity supply chain operations. He explains three methods that can be used to accomplish this: segmenting the supply chain, regionalizing the supply chain and deconcentrating resources, like suppliers, plants or warehouses. Such approaches can be employed, no matter the size of the company.
Plus, don't miss our columns and departments that detail supply management trends, issues and more.
In the Insights column, finance and procurement can work collaboratively to better the organization, writes Dan Zeiger, Inside Supply Management® senior copy editor/writer. One way to do so is by using metrics to align objectives.
Writer Mary Siegfried examines four critical issues facing supply management executives — (1) managing talent to be ready for the future, (2) generating value, (3) handling risk and (4) crafting an analytics strategy — in the Research column.
Bobby Lam, CPSM, C.P.M., senior manager, strategic sourcing for HP Hood LLC, delves into packaging's role in the supply chain on the Perspectives pages. Find out what supply chain concern keeps him up at night as well as a book that has impacted his career.
In the Voices column, Amanda Prochaska, vice president, procurement program management office at MGM Resorts International, writes that executives should seek four character types when building their teams for the future.
Handling risk in project management can be challenging. Creating a framework can help address such risk as project constraints, increase procurement's visibility — and bolster the bottom line, Varun Tandon, CPSM, PMP, supply chain lead at Shell Oil Company, explains in the Competencies column.
Finally, check out our usual array of critical information, including the latest ISM® Report On Business®, international news on the Markets pages and the JIT and Point2Point departments.