Inside Supply Management Magazine
Procuring a Preview: June/July issue
June 08, 2018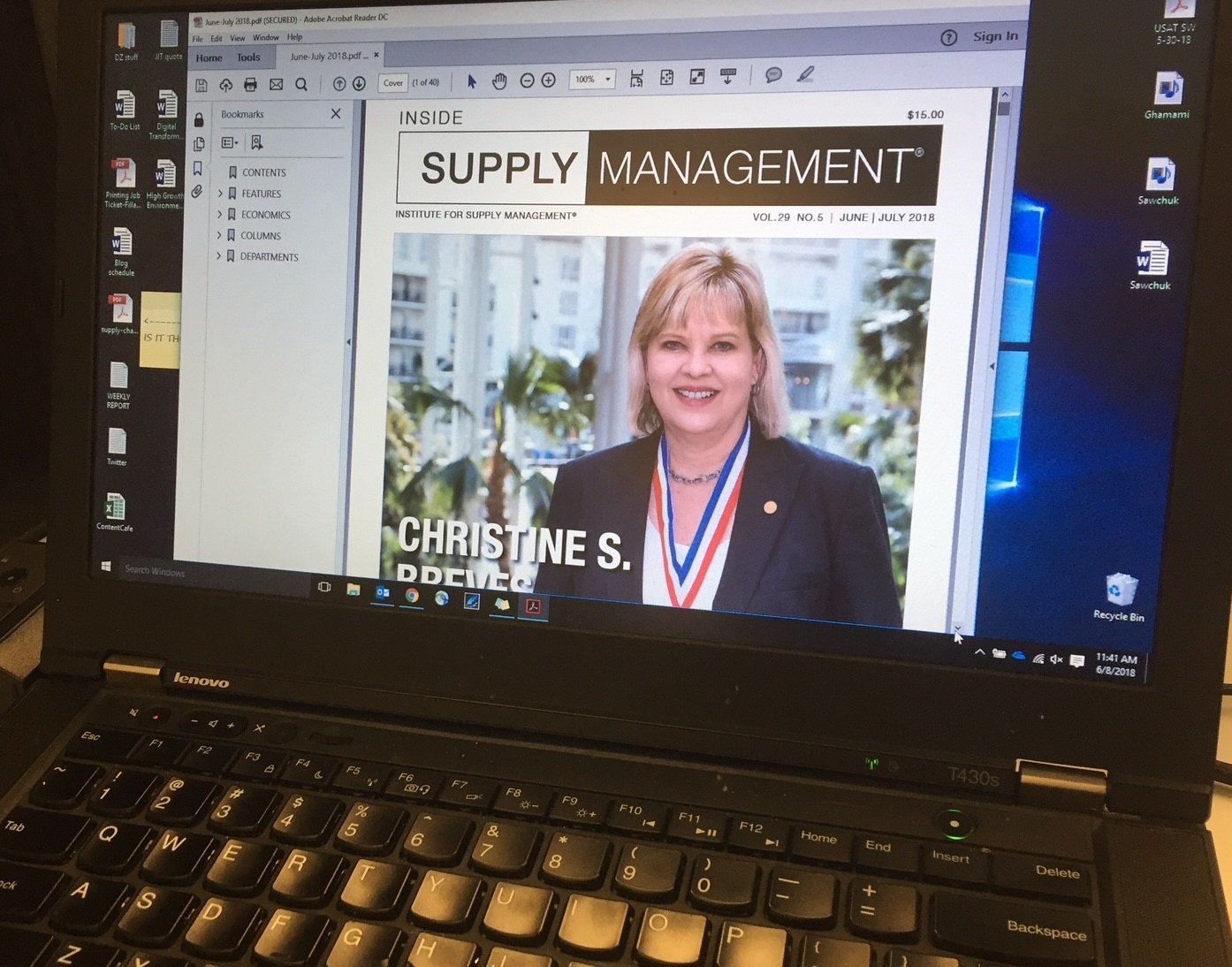 Check your inboxes and mailboxes soon for the June/July issue of Inside Supply Management®, published by Institute for Supply Management® (ISM®).
In this issue, you'll read about:
●Christine S. Breves, C.P.M., who has spent her career delivering value through supplier relationships: Breves, senior vice president — manufacturing support and chief supply chain officer at United States Steel Corporation, is the recipient of this year's J. Shipman Gold Medal Award, which honors an individual for lifetime contributions to the profession. In "Helping Organizations Realize the Power of Effective Supply Management," Breves discusses the evolution of the supply management profession, what makes a strong organization and the necessary skills for supply success.
●Supply management's up-and-coming talent: The R. Gene Richter Scholarship Awards, given by the R. Gene and Nancy D. Richter Foundation and ISM, honors six elite supply management students. Discover who they are, the internships they've had, where they attend university and their dedication to and enthusiasm for the profession in "Forging Supply Management's Future."
●How strategic supplier relationships can make a difference during crisis situations: In "Strategically Tackling Crises," senior writer Sue Doerfler explores how supply — often taken for granted — is not guaranteed. Learn best practices and strategies, and how one company, ON Semiconductor, handled a supply shortage with its strategic suppliers.
Plus:
●On the Perspectives pages, Fernando Penteado, CPSM, a supply chain executive director at Grupo Exito in Medellin, Columbia, discusses differences between supply management functions in Latin America and the U.S.
●In the Competencies column, reducing costs is one way that supply management organizations gain value, but don't neglect process- and product-related strategies, explains Divakar Rajamani, Ph.D.
●In the Research column, writer Roberta J. Jennings discusses safety — in corporate culture and the work environment, along the supply chain and in decision-making.
●In the Insights column, risk mitigation is one of supply management's top strategies, and the key to its success, says Rakhi Agarwal, MBA, C.P.M., CPIM. She offers 10 criteria to use when developing a comprehensive risk-assessment model.
●In the Voices column, ISM Director of Learning Solutions Tom Martin talks about the skills and strengths you'll need in supply management's future.
And, check out our usual array of critical information, including the latest ISM® Report on Business®, international news and the JIT and Point2Point departments.