Inside Supply Management Magazine
Two Sides of the Supply Management Coin
September 07, 2017
By Hady Agina
Is it "procurement" or "purchasing?" This is a question I constantly try to get peers or students studying supply management to consider.
When someone asks me, my response is, "There are two sides to the supply management coin. The strategic side is procurement, and the tactical side is purchasing. We need both."
All too often, however, the tactical side is only what is thought of as procurement — by stakeholders and perhaps by the procurement professionals themselves. Or the strategic side is only talked about, but not acted upon.
To be strategic, supply management practitioners need to understand the logic behind procurement, as well as related policies and procedures. And becoming vital resources in any supply management organization requires those practitioners to possess experience, passion and a qualification (such as certification) that demonstrates an understanding of how strategic procurement is.
To become more strategic, we must rethink how we explain procurement's five tenets — quality, quantity, price, place and time. Instead of considering the best quality, the best quantity and the like, we must shift focus to the right quality, the right quantity, and so on. Right is different from best — it is strategic. It encompasses the best, and much more.
Procuring strategically entails focusing on keeping the balance between the "good, cheap and fast" (planning, surveying the market regularly and managing the supply base are key for procuring strategically). Being tactical will lead to getting two of the elements and forgetting about the third. If you opt for the best quality, the best price will not be easy to obtain unless the best time is compromised. That is why right is the key for having a balanced "quality, price and time" that caters to the needs of the requester. The image below demonstrates this concept.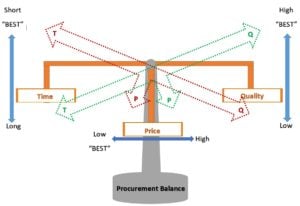 Having qualified practitioners who understand the procurement side of the coin — and the difference between right and best — means that the procurement organization can now walk the "strategic and value-adding" talk. These qualified professionals can develop and implement the right procurement strategy for their organizations. They can work on a strategic level, focusing on total cost of ownership (TCO) instead of unit-cost savings. They can support the business through smarter procurement processes — the right processes.
However, this understanding of procurement must be realized and acted upon not only by supply management practitioners, but by internal stakeholders such as human resources. Unless that happens, passion and experience will continue to be considered the only valuable resources of procurement professionals.
The procurement function needs to reach a point where stakeholders define it as strategic and value-adding. And practitioners must make that happen through their actions, not words.
Hady Agina is a procurement analyst, Middle East and North Africa, at International Finance Corporation (World Bank Group) in Cairo, Egypt.