Inside Supply Management Magazine
May/June 2021
Researching Trends and 'Synthesizing Knowledge' for Future Supply Managers
May 11, 2021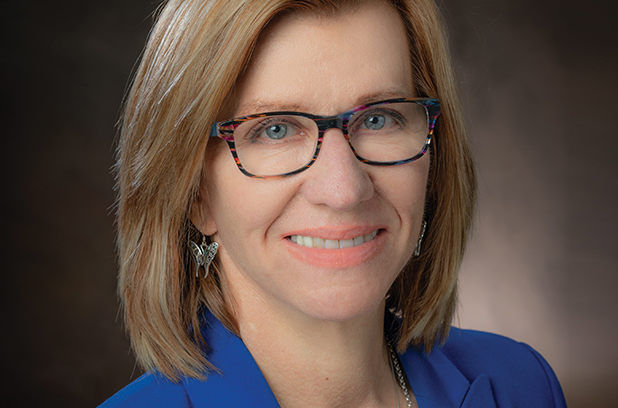 Lisa Ellram, Ph.D., MBA, C.P.M.
Title: University Distinguished professor and James Evan Rees Distinguished professor of supply chain management
Company: Miami University
Location: Oxford, Ohio
Family: Married for 19 years, with an 18-year-old daughter. I also have a 10-month-old Siamese kitten and am definitely a cat person.
Favorite food and drink: I like most food and find it a treat to have ethnic food and local specialties when I travel.
Favorite pastimes: I love to travel and have been to every state and more than 30 countries on five continents. I also enjoy hiking, reading, cycling, working out and creating fused-glass art and jewelry. I have my own studio and glass-fusing kiln at home.
How long have you worked for the university?
Since 2008.
Describe your job in one sentence.
As a professor of supply chain and sustainability classes, my job is all about learning, synthesizing knowledge and teaching others.
What one word describes you best?
Curious. I am passionate about learning — I learn something new every day.
How do you approach change?
Procurement and supply chain management are all about change. Change can be challenging, but it also keeps the world new and interesting. That is not to say I like all change or believe in change for its own sake.
I like to anticipate the impact of technological change — on myself and my students. As a coauthor of several textbooks, I have always gravitated toward writing chapters on the future — because it is so important to stay current and on top of change.
One change I've experienced lately: Due to the coronavirus (COVID-19) pandemic, I had to switch to teaching online, essentially overnight. Miami University has fairly small, high-touch classes, so this was not a natural change. I have done my best to adapt, bringing in new technologies and class activities to give the students the best possible experience.
What do you like best about what you do?
Because I love learning, being able to learn and share knowledge is the best part of my job. My work, whether teaching or writing, is based on research — and I prefer the type of research that allows me to talk to people; they help deepen my understanding of issues. I find it interesting to interview professionals about procurement issues and problems, discerning patterns across their experiences.
This allows me to stay current on where the profession is headed as well as understand pressing concerns and issues. It also gives me the opportunity to meet interesting people and visit different types of operations, from call centers to manufacturing facilities. I love to take all of that in. I think it improves my teaching because I can share real-world experiences and stories. I really enjoy interacting with Generation-Z students. I find them to be very accepting of others, environmentally concerned and socially aware. Their enthusiasm makes teaching fun.
How did you get into the supply management profession?
After getting a bachelor's degree in accounting, I worked as a cost accountant for Pillsbury (now part of General Mills). The job entailed working with the procurement function to get information on ingredient costs as well as annual planning. I also worked with logistics
and new-product development.
Wanting to get my Ph.D. in a related area, I chose logistics, as I was interested in international alliances. At the time, Institute for Supply Management® (then called National Association of Purchasing Management) offered competitive grants for procurement-
related doctoral dissertations. I applied for and received one to support my dissertation on international supplier alliances — and have been doing procurement research ever since.
How do you define work/life balance?
Work/life balance is about having time for family, friends, hobbies and vacations — and exercise, contemplation and adequate sleep. The way it plays out depends on where you are in your career and family life cycle. You should never feel like your job owns you.
Why is contributing to the profession so important to you?
Procurement has a huge impact on many organizational behaviors and outcomes, including social and environmental sustainability, product cost and quality, and global trade. If I can help the function improve performance, I want to do that. Procurement professionals generously share their knowledge with me, and I can synthesize and analyze that information and return it to the profession in a way that is useful.
What is the biggest challenge facing supply management organizations?
With artificial intelligence (AI) and machine learning, the procurement function will shrink, as will many other functions. Procurement needs to grow its influence in more strategic areas of companies and gain more formal recognition for its contributions through supplier selection and management. These impact such areas as risk reduction and mitigation, innovation, supply continuity, environmental scanning and sustainability. The procurement function receives awards and recognition for such contributions, but it still is often identified too closely and singularly with cost management. The function's influence needs to broaden.
What is your vision of the future of the profession?
My vision is a much broader, strategic and ongoing identity and recognition of procurement, including a CPO or chief supply chain officer as part of the C-suite, rather than reporting though finance or the COO. Procurement should always have a seat at the table.