Report On Business® Roundup: September Manufacturing PMI®
October 02, 2023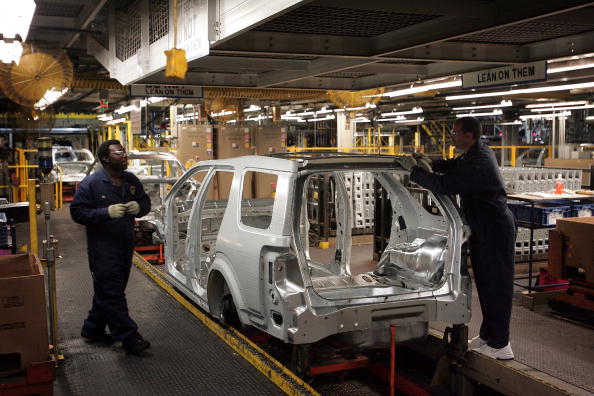 The Manufacturing ISM® Report On Business® data for September revealed the same trajectory as in recent months — a steady climb out of a valley, with the composite PMI® figure of 49 percent indicating that smoother terrain is perhaps closer than ever.
However, the United Auto Workers (UAW) strike, now in its third week and expanding its assembly-plant reach, could threaten that momentum. Timothy R. Fiore, CPSM, C.P.M., Chair of the Institute for Supply Management® Manufacturing Business Survey Committee, said the labor turbulence had no impact on the September numbers but was a focus of panelists' comments and reporters' questions after the report's release on Monday.
Fiore told Bloomberg TV that the PMI® impact could be limited because (1) the UAW has limited strike locations and (2) a significant portion of non-union production, beyond the big three U.S. automakers. "It seems to be managed appropriately, with no drastic action," he said. "You don't like to have disruptions over labor agreements, so hopefully there will be a (resolution) soon."
Transportation Equipment is the third-largest manufacturing industry, accounting for 13.9 percent of sector gross domestic product (GDP). "You're not just talking about the vehicles themselves, but all of the equipment that goes into them," Fiore told a conference call of reporters on Monday. "So, there's definitely some concern. Hopefully, all parties can get through this by negotiating, and without any significant impact on the PMI®."
On Sunday, the UAW reached a tentative agreement with Mack Trucks, which is owned by Volvo Group, potentially avoiding a strike.
Still, Fiore was upbeat about the September report, which featured a lot of positive subindex movement and "highest reading since" citations. The Production (52.5 percent) and Employment (51.2 percent) indexes were in expansion, ending a three-month period in which none of the five subindexes that directly factor into the Manufacturing PMI® were above 50 percent. (The New Orders, Supplier Deliveries and Production indexes are the others.)
ISM Manufacturing: 49, new orders 49.2 & employment 51.2 all in line with our estimation we've hit bottom in manufacturing contraction contingent on the UAW strike not spreading out to all auto workers in union & labor action lasting for months.

— Joseph Brusuelas (@joebrusuelas) October 2, 2023
The Employment Index figure suggests companies have head-count stability, with layoffs less prevalent in September after months of right-sizing workforces to adjust to sagging demand. The Supplier Deliveries Index (46.4 percent, down 2.2 percentage points) indicating faster performance was a surprise, but Fiore said that could be a seasonal factor as shippers and carriers returned from summer vacations.
The Prices Index registered 43.8 percent, a decrease of 4.6 percentage points, but Fiore said recent oil price increases will likely lead to a reversal in October. "The energy markets are going to set the tone," Fiore said. "If oil is (US)$100 a barrel, that will probably lead to pressure on commodities other than energy. Buyers will likely settle and move on because they won't be as confident that prices are going to continue to drop."
Finally, the New Orders Index (49.2 percent) also wasn't far from expansion, the Customers' Inventories Index (47.1 percent) reading was considered a positive sign for future production, and with more employment stability, many companies worked down backlogs, with the Backlog of Orders Index dropping 1.7 percentage points, to 42.4 percent.
The Manufacturing PMI® indicated an 11th straight month of contraction territory, but the sector is finally in a position of "waiting for growth," as Fiore put it — as long as automakers' labor pains don't get in the way.
ISM Manufacturing came in at 49.0, the highest since Sept '22.

But check out some of the action under the surface:
Prices paid tanked
Employment highest since May
Delivery times eased after 3 mos higher
New orders best since Aug pic.twitter.com/onjmbLnJYH

— Ryan Detrick, CMT (@RyanDetrick) October 2, 2023
The Report On Business® roundup:
Barron's: ISM Manufacturing Index Shows Signs of Improvement. "Economists surveyed by FactSet expected a (PMI®) reading of 47.9 (percent). The reading is a beat. That is the first bit of good news. Things are contracting slower than they were earlier in the year. That's also good news."
Bloomberg: U.S. Factory Gauge Contracts at Slowest Pace in Nearly a Year. "Though the manufacturing sector has been in contraction territory for nearly a year, the pace of deterioration is easing. Consumer spending remains somewhat resilient in the face of high borrowing costs and lingering inflation. Moreover, recent government data showed business demand for equipment rebounded in August."
CNBC: Construction Spending Rose 0.5% in August as Full-Year Spending Remains Positive. "What a week for employment, with the Friday (federal) jobs report coming out," analyst Rick Santelli said. "(The Employment Index) was 51.2 (percent). Guess what? That breaks the string of three straight sub-50 (readings) and is the best level since May, when it was 51.4 (percent)."
Mace News: ISM Manufacturing in Contraction for 11th Straight Month but PMI® Rises to 10-Month High on Firmer New Orders, Output, Jobs. "Asked whether a comment on "an imminent recession" in the September survey is an isolated case, Fiore replied that it probably came from a struggling industry (Petroleum & Coal Products) that is facing more headwinds than the rest of the surveyed industries. "A lot of comments are feelings based on what they are reading and what they are hearing, so I normally don't include many of those," he said.
The U.S. ISM manufacturing index "rallies" to a 10-month high of 49.0 in September, from 47.6, but that still means it remains in contraction and a level that historically has been consistent with GDP growth of less than 2%.

— Daniel Lacalle (@dlacalle_IA) October 2, 2023
MarketWatch: U.S. Manufacturers Show Signs of Revival, ISM Finds, But Still Face Tough Times. "After a period of malaise, there are signs of stirring in the industrial side of the economy. Heavy industry represents about 10% of gross domestic product. Yet a sustained acceleration in growth is unlikely soon, especially with oil prices rising again and adding upward pressure to inflation."
Reuters: U.S. Manufacturing Sector Eyes Recovery; Construction Spending Solid. "Though backlog orders shrank, inventories at factories and their customers remained very low, which should support future production. With demand still weak, prices for factory inputs remained subdued. The survey's measure of prices paid by manufacturers fell to 43.8 percent from 48.4 in August. This bodes well for goods deflation, but striking auto workers could boost prices of motor vehicles."
ISM's Services PMI® will be unveiled on Wednesday, and the Hospital PMI® on Friday. For the most up-to-date content on the reports under the ISM® Report On Business® umbrella, use #ISMPMI on Twitter.
(Photo credit: Scott Olson/Getty Images)