In Memoriam: CAPS Research Founder Harold E. 'Hal' Fearon
October 31, 2023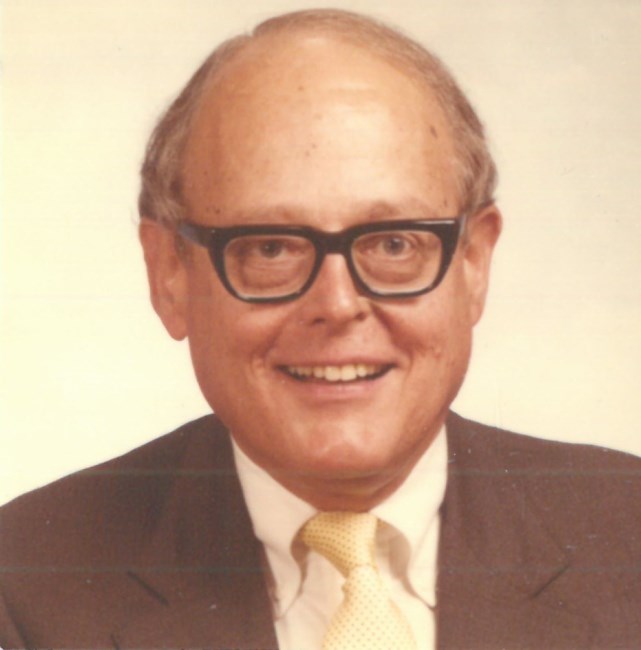 Harold E. "Hal" Fearon, Ph.D., MBA, C.P.M., was an Army veteran who brought a military mindset to practicing and teaching supply management, which was reflected in the research institute he founded.
"He wasn't interested in building a battleship," says Rick Boyle, who in 1989 was hired by Fearon at CAPS Research, the Tempe, Arizona-based organization in strategic partnership with Institute for Supply Management® (ISM®) and Arizona State University (ASU). "He wanted a swift PT (patrol torpedo) boat, something nimble and quick to respond."
Founded in 1986, the then-Center for Advanced Purchasing Studies (CAPS) — following Fearon's principles of agility, accuracy and trust — developed into the profession's most respected research and benchmarking organization. CAPS Research is just a facet of the supply management legacy left by Fearon, who died on October 21. He was 92.
The results of Fearon's project management speak for themselves: A longtime ASU professor, he helped establish the Department of Supply Chain Management at the W. P. Carey School of Business in 1984, and it has evolved into one of the country's best programs. And CAPS Research's member companies include some of the world's most iconic brands and account for a combined revenue of US$3.2 trillion.
"Hal's foresight enabled CAPS to create valuable partnerships with corporate members," says Denis Wolowiecki, CAPS Research Executive Managing Director. "His visionary groundwork has taken CAPS down a path to accomplish what he wanted — moving the supply management profession forward."
Valuable Research and Benchmarks
A native of Pittsburgh, Fearon earned his bachelor's and MBA degrees at Indiana University in Bloomington, Indiana, and his Ph.D. at Michigan State University in Lansing, Michigan. In 1961, he joined the ASU faculty and eventually became chair of the business school's management department. After helping found ASU's supply chain department, he focused on another passion: developing a world-class research organization.
At its Board of Directors meeting in Seattle in August 1986, the National Association of Purchasing Management (NAPM, later ISM®) accepted a proposal from ASU to create the Center for Advanced Purchasing Studies, effective September 1, 1986. Fearon was named the first CAPS director, a position he held until 1996.
The three main tenets established by Fearon — research projects, benchmarking reports and roundtable/networking events — define CAPS Research today. "Our intent from the very beginning was that CAPS would do those three things," Fearon told Inside Supply Management® in 2016. "Maybe there were other things CAPS could have done, but we didn't have any money, didn't have many people, so those were the things we concentrated on."
Of its trio of principles, benchmarking is where CAPS Research has broken the most ground. Its first benchmarking study comparing processes and performance metrics in the petroleum industry came out in 1989, providing companies with information that had previously been almost impossible to acquire.
CAPS Research's yearly surveys of organizations — highlighted by its flagship annual The Metrics of Supply Management report — yield valuable data and KPIs, measuring such areas as spend, cost savings, personnel and organizational structure. The benchmarks (1) enable supply management organizations to compare their performance against peers and (2) display the value of the function to internal stakeholders and C-suite executives.
"It wasn't an academic exercise for Hal," says Boyle, who is retired. "He wanted input from supply management professionals, the experts on the ground. His effort into tapping their expertise was critical. At first, a few sectors were not that interested in our research, but when the value of the benchmarking and studies became clear, it was as though a rising tide lifted all boats.
"Companies took notice, and it wasn't just from one slice of the economy. It was a range of companies, in manufacturing and services."
Over the years, CAPS Research's commitment to unbiased studies has earned it the trust of companies willing to provide their data. In a 2007 interview, Fearon said, "If you are going to convince companies to give you a check for $50,000, your research had better be useful to the industry."
A Legacy That Lives On
Fearon's indelible impact on the supply management was reflected in social-media tributes after his passing. A CAPS Research announcement on LinkedIn featured comments from some of the profession's biggest names in business and academia.
Wrote Thomas Nash, MBA, C.P.M., vice president supply chain and CPO at the American Red Cross, "I too was lucky to have had Hal in my life, both when I was a student at ASU and later as a colleague. He put ASU's supply chain program on the map … and set the foundation for its top-five ranking today. He left his mark on many, including me, as I still quote him today."
Added Lisa Ellram, Ph.D., MBA, C.P.M., Rees Distinguished professor of supply chain management at Miami University in Oxford, Ohio, "He was definitely a pioneer and a huge contributor to the professionalization of purchasing and building purchasing as an academic field. He helped launch my academic career through a doctoral dissertation grant and my early CAPS Research studies. He will be missed, (but) his contributions will live on."
His legacy at ASU is exemplified in the position of Harold E. Fearon chair in purchasing management, which has evolved into three Hal Fearon fellows that support research projects. At CAPS Research, the next stage of growth will be based on Fearon's blueprints, Wolowiecki says.
"We will integrate the capabilities of CAPS and ISM, maintain our research collaboration with ASU and build improved business solutions for our corporate members," he says. "The resilience of the CAPS Research business model and our recognition as an invaluable supply chain resource for nearly 40 years are powerful validations of Hal's vision."
After leaving CAPS Research, Fearon became a general partner in a Phoenix-area hedge fund. He is survived by his wife Dottie — they were married for 69 years — and sons Rick and Scott, five grandchildren and a great grandson.