Transportation, Sustainability and the Ticking Time Restraints
September 18, 2023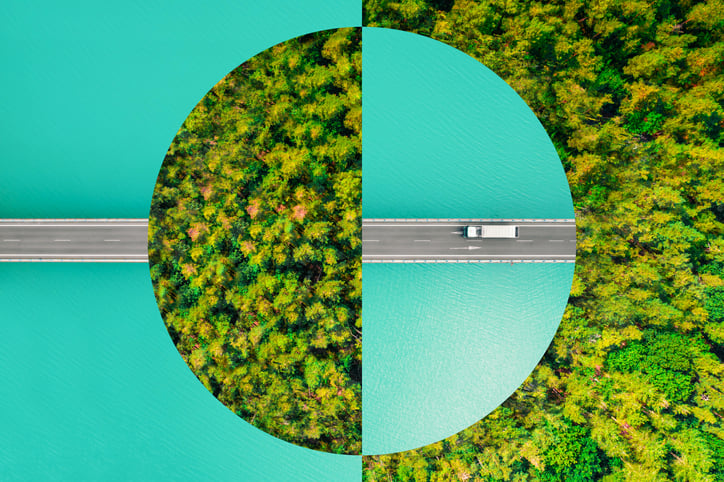 With retail's upcoming holiday season potentially providing a much-welcome tailwind to the freight market, a greater sense of balance could be on the horizon.
Supply chains of the future will move product using innovative equipment and technologies, with transportation and sustainability initiatives leading the way. However, preconditions appear murky.
"Inventory levels for retailers are normalizing, usually indicating a near bottom of the freight market," says John McCaw, vice-president sustainability solutions for Green Bay, Wisconsin-based Breakthrough, a transportation management solutions provider. Despite the muted peak imports have seen this year, he says retail shipments could increase toward the end of 2023 as the holiday retail season begins, thereby increasing freight demand.
But McCaw adds caution to the above outlook: "Our forecasts suggest that the earliest recovery from freight demand is the second quarter of 2024, with potential rebounds. But there are some macroeconomic conditions at play affecting consumers, altering demand."
Business and personal savings have dwindled from pandemic highs, he says, and student loan payments will become due again in October — justifiable reasons for a change in human behavior and a lessening consumption of goods. "Carriers and shippers have to deal with these market dynamics, nonetheless, making this winter a potentially longer-than-expected season," McCaw states.
Demand Driving Transportation Practices
Breakthrough assessed its transportation clients, seeking stronger purviews of the sector, the realities of current challenges and those to come. Through a recent survey, the company uncovered a surprising and overwhelming indication of consumer sentiment toward the push for sustainable solutions within logistics.
A consensus (94 percent) of the carriers and shippers participating in the study indicated strong consumer demand for sustainable products, citing carbon emissions reduction as a critical priority in the next 12 months.
"People within the transportation sector know consumer demand is driving the change, creating the foundation and incentive to begin the process of reducing emissions," McCaw says. Across a broad range of consumer products, customers favor companies able to make claims about sustainability, he says, adding, "The growth of eco-friendly products is far outpacing products yet to adopt sustainable practices.
"Consider the demand for electric vehicles (EVs). Consumers are driving sustainability-based preferences and adapting to behavior changes needed for EV. And further, marketers within these companies are successfully driving sales by ensuring their messaging is on point," McCaw says. He believes the same consumer demand must be met and flow throughout the supply chain.
The Window of Time for Conversion Is Now
Fostering partnerships in sustainability and achieving emission reductions entails a long-term process, a journey with an evolving roadmap. Opportunities for more sustainable freight movements require understanding how to build out the process and capability, McCaw says. "It's not a one-time project or single impact that underpins change. With the near-term pressure of consumer demand, delivering on sustainable solutions has a finite opening before that door closes," he says.
McCaw suggests that with the freight market softening, carriers may be more inclined to embrace sustainability initiatives, though not all emission reductions investments equate to on-costs. "Reconsider intermodal and move the lever when viewing sustainability against cost, service and overall capacity. Intermodal can be impactful for emission reductions and instrumental in fuel cost reductions," he states.
Renewable diesel, in some geographies, is lower in price than traditional diesel, McCaw says. Network optimization created between shippers and their customers can generate other sustainable solutions. "Steer clear of half truckloads — full truckloads help reduce cost and Scope 3 emissions," he says.
Though McCaw notes that all businesses will be impacted by the movement toward greater sustainability, associated "investments should be specific to a company's size, budget, need, geographic region(s), supply chain(s) and network," he says.
The Reality of Renewable Strategies
There remains differing opinions and ideologies about the merits and misnomers of polyfuels versus EVs. McCaw says there is room for both. "EVs have immense potential long term, but the model is not scalable yet. Equipment availability, charging infrastructure, the economics and TCO of EV Class 8 is too high. In the interim, a polyfuel approach makes a lot of sense," he states.
If companies can operate equipment by leveraging renewable natural gas, he says, it will have a massive impact on their carbon footprint compared to diesel use. In addition, renewable diesel is making a difference though not without its challenges. "There is still some push back in isolated areas. We've heard anecdotal evidence of some OEMs putting pressure on their carrier partners who, in turn, push back," McCaw says, with some carriers incorporating renewable diesel into their operations.
Aligning Sustainability Supply Chain Reshoring
Recent geographic supply chain shifts can elicit new conflicts tier to tier, with some due to public policies, others caused by varied business perspectives on the importance of sustainability and subsequent prioritization of environmental practices.
"Understanding where your emissions are coming from is the first step in balancing all the considerations," McCaw says. "Large multinationals are beginning to take this thought process on. There are many variables when introducing different governments and points of view regarding carbon reduction." Shippers, already well-versed in navigating sustainability-adverse environments, can assist in facilitating change.
Remaining Vigilant for the Long Haul
A simple and effective way to open the dialogue about increasing sustainable practices across supply chains is to keep the conversation alive. McCaw says the engagement with shippers and carriers about bringing more sustainable freight capacity to market and the ability to service those needs is escalating. Although many businesses are preparing for ongoing economic uncertainty, he acknowledges the importance of staying vigilant about sustainability and to proceed "above the negative noise."
"We have a long way to go but plenty of reason for optimism," he says. "Many carriers are talking about their EVs and various pilot programs." In the last six months, McCaw says, sustainable freight movement demand has markedly increased and the collective industry anticipates that trend to continue.
(Image credit: Artur Debat/Getty Images)