Injecting Innovation Into Your Company Culture at the Speed of Business
September 26, 2023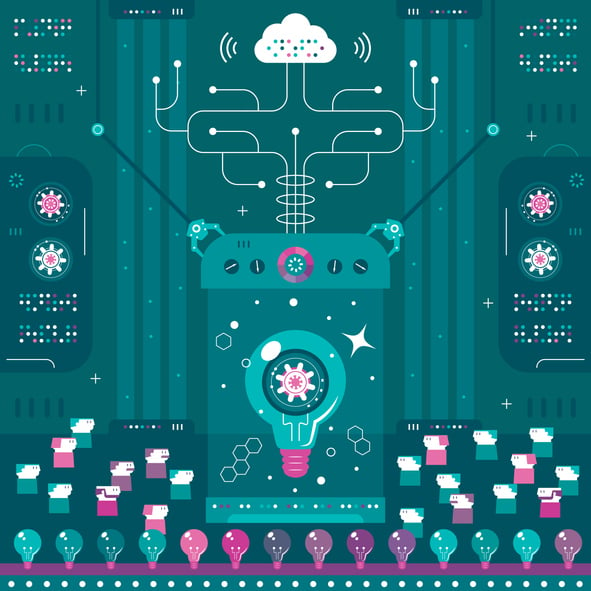 Encouraging innovation among supply management team members is paramount to ensure a company's long-term relevance and success in today's rapidly evolving and technologically advanced landscape.
As the profession continues to experience exponential growth, driven by such factors as globalization and e-commerce, supply chain and distribution leaders face the challenge of adapting to a high-tech environment.
Innovation within the supply chain is closely linked to embracing automation and robotics tools, which have the potential to revolutionize traditional operational practices. However, achieving this transformation requires strategic planning and efficient management. Balancing day-to-day responsibilities with education and training is crucial in equipping team members to effectively collaborate with the automation and robotics tools of the future.
By fostering a culture of innovation, companies can tap into the creative potential of their workforces, encouraging employees to think critically, explore new ideas and develop cutting-edge solutions to complex challenges. This not only enables the organization to adapt and stay ahead of the competition, but also promotes employee engagement and satisfaction, as individuals feel empowered to contribute to the company's growth and success.
Supply management innovation can lead to enhanced operational efficiency, streamlined processes and improved customer satisfaction. By embracing new technologies and methodologies, companies can automate routine tasks, reduce human errors, optimize inventory management and enhance overall supply chain visibility. These advancements not only enable faster response times and greater flexibility, but also contribute to cost savings and improved profitability.
Create Your Own Innovation Incubator
By creating an internal innovation incubator, a company can proactively address specific innovation needs and challenges that are unique to its operations. The company can then harness the collective knowledge and expertise of its team members, who are intimately familiar with business processes and objectives.
By providing a framework and support system, the company empowers its employees to think creatively, explore new ideas — and take ownership of their innovative concepts. Engaging team members in the innovation process boosts their morale and job satisfaction as well as fosters a culture of continuous improvement within the organization.
By encouraging and supporting your employees' innovative ideas, you cultivate a pool of skilled individuals who can effectively drive change, streamline operations and find solutions to complex supply chain problems. Additionally, your internal innovation incubator can then serve as a talent development pipeline, helping you identify and nurture future leaders and experts.
By taking an active role in cultivating your own high-tech workforce, you can also reduce reliance on external training solutions, thereby minimizing costs, maintaining intellectual property control and ensuring seamless knowledge transfer within the organization. This self-sufficiency allows your company to adapt quickly to emerging technologies and market trends, enhancing your competitive position and enabling you to seize new business opportunities.
Encourage Cross-Department Collaboration
In a dynamic and ever-evolving landscape, it is vital for supply management organizations to nurture a culture that encourages innovative thinking and empowers team members to explore diverse paths. The significance of such a culture cannot be overstated, as it opens doors to fresh perspectives, creative problem-solving and revolutionary ideas that can transform the way businesses operate.
By unleashing the power of passion, companies can tap into the intrinsic motivation of their team members, fueling their drive to excel and make a tangible impact. Rather than confining employees to a linear path within one area of the business, fostering an environment that embraces multidisciplinary collaboration can lead to breakthroughs that revolutionize the entire supply chain.
To facilitate this process, conduct a proprietary transferable skills assessment. An invaluable tool, this assessment allows team members to gain a deeper understanding of their core strengths and interests, enabling them to align their talents with opportunities for growth and impact across all departments within the organization. By leveraging these assessments, businesses can identify hidden talents and skill sets that might otherwise remain untapped, while also empowering individuals to take on new challenges and broaden their horizons.
The integration of diverse skill sets and perspectives across departments not only strengthens internal collaboration but also drives innovation throughout the supply chain. It encourages cross-pollination of ideas, continuous learning and adaptability in the face of industry disruptions.
Embracing innovation, fostering a culture of creativity and investing in the development of team members are essential to thriving in a dynamic supply chain landscape. By doing so, organizations can stay ahead of the competition, optimize operations and seize new business opportunities in an ever-changing environment.
(Image credit: Getty Images/Alashi)