Improve M&A Success with Supply Chain Design
September 18, 2023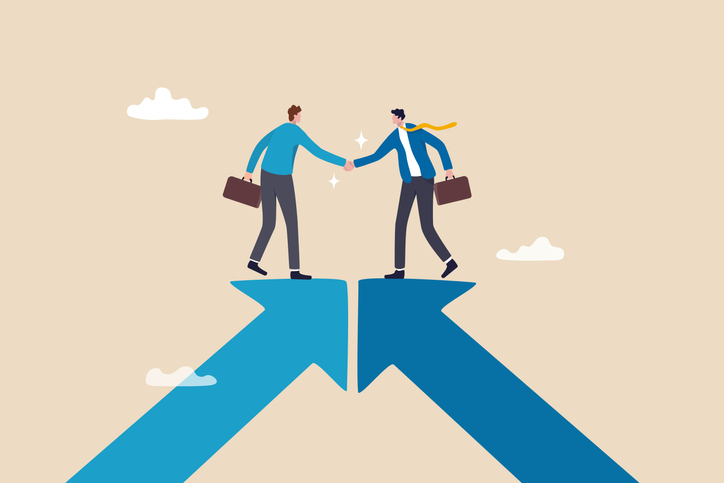 In a global M&A market that even experts describe as unpredictable, this is certain: Deal velocity will ramp up again, and when it does, preparedness is the difference between champagne toasts and failure.
For companies with a physical supply chain, network design is the secret weapon dealmakers use to rapidly evaluate the cost, service and risk trade-offs of mergers, acquisitions and divestitures — before investing a dime.
Equally important, and beyond the physical elements, are the policies embedded in source, make and deliver processes. M&A analysts need to consider these elements to understand if there (1) are potential synergies for scale or (2) obstacles in combining the organizations.
The M&A Deal Roller Coaster
Despite the specters of rising interest rates, inflation, political strife and supply chain uncertainty, global M&A volumes soared 64 percent in 2021 to an all-time record of US$5.9 trillion in value. Since then, the picture has shifted significantly, with overall global M&A value plummeting 44 percent in the first half of 2023.
According to Bain & Company's M&A Midyear Report 2023, "When the fog lifts on interest rates and macroeconomics, we'll see buyers eager to do deals and a backlog of assets for sale. When that happens, dealmaking is likely to resume faster than many have anticipated and favor the buyers and sellers that are best prepared, focused, and ready to act."
As buyers and sellers navigate this erratic deal environment, failure rates of between 50 percent and 90 percent continue to dog dealmakers. In its 2022 M&A survey, PricewaterhouseCoopers (PwC) found that only 14 percent of respondents to reported significant M&A success across strategic, operational and financial measures.
A resilient supply chain network design is crucial to an organization's success as it evaluates capital expenditure (CapEx) opportunities like mergers, acquisitions and divestitures in an increasingly volatile market with evolving variables and risks at every turn. A CapEx plan that leverages supply chain design to consider the synergies and redundancies of the end-to-end supply chain of both companies is crucial to deal success.
Counterintuitive to these efforts is that cost shouldn't be the sole metric to determine if a merger makes sense. Resiliency, risk, time to market, service and environmental, social and governance (ESG) metrics are all becoming equally important to stakeholders and board members.
Revising Logistics Strategy
M&As should always prompt a new logistics strategy. With new products, locations and markets at their disposal, companies must reevaluate their supply chain design to ensure they're operating at peak efficiency while maintaining a high standard of customer satisfaction.
By modeling the future-state supply chains involved in potential deals, companies get a 360-degree view of the impact of CapEx decisions on:
Financials, including cost to serve and margin to serve
Service elements like order fill rates and time to market
Risk, both internal and external elements
ESG, including carbon footprint, fair trade sourcing and good government country sourcing.
Questions to Ask Prior to M&A Decisions
Organizations can use supply chain design models to evaluate the potential financial and service impacts and risks associated with deals, which typically affect the larger scope of the supply chain design.
Companies should consider the following questions:
What defines a "good" supply chain? Sometimes this most basic question is difficult for organizations to answer. KPIs around unit cost/margin, service, working capital, risk and ESG metrics are often not clear to executives within the organization. These elements need to be agreed upon before undertaking an M&A analysis.
Where are the anticipated synergies with an M&A? What is the hypothesis on the benefits of a combined organization? These questions can be tested during the design and scenario build process.
What is not going to be combined? What can't be touched? There are pieces of organizations that may be working well and don't make sense to combine. These elements need to be left out of the merged supply chain.
How are critical policies going to be combined? Is one company make-to-stock and one make-to-order? Does one ship full truck load (FTL) and the other air? Are service levels similar? Are replenishment cycles similar? Many deals fail to look at key source, make, and deliver policies that may inhibit synergies realized.
Where/what manufacturing enhancements could be made to existing facilities? These could include new lines, expanded lines and closed lines. Is contract manufacturing an option?
How does combined sourcing look? Are there similar supply bases? How risky is the supply base in terms of capacity, geographic risk, and other risk elements?
How will various service levels be affected? How is service measured and what defines good service? Where does inventory play into service and what are the inventory targets?
Best Use of Supply Chain Design
Supply chain design helps companies achieve M&A success at multiple stages:
Before the deal: As buyers and sellers evaluate potential deals, supply chain design models help them avoid costly mistakes, like overestimating potential synergies. This is also the ideal time to model and compare alternative M&A targets, analyze the most effective strategies for entering a new market, and more. This step is often omitted from the pre-deal analysis or is done at such a high level that the benefits are overstated or oversimplified.
After the deal: After the ink dries, it's time to get busy realizing the operational efficiencies promised. Supply chain design is an ideal approach for finding short-term improvements with limited disruption, simultaneously analyzing other beneficial but potentially more disruptive changes, and creating a more accurate projection of cost savings and operational efficiencies for stakeholder groups.
Simulation, artificial intelligence (AI) and risk engines can be used to model future states at a detailed level, before implementation begins to (1) quantify the benefits and (2) prioritize what gets implemented first, like the low hanging fruit or the largest benefit drivers.
For divestitures: When resources that had been shared are divested, supply chain design can be used to identify capacity requirements and product flow volumes for the resulting businesses. It can also generate critical data for new business terms with transportation service providers and suppliers as well as timelines for the transition from shared assets and resources to independent status.
(Image credit: Nuthawut Somsuk/Getty Images)