EU Deforestation Impact and Costs to Global Supply Chains
September 05, 2023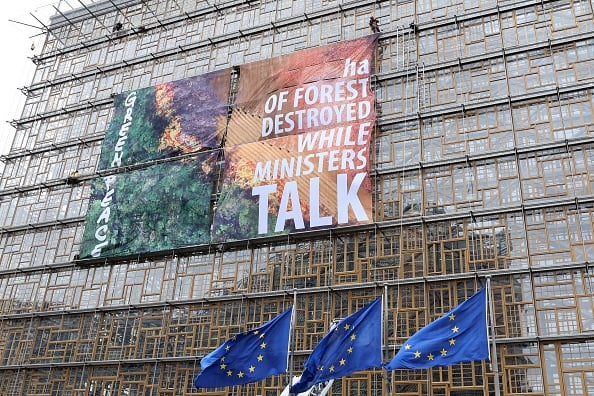 After months of discussions among government policymakers and in company boardrooms, the talk is now real: On June 29, a new law regarding deforestation went into effect, touching companies and supply chains in the European Union (EU).
The EU Deforestation Law (EUDL) has garnered support: it provides a mechanism to lessen greenhouse gas (GHG) emissions, global deforestation and damage to the health and diversity of Earth's species. The full effect of the law begins December 2024; the time between now and then provides an ample footing to better understand its provisions, pullbacks and posturing.
Calling Out Commodities and Credit
For goods and services that rely on raw materials sourced from emerging markets, the EUDL could present a stopgap in the flow of available commodities. Cocoa, cacao, cattle, soya, palm oil, rubber and wood are procured from areas that often have less sophisticated agricultural systems in place. Subsequently, the product's country of origin's tracking, reporting, health and safety requirements and enforcement practices are just as antiquated, increasing the risks of engaging faulty systems that harm the environment.
The EU's deforestation regulations serve as a causal backdrop to supply chains that have formerly kept their "eyes wide shut" on such matters. Key findings in a recent Chain Reaction research report provided evidence of human-driven deforestation activities combing Brazil's Cerrado biome, a lush tropical savannah rich in biodiversity. Behind Cerrado's landscape decay are cattle ranchers and soy expansionists focused on growing their enterprise. But by default, soy traders, meatpackers, retailers, businesses and consumers directly or indirectly procuring those raw materials support the deforestation and bear varied levels of responsibility.
With the EUDL, companies selling goods in the EU must document that such goods were not sourced from land that, after 2020, was subject to deforestation, forest degradation, breaches of local environmental and social laws, or be subject to heavy fines. Regulatory proof would come from a "due diligence statement" containing verifiable information.
Financial institutions and private investors holding ownership in businesses with supply chains that "touch" deforestation practices bring added risk to their portfolios. In response, credit ratings have tightened. A Moody's Investors Service report cited how companies allowing for pivots away from deforestation-risk averse suppliers and products would fare best, as long as operational downtime did not occur.
Fine Print Falls Short in the Field
Concerns for regulatory restraints put on suppliers and growers in Brazil and other countries producing the world's top commodities have been aired since the EUDL was first presented. In response, Malaysia threatened to halt exports of palm oil to the EU, claiming the laws preclude market access to goods. Other producers stated that the remote landscape and the geo-tracking challenges it poses inhibit the ability for compliance.
Just as the farmers and producers who originate the raw materials are accountable, so too are suppliers and those using commodities to generate other products. For example, businesses involved in leather goods, chocolate, coffee, palm nuts, glycerol, natural rubber products, soybeans, soybean flour and oil, wood products, paper, and more can be held to the EUDL's fire.
"Eliminating dark spots in supply chains is a worthy goal. After all, such supply chains contribute to much of the world's environmental and social challenges. However, there will be a discrepancy between what the rules dictate and the reality," says Gero Leson, vice-president of special operations at Dr. Bronner's, US brand of natural soaps. In his more than 15 years in farming, production and distribution of certified organic palm and coconut oil, Leson saw how others circumvent regulatory compliance.
"Many EU companies will look for ways around the deforestation laws," he says. "Not because they condone deforestation but because reliably tracking the origin of their materials is often beyond the means of small companies with no presence on the ground." He says that if companies buy from importers sourcing from traders that purchase from unorganized smallholders, these EU firms are generally unable to assess the risk of improper practices in their supply chain.
Leson adds that large exporters/importers of cocoa, for example, will be under public and now legal pressure to establish effective traceability systems. Knowing that 100 percent traceability of their goods is elusive, they may opt to sell "really traceable" goods in the EU, moving "not so traceable" goods to countries with less stringent deforestation prohibition requirements. "The EUDL represents an important first step — even though it may raise prices and compliance will initially be spotty," he says.
Due Diligence Transparency
For supply chains, understanding how to put the new EUDL into business practice is the key to successfully navigating the change in operational requirements. The regulation is not set to go into full force and effect, as it was written, until December 30, 2024. However, knowing what a due diligence statement entails should be of primary focus, as missteps in the documentation process could be deemed as insufficient, resulting in penalties.
An information system specifically designed for implementing the EU Deforestation law will serve as a data warehouse for producers, suppliers, manufacturers and other businesses providing the necessary due diligence statements. A reference number is assigned to each statement indicating a company's acknowledgement and acceptance of the required EU compliance provisions.
The due diligence statements are then made available to various authorities and merchants for review. Each company filing a statement is obligated to share the reference number end to end, enabling greater transparency documenting compliance while reducing risk.
Global law firm White & Case detailed how to properly conduct and insure EUDL due diligence through recommended activities. Individual risk assessments are also necessary, indicating a product's risk category (per production country of origin): low, standard or high risk. Best practices in EUDL due diligence, according to a July article from law firm White & Case LLP, include conducting "independent surveys or audits, gathering additional documentation, or working with suppliers (particularly SMEs) through capacity building and investments.
Unintended Consequences
With the added oversight and corresponding ownership that manufacturers, suppliers and ancillary businesses must take from their exposures to deforestation, a shift toward compliance adoption will prove beneficial to ecosystems as intended. However, the added time and finances spent across end-to-end supply chains to achieve and maintain regulatory-friendly status may trim many a profit.
Other unavoidable effects from the regulations could compromise the vulnerable ecosystems and social systems that the EUDL is meant to help. Research conducted on the new laws proposed highlights risks associated with their implementation. Imbalances between large-scale and small-scale agriculture, common in emerging markets, pose greater potential for land conflicts, pushing smallholders and Indigenous peoples and local communities out. EUDL compliance comes with added costs in doing business, likely instigating price premiums that local producers cannot absorb.
The implementation of EU deforestation laws will have other consequences that the governing bodies likely have not considered, Leson states: "The regulatory process may reduce supply of 'forest friendly' products, thereby increasing costs. Product that does not pass EU standards will still be produced but sold to countries with less stringent rules, such as the United States or China."
EU Deforestation Law will likely become a guideline for other continents, countries and companies to adopt similar practices toward building more sustainable, responsible and resilient supply chains serving the greater good.
Regulating trade systems can mitigate detrimental ecological and social side effects that come from unscrupulous practices, but will not immediately solve the problem, says Leson. Ultimately, it will fall on European importers and brands to choose their suppliers wisely, understand the conditions on the ground and, if possible, engage with suppliers to address specific problems.
(Photo credit: Getty Images/Kenzo Tribouillard)