Cargo Shipping — and Likely Consumer Prices — Impacted by Panama Drought
August 29, 2023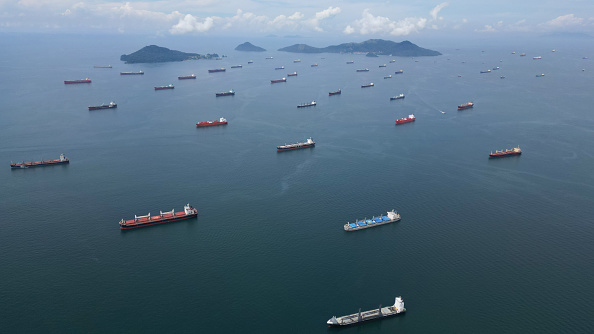 A caravan of cargo ships sits in the Pacific Ocean last week, waiting to enter the Panama Canal. Shipping traffic has been restricted due to a drought affecting the canal's main water sources. (Mauricio Valenzuela/Picture Alliance via Getty Images)
The drought that is affecting Panama — a tropical country home to several rainforests — is also impacting global cargo shipments, delaying them, increasing costs and potentially leading to other disruptions as the holiday season approaches.
Forty percent of the world's cargo ship traffic travels through the Panama Canal. Two thirds of it sails to or from the U.S.
Normally, up to 90 ships are waiting in line to cross the canal, which features a lock system that elevates and lowers vessels and relies on fresh water from nearby lakes. On Monday, 121 vessels waited to transit.
To manage the lower water levels in the canal caused by the drought, the Panama Canal Authority (ACP) is limiting transit as well as vessel weight. Normally, there are 23 daily booking slot reservations (with 32-36 ships generally transiting the canal each day); currently, the authority has imposed what it calls Condition 3, which allows 14 booking slot reservations — 10 super-sized and four regular-sized ships.
The reduction in ships allowed to pass per day through the canal will result in significant delays and costs to shippers, says Heiko Schwarz, global supply chain risk adviser at Sphera, a global provider of environmental, social and governance (ESG) performance and risk management software.
The Wall Street Journal reported that Dutch shipping giant A.P. Moller-Maersk bid US$900,000 each at an auction to get Panama Canal access for two ships. "That was on top of its normal fee of $400,000 (each)," Schwarz says, "and that's just one shipping company. Those increased costs will be passed onto consumers and will likely drive-up prices for an array of consumer goods in the coming weeks, possibly months."
The average waiting time for unbooked transits this month is between 9 and 11 days, according to the ACP. The wait can create problems for shipments of perishable goods like fruits and vegetables, potentially resulting in a "complete loss of the freight and profit margins," Schwarz says. For example, he says, cherries are a major imported good via the Panama Canal to the U.S., and most likely will need to be discarded following the delays.
The worst-case scenario: Manufacturers and other businesses can't get critical materials and equipment to produce or deliver goods, he says, and therefore, "lose revenue and may even face layoffs as a result. And with surging holiday demand on the horizon, inventory shortages may also result in damaged reputations for businesses."
Alternate Routes
As of yet, however, there has been little immediate impact to U.S. consumers, customers, retailers and companies, but don't rule it out, Schwarz says. "With consumer spending already expected to be lower this holiday season due to inflation, the upcoming holiday shopping period immediately comes to mind as a potential industry that will suffer," he says.
If the delays continue, he adds, shipping companies will be forced to turn to alternate shipping routes or modes of transportation over the next few months. "Panama has a complex network of several modes of transport that run parallel to the canal, including rail," he says. "But it generally takes three days to move containers off a ship on one coast, overland by rail, and then by truck to the container-loading hub on the opposite coast to resume by sea."
While three days doesn't sound like much, it's significant, he says. "And with the amount of traffic diverting away from the canal, (that timing) could lengthen by much more as dozens or hundreds of ships seek other channels. In addition, companies may also explore land routes in neighboring countries, or turn to more expensive emergency logistics for critical goods, like air freight."
The Role of Climate Change
The country's climate-related issues and drought began months before ships started backing up at the entrances to the canal, Schwarz notes. "In April this year, restrictions were imposed on the largest ships due to falling water levels in nearby lakes," he says. "It's clear that climate change played a role, as recurring weather patterns such as El Niño become more frequent and extreme."
In an August 23 press release, the ACP stated, "The prolonged dry season is a natural phenomenon that affects many regions, including the Panama Canal. While we can't control nature, we can adapt our operations to ensure a competitive flow of vessels."
The authority, in an August 10 press release, stated that since the previous drought in 2019-20, "the canal has been implementing procedures to improve water efficiency in its operations while conducting studies to identify long-term solutions to climate variability. Yet, current severity and its recurrence has no historical precedence."
Proactive Risk Management
Schwarz doesn't expect a repeat of the March 2021 Suez Canal blockage, in which no ships were allowed to pass through for six days.
"Ships are still passing through the Panama Canal, but at a slower rate and a restricted depth limit," he says. "But both situations lead to higher shipping costs and delays, with a similar increase in prices expected across entire supply chains and for end users. In this case, however, increased costs can't be rolled over to customers, which means the costly mitigation will eat up the profit margin. And in cases where the customers are other manufacturers, the costs could cascade through various industries. That impact may just be more delayed and spread out over time than in the case of the Suez Canal blockage."
To manage supply chain and shipping risk, organizations must understand the importance of up-to-date, accurate and comprehensive information to guide their decision-making, Schwarz says. "While media coverage of the canal's shipping crisis is currently reaching a crescendo, the events leading up to this crisis have been known for months," he says. "Consider that initial notifications from the ACP were sent out in April, noting the lower water levels. This information should have put supply chain managers on high alert so they could create contingency plans and proactively monitor the situation to respond to developments that affect their businesses."
He continues: "In fact, leaders who use digital solutions did know that the situation is not new nor a surprise as this has already happened in the past, with periodic restrictions in transit during the past decade due to low water levels. And things could get worse for ships in spring, the region's driest time of the year."
Using digital tools that have an artificial intelligence (AI)-powered predictive modeling can help companies visualize such issues "while they're still a few weeks away," he says. "Companies prepared in this way can often minimize the disruption or avoid it altogether."
The Panama Canal situation is only one of the many risks supply chains are exposed to, Schwarz says. As a result, companies must develop a more holistic approach to reducing risk and mitigating its impact across the end-to-end supply chain.