Demurrage and Detention Charges Down, But Issues Remain at Some Ports
July 11, 2023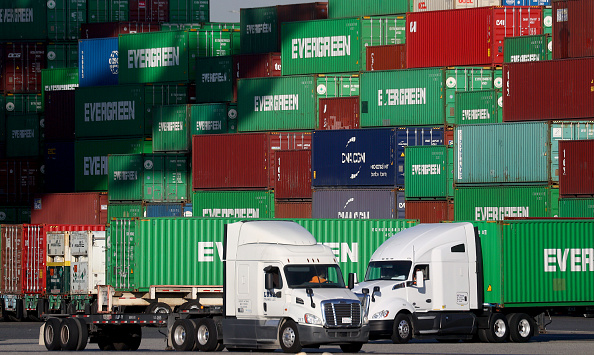 With ocean freight demand softening and port operations smoother as supply chains adjust after the worst of the coronavirus pandemic, average demurrage and detention charges declined 25 percent year-over year in 2023, according to a report by Container XChange.
The German online container shipping platform's Demurrage & Detention Fees Annual Benchmark Report found that such charges levied by shipping lines are down 14 percent since 2020. That's a product of less congestion as well as more attention being given to demurrage and detention fees by regulators.
However, fees at some ports around the globe remain more elevated than compared to three years ago, with U.S. ports ranking highest in average charges, the report found.
"Demurrage and detention should ideally be a free market," Container xChange founder and CEO Christian Roeloffs said in a press release. "The number of free days and the charges should be negotiable between parties and carriers, just like any other free market scenario. However, perhaps what needs regulation is the clarity on when the clock starts."
A Sore Subject and Regulatory Focus
Demurrage is paid by an importer that fails to take delivery of a full container from a ship and move it from the terminal for unpacking within an allotted time (normally three to five days); detention is paid by a trucker that does not return an empty container to the port by a deadline.
In 2021, detention charges were a sore subject at the Ports of Los Angeles and Long Beach as empty containers piled up due to a significant U.S.-China trade imbalance. In some cases, shipping lines would not allow truckers to return empty containers — but still charged them detention fees.
"Establishing clear time stamps and determining who bears the burden of proof in cases of congestion, where a container cannot be picked up, would be crucial," Roeloffs said. "Payment should only commence once the terminal is able to release the container. These aspects warrant attention and potential regulation."
Last year, President Joe Biden signed into law the Ocean Shipping Reform Act, which, among other measures, calls on the Federal Maritime Commission (FMC) to prohibit "unjust and unreasonable detention and demurrage rules practices."
In their current form, critics say, demurrage and detention charges are used by shipping lines as revenue streams instead of incentives to improve port efficiency. The FMC noted that nine of the largest ocean freight carriers charged about US$8.9 billion combined in demurrage and detention chargers from 2020-22.
The FMC is soon expected to issue a final rule regarding detention and demurrage billing practices. A proposed regulation included a 30-day deadline to issue an invoice after when demurrage and detention charges stop accruing, down from the current 60 days. "The pending decisions on new shipping line regulations will significantly impact demurrage and detention practices and could even reshape the landscape, bringing both challenges and opportunities," Roeloffs said.
Demurrage and Detention Hot Spots
The 11 ports where fees remain higher compared to 2020 include five in China — Shenzhen, Tianjin, Ningbo, Xiamen and Guangzhou — as well as Antwerp, Belgium; Rotterdam, Netherlands; Singapore and Hong Kong.
"The significant increase in energy prices, coupled with higher labor costs, and escalating land expenses and port fees, have all played a part," Chantal McRoberts, director of the supply chain advisory at London-based global maritime and shipping industry consultancy Drewry, said in a July webinar hosted by Container xChange.
However, American ports have the highest average demurrage and detention costs, with New York; Oakland; Los Angeles; Savannah, Georgia; Long Beach and Houston leading the way among the 65 global ports surveyed. Those six U.S. ports combine for an overall average charge of $2,008 per container per day, down from $2,692 in 2022.
With the timing of the demand recovery still uncertain, demurrage and detention charges are largely a result of operational issues, meaning importers and truckers can avoid levies though improved efficiency, the report states.
"From an operational point of view, it is more often that the gap is between the port and the warehouse in-outbound team," Drewry researchers wrote in the report. "Demurrage and detention mainly occur due to a lack of last-mile and warehouse planning. Some shippers only custom clear their units when already discharged, rather than practicing pre-clearance and release, to ensure haulage and warehouse space is available on time just before demurrage and detention time starts."
(Photo credit: Mario Tama/Getty Images)