EV Technology Is an 'Opportunity Charging' for Trucking
June 13, 2023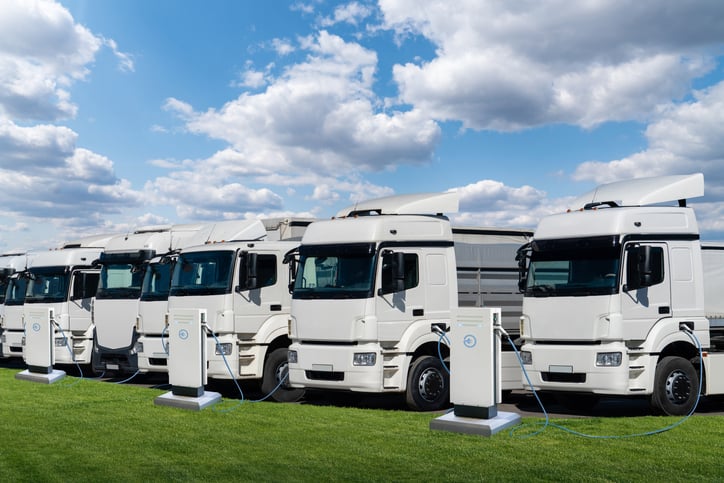 Environmental, social and governance (ESG) dynamics are changing the trucking and fleet industry. Whereas diesel is the dominant fuel used today, electricity and hydrogen use are on the horizon.
In fact, some electric fleets and hydrogen-powered vehicles are already on the road or being piloted. And instead of buying fleet trucks outright, carriers will likely turn to leasing as a way to enter the new normal more cost-effectively.
The EV Projection
Companies with transportation fleets are moving toward sustaining a lower carbon footprint, driven by regulation or personal beliefs to reach a near zero or net zero platform, says Brian Antonellis, senior vice president of fleet operations at Fleet Advantage, the Fort Lauderdale, Florida-based fleet asset management company. Over the next 10 years, this will result in "a fractured approach to how we power our trucks," he says.
Long-haul and regional fleets that make long-distance trips will continue to use diesel, at least in the near term, he says. Electric vehicle (EV) infrastructure isn't in place yet and the technology isn't advanced enough to handle charging for long trips, he says.
"Today in the EV world, with the battery technology the way it is, you can run an EV about 150 and 200 miles, depending on such factors as weight," he says. "You can run into a problem when you go over want to drive more than 150 miles a day, or if you have single runs over that amount and you're hoping that there's a charging station out there."
For fleets that make regional or local trips of less than 100 miles a day, EVs make more sense, Antonellis says. "Think about the beverage delivery drivers who run soda, water or beer and they're going out for 75 miles and coming home. Or for drayage, coming out of a port — it's a very controlled area and the charging can be controlled. It also makes sense for yard trucks that move trailers around a yard."
For these types of situations, the technology has evolved to "opportunity charging, which means as the drivers take lunch or bathroom breaks, they can plug the vehicles in, and there's no degradation to the battery by using that," Antonellis says. "They're able to run those between 21 and 22 hours a day."
The Hydrogen Alternative
Alternative fuels with lower carbon emissions are needed for longer-haul fleets. Big strides already have been made in hydrogen fuel cell technology, Antonellis says. Similar to filing a propane tank for a grill, he says, the truck has a tank that can be filled with hydrogen. "You're able to inject the hydrogen into the fuel cell, which simply put, splits the molecules of the hydrogen," he says. "If you split them over a catalyst, it creates an electric charge. The output is water. It allows you to carry electric production down the road with you and extend that out to 500 to 700 miles."
At the moment, there is no hydrogen infrastructure, but the industry is looking into it, Antonellis says. Also, batteries with capacity to power trucks beyond 150 miles are needed. Another consideration is that diesel trucks can't be retrofitted for hydrogen fuel-cell technology, and new designs must be developed.
The first iteration of hydrogen-powered trucks is already on the road. A need to determine the amount of heat that can be transferred from the fuel cell back to the batteries has prompted a second version along with more innovation, with Kenworth, an original equipment manufacturer, developing a partnership with Toyota.
"We're seeing sections of the transportation industry working together to make that happen," Antonellis says. "It's bringing in a lot more resources, and it's also bringing the best minds in each section together."
Managing Cost
With the changes in technology come changes in fleet procurement. Typically, companies would determine the number of new trucks they needed and place orders in November, Antonellis says. The trucks would arrive starting in January, and the process would repeat. "Everybody was very comfortable with that because the finance department had gone through this process before, so it was normal," he says.
Now, however, it's taking 12 months to get trucks that were ordered the year before, given continuing supply chain challenges. And the focus on ESG is causing companies to rethink their fleet strategies, Antonellis says.
"To meet emissions goals, you'll want to blend in alternative fuels between 2027 to 2035," he says. Companies are also considering the life cycles of their existing fleet and other factors in their decisions about whether to buy more diesel trucks or begin easing in alternatives.
Cost and cost to run are other considerations:
Fuel mileage. As diesel trucks age, fuel mileage begins to decrease, from about 7 miles per gallon new to 6.8 or 6.7 MPG at end of life, making runs more expensive.
Vehicle acquisition cost. "A typical EV today can be (US)$450,000 compared to $150,000 for a diesel truck," Antonellis says. But, depending on the state, grants — that save as much as 50 percent of the cost — are available for EV-powered trucks. Where will the truck be domiciled?
Electricity cost versus diesel cost. This also differs by locality.
Maintenance cost estimates. EV vehicles have fewer parts that have to be maintained.
Analytic tools can help companies to calculate and optimize total cost of ownership (TCO).
Another factor in fleet decision-making centers around leasing versus buying, Antonellis says. Fleet buyers can participate in flexible leasing programs that enable them to lease diesel trucks now and move into an electric or hydrogen truck when they become more readily available. "They can define their own path," he says.
Antonellis continues: "Transportation for decades was kind of boring. The same thing happened all the time. We're in a time now where the industry can be innovative. I won't tell someone I know exactly what your fleet is going to look like in five years or 10 years or 15 years, but we'll have the tools to put together."
(Photo credit: Getty Images/Scharfsinn86)