ISM World 2023: Billion Dollar Roundtable's Supplier Diversity Lessons
May 08, 2023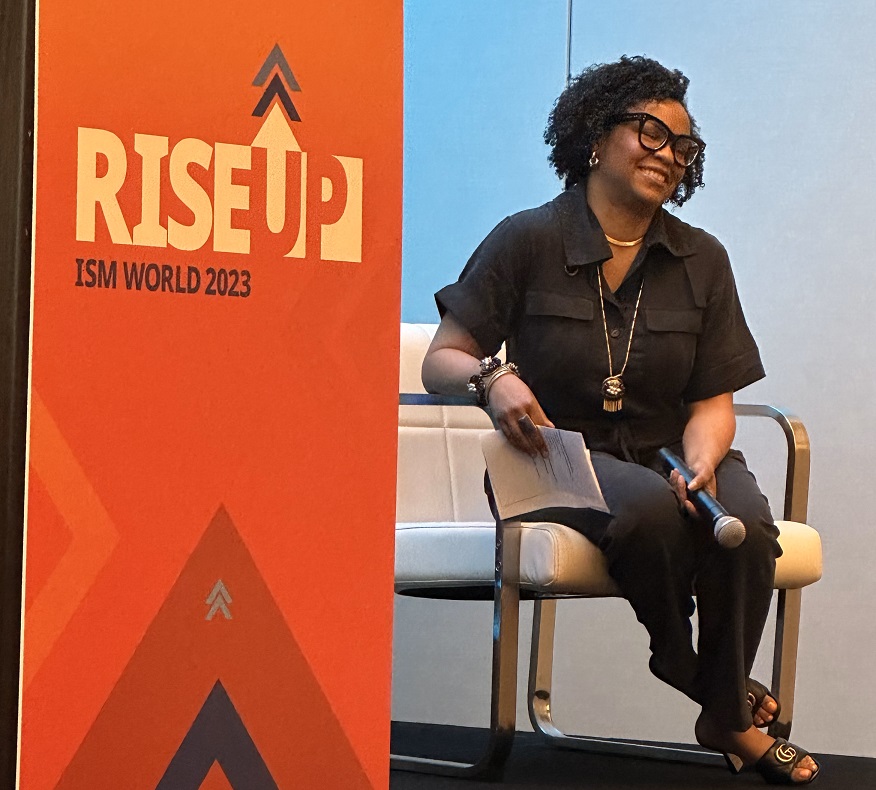 Corporations are realizing more than ever before how supplier diversity impacts the communities they serve as well as the communities in which they are located.
"If you want to have an impactful, successful supplier diversity program, you have to be intentional," said Shelley Stewart Jr., CPSM, former DuPont CPO and chair of the Billion Dollar Roundtable, on Monday during a session at ISM World 2023, Institute for Supply Management®'s (ISM®) Annual Conference at the Gaylord Texan Resort & Convention Center in Grapevine, Texas.
Speaking during "Best Practices from the Billion Dollar Roundtable," Stewart and co-present Vonshe Jenkins (pictured above), senior vice president and head of global supplier diversity and responsible sourcing at Bank of America, noted how supplier diversity creates jobs and opportunities for people of color, women, LGBTQ, veterans and other underrepresented groups.
Currently, 32 companies are members of Billion Dollar Roundtable (BDR) — meaning each spends at least US$1 billion a year on supplier diversity. The group's mission is to influence and shape supplier diversity excellence "and I think we're doing a good job of it," Stewart said.
In 2022, the global consolidated Tier-1 supplier diversity spend of BDR members increased 38 percent year over year to $113 billion, according to BDR data, while the economic impact of that spend — direct, indirect and induced — totaled $194 billion, Stewart said.
Bank of America, which recorded $2.6 billion in diversity spend on 2022, has been a BDR member since 2014, Jenkins said.
Among the reasons the financial institution participates, she said, are for thought leadership and accountability, as every BDR company must ensure its diverse suppliers are certified as diverse.
"The benchmarking we've gotten (participating in BDR) has propelled us forward," Jenkins said. Additionally, Bank of America's supplier diversity program has become more forward-thinking, she said, and the program is becoming more global rather than concentrated in the U.S.
Key Takeaways
Stewart and Jenkins discussed how environmental, social and governance (ESG) standards should be a top priority for BDR companies, as well as it how it's become more important for all companies.
When starting a supplier diversity program, companies should begin with their own data to (1) determine which of their existing suppliers are diverse, (2) categorize them and (3) know their spend. Subsequently, they should develop goals around supplier diversity.
Visit billiondollarroundtable.org/supplier-diversity to order a BDR's book on supplier diversity best practices.
Quote
"Not everybody works for a company that spends $1 billion on supplier diversity, but everybody works for a company that can benefit from best practices from companies that do." — Stewart