ISM World 2023: A New Mindset Helps Build Supply Chain Muscle
May 09, 2023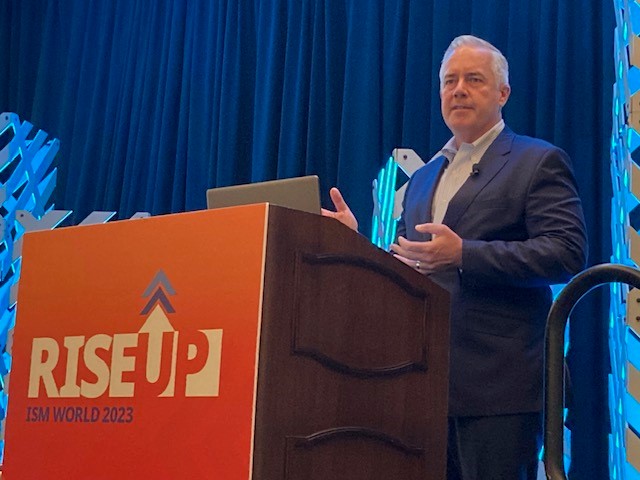 Schneider Electric is an international company with 130,000 employees, US$37.3 billion in revenue and $17.5 billion in procurement spend last year — a massive supply chain in which visibility and resiliency are significant undertakings, especially in the last three years.
In "Fueling Growth Through Resiliency, Agility and Sustainability in the Supply Chain," a session on Tuesday at the ISM World 2023 Annual Conference at the Gaylord Texan Resort & Convention Center in Grapevine, Texas, Schneider Electric CPO Dan Bartel told attendees that the coronavirus pandemic, shortages of such products as semiconductors and inflation have given procurement organizations a new mindset, or at least should have.
"We think about the world in a worst-case scenario kind of way," he said. "We don't know what's going to happen next that's going to disrupt supply chains, but we're 100 percent convinced that it's going to be really bad and happen soon. Because we know if we can deliver and our customers can't, we have a huge advantage."
For Schneider Electric, that mentality is built around a raw material resilience program designed to secure supply, de-risk the portfolio and develop what Bartel called "dynamic Tier-X visibility." Those are key tenets of the company's end-to-end supply chain control tower.
And the focus is largely on revenue, not spend: "I think we do more revenue analysis in procurement than spend analysis," Bartel said. "When you talk about resilience- and visibility-driven initiatives, that's how you have to be thinking," he said. "The spend doesn't matter anymore. If I don't get the product, how much revenue will I lose?"
Supplier visibility and relationships have improved through digital interaction and harnessing and streamlining a mammoth software network. Bartel's statement that Schneider Electric has 70 ERP systems elicited audible gasps in the room.
But a supplier portal has accelerated digital interaction. In December 2019, the portal had 120 suppliers. By the first quarter of this year, it had grown to 22,130, a roster of vendors that accounted for 80 percent of Schneider Electric's spend. Growing the portal as COVID-19 engulfed the globe was not a big challenge, Bartel said.
"It was just out of necessity — there was no better way," he said. "It was a lot of brute force, but there was equal pull. It wasn't hard to convince suppliers it was needed. But you still have to sell them. If they don't see the benefits and that it will help them, it's a tough hill to climb. The starting point is that you have to convey it makes us easier to do business with."
Key Takeaways
Schneider Electric has built supply chain visibility by transitioning from JIT to a just-in-case model and building stronger partnerships with suppliers.
With the company's supply chains shorter and more regional, they are more agile.
Sustainability is a core component of Schneider Electric's operations. The company has aggressive 2025 targets, striving to achieve them through leading by example and by being a part of their suppliers' and customers' sustainability solutions.
Quote
"It's very practical and not rocket science, but it takes a lot of discipline and energy. It's about fixing the future: When you have shortages in front of you today that prevent you from delivering tomorrow, it's very hard to have the discipline to work on the future." — Bartel