ChatGPT: Supply Chain Threat or Ally?
May 22, 2023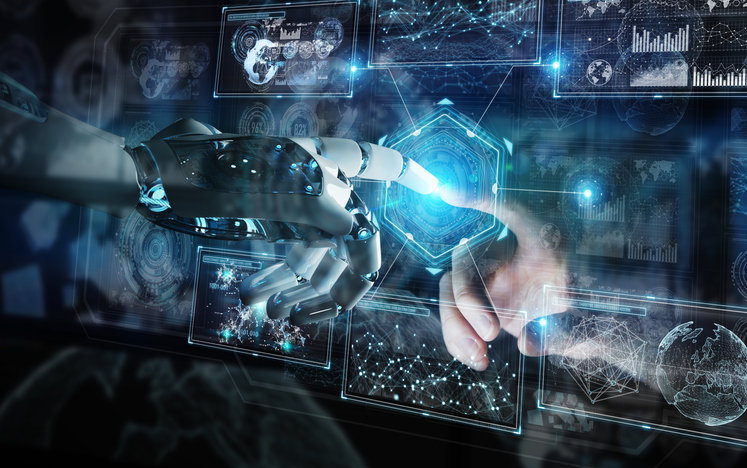 Human nature draws people to the new shiny object in the room. For supply management practitioners, artificial intelligence (AI) is the shiny new object, and the question of the moment is how incorporating the technology into the profession will propel it into the future.
However, innovation cannot guarantee its application will solely generate benefits. There is a dark side: Is ChatGPT a supply chain threat or ally?
According to a Check Point Research (CPR) report, U.S. companies experienced a 57-percent increase in cyberattacks in 2022 compared to the previous year, before integration of ChatGPT. By adding the AI platform, cyber criminals can improve social engineering tactics, making it difficult to discern between artificial and real human interaction, increasing accessibility risks to financial and digital assets.
In a Shred-It data protection survey, 63 percent of senior executives and 67 percent of small-business owners polled stated they had no cybersecurity incident response plan in place.
Before Adding ChatGPT
As businesses implement greater technologies, it's important to consider the risks, says Polly Mitchell-Guthrie of Kinaxis, a Canadian supply chain software solutions provider. She says one of the problems is in how many companies continue to plan in silos. "When you bring in more information and operational technologies, more data is extracted from these systems giving us more ability to make intelligent decisions, though conversely increasing the risk of cybersecurity attacks," she says. "And ChatGPT increases that risk."
ChatGPT and generative AI are expected to strengthen defensive capabilities by assisting with coding and alerting organizations to the most critical vulnerabilities or misconfigurations, according to a report by Cybersecurity Dive. However, the overarching unknowns presented by ChatGPT may cause some to refrain from further understanding its makeup and capabilities.
"Question the value of ChatGPT to your business," Mitchell-Guthrie says. "Right now, it's the new Ferrari at the car show. Think of Tesla. They've made headlines and are working to advance the technology of batteries, bringing prices down."
But with any new technology comes the larger question — is the infrastructure there and readily accessible and adoptable for everyone? "With ChatGPT, we imagine the possibilities of this new 'Ferrari' and what it can do for us, but prioritize business needs first and then see if ChatGPT can fulfill them," she says.
The Slow Adoption
Mitchell-Guthrie cites an imbalance existing within AI: expectations versus use. "Market expectations of where AI can go are high, but the percentage of supply chain leaders actually using AI is (only) about 12 to 17 percent." The reasons behind the slow adoption include a reality within the technology itself. But Mitchell-Guthrie states that it's best to eye the technology from a broader perspective.
The basic building blocks needed to apply AI must be improved, she says, citing an example of how machine learning (ML) was used for elevator work. "In building a mathematical model," she says, "(the developers) assumed that data was available showing how many floors were contained in each building. That data did not exist; therefore, the solution couldn't be applied as planned."
Mitchell-Guthrie says that AI, machine learning (ML) and ChatGPT can work only if the data needed to support the information 'ask' is available. Supply chains are in a perpetual fix-it mode, she adds, because of ongoing disruption. AI integration needs to support supply chain resiliency while managing operations through on-time delivery.
Digital Transformation's Purpose
Because disruption can impact each supply chain tier differently, AI must connect multiple systems with concurrent planning, providing transparency capable of identifying and solving problems, Mitchell-Guthrie says. "Real solutions come from running different scenarios and learning the impacts of each," she says. "The move toward digital transformation is about creating greater visibility and transparency."
She says sensors sending notifications about a lithium order stuck in the Suez Canal, for example, isn't enough. It's about (1) knowing why it happened, (2) having alternatives to solve the problem and (3) seeing the full scope of the impacts of such a delay across the supply chain.
Greater transparency and greater data bring added benefits as well as greater risk, she notes, adding that maintaining a digital transformation plan helps assess what's working and what disappoints. "One customer spent a year working on their data before they completed their digital transformation," she says. "Once they connected all their systems, they realized that an error in one spreadsheet in one silo could propagate quickly across the system."
Before the integration of system-wide digital connectivity, too many hands touched spreadsheets, which presented an extensive and ineffective use of labor and the inability to see errors, she says.
Where ChatGPT and Humans Meet
The most immediate potential use for ChatGPT within supply chains, according to Mitchell-Guthrie, is in automating manual, tedious processes, such as call center questions about orders and how to prioritize them. She is enthusiastic about ChatGPT but hears the concerns echoed by many about the technology's misuse and potential for replacing human skills and workers.
"ChatGPT is fascinating because it is so accessible and understandable to the mainstream," she says. "Utilize it for the right problem at the right time with the right math. Supply chains are facing these kinds of problems right now, and the solutions involve AI."
What doesn't make the headlines in the discussions on AI, Mitchell-Guthrie says, are the computationally complex problems that have high financial value to companies. These can take hours upon hours to evaluate manually, but only minutes to solve using AI, she says.
She states the best use of AI is mundane, automated tasks and shifting humans to more complex work that "requires genuine human intelligence. … It may not be as sexy as ChatGPT, but the potential cost and time savings is astronomical," she says.
Is It Too Late for Oversight?
Conversations about ChatGPT merits and what-ifs swirl among innovation industry leaders and corporate executives, each wanting only the best from a technology still in its infancy. Political undertones suggest (1) an urgency for gloves-off research and tested applications or (2) a heavy pause until scrutiny is replaced with regulation. When contemplating potential, its reality must be manageable.
"Commercial enterprise drives the interest in moving AI research forward, but it doesn't necessarily own responsibility for all its applications," says Mitchell-Guthrie. Commercial interest drives the application, she says, adding that oversight of ChatGPT and other AI could be a combined effort between public and private partnerships.
ChatGPT gives us an incredibly large language model, she says, but the challenge to supply chains is in drilling it down to an industrial level and putting it in the hands of those who will find the most benefit. "We can't put the genie back in the bottle. Instead, we need to think about its application and best use. Let's figure out regulating factors to help mitigate the risks," she says.
Improved AI models will help reduce the bias that ChatGPT has already shown, she says.