Why Health-Care Supply Chain Automation Requires Strategic Patience
March 14, 2023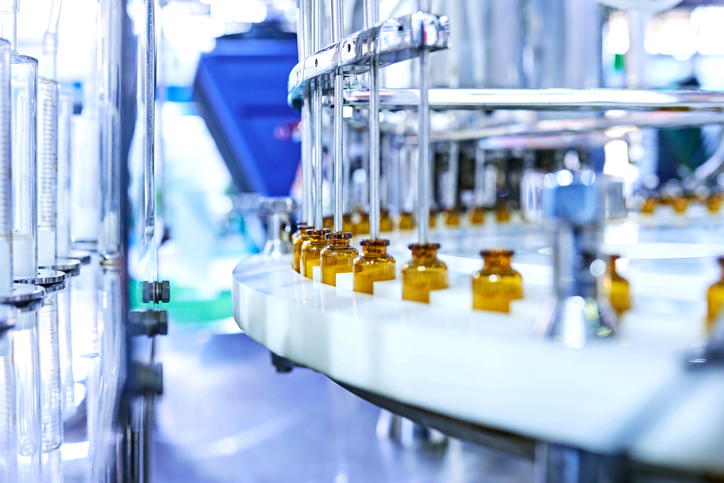 Health care and the industry's supply chains associated with innovative medicines, technologies and devices are examining current procurement practices, platforms and processes to enable better product quality, distribution and patient outcomes.
This manufacturing and logistics symphony continues to dance around geopolitical constraints and potential black swan events to come — because history has a way of repeating itself.
A 2021 report by Deloitte and the Scottsdale Institute showed that health-care organizations seeking supply chain resilience are partnering technology with other operational enhancements. During a recent Reuters-hosted webinar, health-care supply chain experts said that technology and automation play a key role in facilitating change, but there are numerous barriers to adoption.
Synergy Among Employees and Robots
Being able "to fulfill orders quickly and accurately is problematic today," said webinar panelist Steve Branch, vice-president sales engineering for Locus Robotics, "but the labor issue is something we can't ignore, because it's hard to retain and train people."
While adding automation to the factory floor can help with labor shortages, there are challenges with its integration, said Jerry Searls of Cardinal Health. "Initially," he said, "you have to examine the upfront costs and weigh them against the long-term benefits."
Searls, director of global logistics optimization for GMSC, Cardinal Health's medical segment, said that supply delivery is often a life-saving endeavor. "Warehousing for health care is essential to hospitals, surgical centers and doctor's offices," he said. "By integrating robots, productivity and labor are optimized and employees embrace the change, through less attrition."
Added Wanda Johnson, specialist leader supply chain and network operations for London-based international professional services network Deloitte, "Technology is more prevalent in the warehouse space." She added that upskilling employees by including them in automation integration helps them feel part of the process.
Health-Care Automation and Complexity
Manufacturing, distribution and use administration of medical products are governed by many agencies, each with specific requirements and compliance metrics that vary between countries, presenting complexities across global supply chains.
UPS Healthcare automation director Mike Packer said his organization primarily focuses on the needs of pharmaceutical, medical device and biologics companies and their global footprints, as well as quality assurance. Because of the regulatory environments and differing laws, he said, "we've seen an increase in queries about automation driven by RFPs. Validation needs are further supported by automation, and how scalability can take place faster without compromising accuracy."
Packer added that controlled substances bring unique warehouse space needs, making automation a strong solution.
"We are bound by our service level agreements (SLAs) and often, that means delivering product within 24 hours. Compliance, having the ability to scan products, lot codes and serial numbers quickly, verify and track items and ensure correctness is essential to meeting expectations," Branch said. Understanding the link between efficiency, innovation and growth is also about being able to do more in the space you're in, he said.
Leveraging Safety and Productivity
Technology enables employees to better serve clients and helps eliminate logistics waste, Searls said: "However, key metrics to look for when considering automation is safety. Before, employees have had to push 300 to 400 pounds of product. Now, robotics can take on that physical strain."
Also, "operator productivity and safety are enhanced when replacing manual processes with automation," Branch said, and added that hands-free labor provides multiple touchpoints of improvement.
Safety and productivity numbers speak for themselves, Johnson stated. "Now you can push through double, triple the inventory with accuracy and delivery," she said.
Packer said the value proposition of warehouse automation is evident in the global health-care supply chain. "Although each tier may have different needs, with robotics, we can better leverage solutions for them," he said.
Tips in Health-Care Automation Integration
Make sure you examine standardization needs within your chain while assessing healthcare automation platforms, Searls said. "From there, understand your supply chain end-to-end and take note of any variations from site to site (including processes) to support decision-making in choosing the right technology," he said.
Pivoting from machine-based considerations to focus on the impact automation integration could have on warehouse staff, Packer said: "Discover employees' biggest sticking points and work together to find solutions that meet those needs. Go step-by-step, reassess and continue."
Make your employees part of the strategy, when bringing automation to the company. "Talk to them about the current challenges on the warehouse floor, ask for their opinions and make them part of the evolving solution," Searls said.
Customers Can Be Averse to Change
Establishing common practices before technology is incorporated, Johnson said, can go a long way in supporting the supplier relationships you've worked so hard to build. She recommended coming up with a short list of business and system requirements to review how they match up to solution goals, stressing the importance of communicating these changes to customers.
"Lean on your provider(s) for recommendations and advice regarding new fulfillment processes and customer communication," Branch said. Change management should be a priority, he added: "Set expectations throughout the process and ensure new user interface includes multi-language capabilities."
Change, even when for the better, can create uneasiness, Packer said. "When communicating with vendors about the new technology provider, ensure trust in the process and the overall goal."
Don't be afraid to fail, Searls said. "Through research and business case development, you learn. To bring automation into your supply chain fold, prioritize your pain points and plan on what to eliminate first," he said.
(Image credit: Getty Images/Comezora)