Report On Business® Roundup: February Manufacturing PMI®
March 01, 2023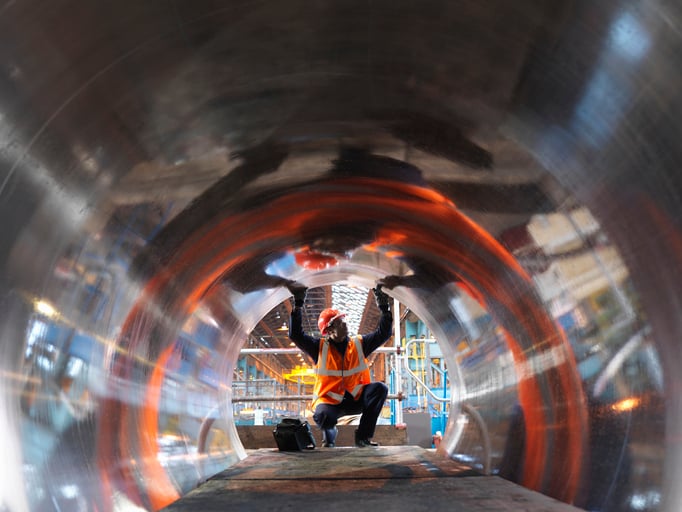 The ISM® Report On Business® data can mean different things to various elements of the U.S. economic and monetary ecosystem, which was reflected in a succinct summary of the February numbers by Timothy R. Fiore, CPSM, C.P.M.
"If you're a demand and growth advocate, this is a really good report. … If you're an advocate of seeing a quick end to inflation, this was not a great report," the Chair of the Institute for Supply Management® Manufacturing Business Survey Committee said on Bloomberg TV on Wednesday, then reiterated on a conference call of reporters.
The Manufacturing PMI® of 47.7 percent was slightly below analysts' expectations and indicated contraction of U.S. factory activity for the fourth month in a row. While the subindex data — particularly a Prices Index that returned to "increasing" territory — likely created discomfort among investors and watchers of U.S. Federal Reserve policy, there were potential positive trends for supply managers, Fiore said.
"I think we're on the road to recovery on the demand side," he said, adding that besides commodities inflation, the manufacturing sector "is in a good place." The February numbers and Business Survey Committee respondents' comments continued to bolster sentiment expressed in ISM's Semiannual Economic Forecast in December: Companies will have to muddle through the first six months of 2023 before projected growth in the fall and winter.
US ISM'S FIORE: SUPPLY CHAIN ISSUES STILL THERE BUT MUCH LESS THAN A YEAR GO A YEAR AGO #ISM #Fiore #manufacturing #economy

— Mace News (@MaceNewsMacro) March 1, 2023
"The entire (manufacturing) community felt that although there wouldn't be a serious decline, the path would be bumpy and lumpy," Fiore said. "The second half would be better, and in the month of February, there were indications of the start of that growth cycle."
For Fiore, the most encouraging data point is what could be called "percentage of industries in strong contraction," or with a composite PMI® of below 45 percent. In January, a quarter (26 percent) of manufacturing industries were below that threshold; in February, that figure was 10 percent, suggesting less sluggishness for the entire sector.
Noting that the 0.3-percentage point increase in the Manufacturing PMI® ended a string of five straight months of decreases, Fiore said, "That there are fewer industries in strong contraction is really keeping the PMI® afloat. Hopefully, it's a sign the cycle is reversing — and with an improving (composite number) for the first time since August, we'll see if it's a trend."
Another potential ray of sunshine: Although the New Orders Index remained in contraction at 47 percent, that's an increase of 4.5 percentage points and elevates it out of the low-40s range that has been a harbinger of previous economic recessions. While that could be a positive sign for demand, Fiore said, it more likely indicates that buyers and sellers, after months of haggling over prices and delivery times, were more eager to transact in February.
The United States ISM Index shows weak economy and persistent inflation.

ISM manufacturing index 47.7 in February, in contractionary territory.
New orders improve, 47.0, but in contraction.
Prices paid index at 51.3, from 44.5, shows inflationary pressures remain.

— Daniel Lacalle (@dlacalle_IA) March 1, 2023
And that is a reflection to the Prices Index (which does not directly factor into the PMI®) rising 6.8 percentage points to 51.3 percent, ending a four-month stay in "decreasing" territory. Fiore noted that China reopening after COVID-19 lockdowns — Beijing's National Bureau of Statistics announced on Wednesday that its purchasing managers' index hit an 11-year high in February — has helped stimulate such commodity markets as steel, copper and aluminum.
What's more, further price increases are expected. "If you're seeing that as a buyer, you can't wait anymore," he said. "You've got to jump in and place new orders."
In other matters:
The Employment Index (49.1 percent) fell into contraction after two months in expansion territory. Fiore said companies are still trying to maintain head-count levels, though the hiring-to-reduction ratio among survey respondents' comments was 2-to-1, down from 4-to-1 in January.
Wrote a Business Survey Committee respondent in Chemical Products: "A slowdown in new housing construction and concerns of a slowing economy have customers delaying purchases in an effort to destock." That sentiment was validated by the U.S. Commerce Department's report on Wednesday that construction spending unexpectedly fell in January.
Interestingly, the sample comments provide a more mixed view of manufacturing activity. While some respondents cite some slowdowns, others note steady (but cautious) business growth despite lingering challenges.

— Chad Moutray (@chadmoutray) March 1, 2023
The Report On Business® roundup:
Barron's: Manufacturing Activity Contracts for Fourth Straight Month. "The reading isn't all that surprising, and the improvement from January levels should be welcomed by investors. Industrial stocks are relatively stable in Wednesday trading. Investors have been satisfied with earnings reported by manufacturing companies so far this year. And they are hoping, like Fiore, that growth returns in the back half of 2023."
Bloomberg: U.S. Factory Gauge Rises Slightly While Still Showing Contraction. "The median estimate in a Bloomberg survey of economists was for 48. Readings less than 50 indicate contraction. The latest data, released Wednesday, highlight a manufacturing sector that's struggling for a foothold. While household demand rebounded at the start of the year, rising interest rates, higher input costs and looming concerns of an economic downturn remain persistent headwinds."
CNBC: ISM Manufacturing Number at 47.7. "The headline number has been below 50 three months in a row," analyst Rick Santelli said. "Will it be four? Yes, it is: 47.7 (percent). ... With 51.3 percent on (the Prices Index), that reverses four under-50s in a row, which is very good news. It's the (highest) reading since September of last year. Employment (Index) at 49.1 percent, the first month under 50 since November, when we were at 48.9 percent. Finally, the New Orders (Index), where we have five in a row under 50; this now makes it six."
MarketWatch: U.S. Factories Contract for Fourth Straight Month, ISM Shows, But There Might Be a Silver Lining. "Manufacturers have taken the most slings over the past six months as the economy has softened. Orders are down, production has slowed and businesses are hesitant to make costly commitments. Yet manufacturers are no longer the driving force of the economy. The much-larger service side — retail, restaurants, health care, travel — is still expanding and hiring and keeping the economy afloat."
ISM Manufacturing posting in contraction territory.

I admit, this is a very odd economic environment. Many indicators continue to point to weakness (not the least of which is earnings), yet the economy continues to chug along. pic.twitter.com/rv307cvTMl

— Franklin J. Parker, CFA (@FranklinParker1) March 1, 2023
Reuters: U.S. Manufacturing Sector Contracts in February. "With the Federal Reserve expected to keep hiking interest rates, a quick turnaround in manufacturing is, however, unlikely. Manufacturing is also being undermined by the dollar's past appreciation against the currencies of the United States' main trade partners and softening global demand."
ISM's Services PMI® will be unveiled on Friday, and the Hospital PMI® on Tuesday. For the most up-to-date content on the reports under the ISM® Report On Business® umbrella, use #ISMPMI on Twitter.
(Photo credit: Getty Images/Monty Rakusen)