The Carton Board Market Shows Promise, as Demand for Frozen Food Grows
February 21, 2023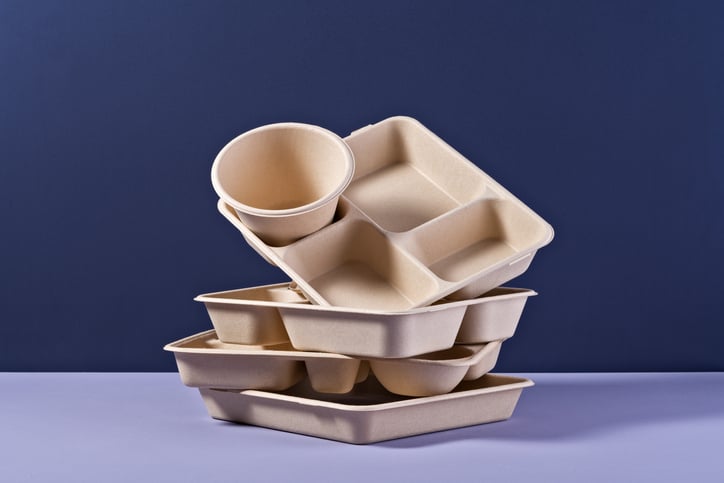 It's used as packaging for frozen food and toys, among other uses. But what else do you know about carton board, its production and market?
These factoids can give you an idea of carton board's scope and market outlook.
The current market. Carton board is a $US86 million market, accounting for about 17 percent of the global paper and board market — the second leading grade behind containerboard. According to business intelligence platform FisherSolve, the Asia-Pacific region accounted for more than half (58 percent) of the world's carton board capacity last year. Europe was a distant second at 20 percent, while North America stood at 16 percent.
Growth drivers. The consistent growth within this sector is due to a combined result of such factors as the economy, urbanization, population, sustainability concerns, and government policies and regulations. Increased consumer preference for recycled materials has especially been a major factor diving demand in carton board packaging.
In the fourth quarter earnings announcement by Graphic Packaging, the Atlanta-based paperboard mills company documented that 89 percent of consumers do not consider plastic packaging to be eco-friendly. This played a big influence in its decision to build a $1 billion coated recycled paperboard packaging machine in Waco, Texas. Michael Doss, president and CEO of Graphic Packaging, said, "Building a new recycled paperboard mill in Waco will enhance our ability to meet growing demand for packaging made with recycled materials."
Consumers are speaking and large consumer products brands are driving their suppliers to help them meet the heightened awareness of sustainability in packaging.
Top Carton Board Producing Countries in 2022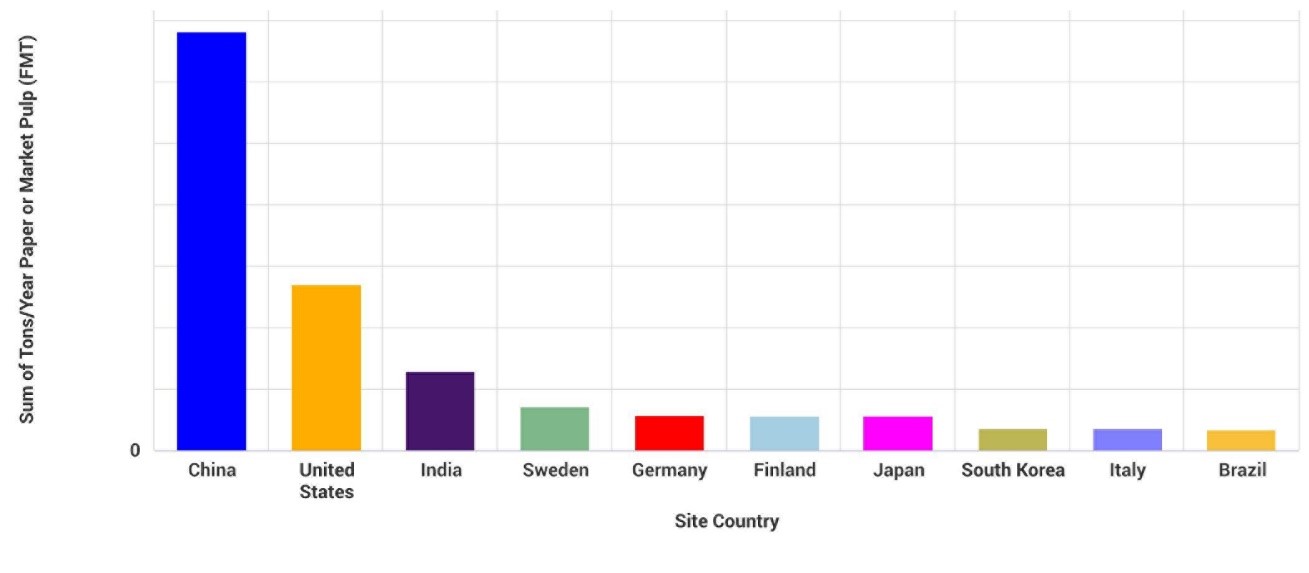 Source: FisherSolve
Types of carton board. The grade of carton board used depends on the finished product. The types are folding box board (FBB), coated recycled paperboard (CRB), solid unbleached kraft (SUK), solid bleached sulphate (SBS), and uncoated recycled paperboard (URB). In 2022, CRB, URB and FBB each made up about 30 percent of production, according to FisherSolve
Frozen foods have risen in popularity, and their growth has outpaced total food and beverages in the three years preceding the coronavirus pandemic. In second quarter 2022, the frozen food category experienced another surge amid increasing inflation — outgrowing the fresh food category by 230 percent.
Companies that produce the paperboard used in frozen foods packaging have had great opportunities due to the increase in demand. SBS and SUK, both virgin fiber-based grades, are the preferred paperboard grades for frozen food packaging due to their wetting resistance and superior stiffness.
However, CRB has also been gaining wider acceptance among consumers due to the growing preference for recycled packaging. Production capacity for SBS, coated SUK and CRB has increased as more consumers continue to purchase frozen meals.
Other growth. FBB is the fastest growing global carton board grade. We are expecting a roughly 24-percent increase year over year in 2023 and continued growth through 2026, with CRB< SBSM SUK and URB remaining steady. This is a big shift, considering FBB was only the third leading carton board grade in 2022.
A closer look at North America. North America is unique regarding the production of FBB versus SBS. The below graphic depicts that North America is the leading SBS producing region by a landslide. More SBS is produced in North America than the other regions combined, meaning more than half the world's supply of SBS is from North America. Also, compared to the regions below, North America produces the least amount of FBB.
FBB and SBS Production by Region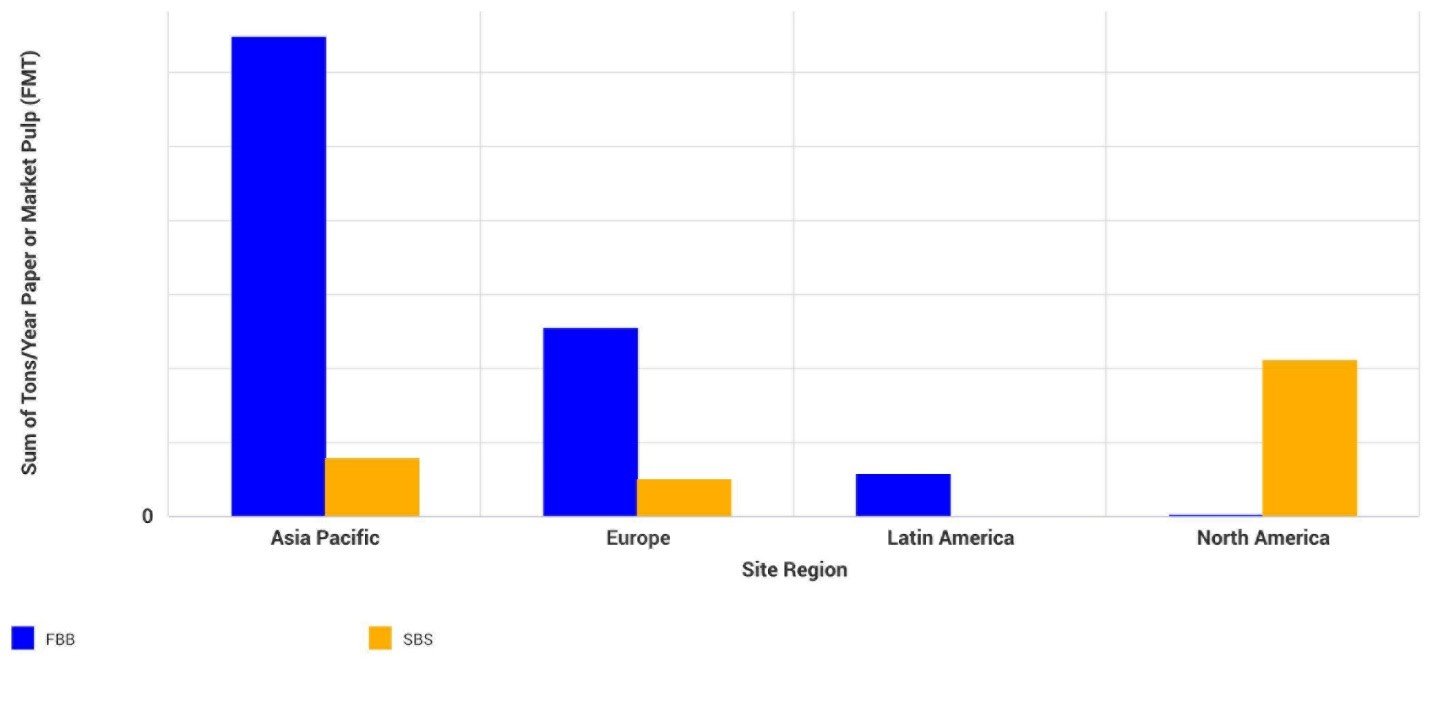 Source: FisherSolve
How do FBB and SBS differ? FBB is layered with mechanical pulp that is sandwiched between outer layers of chemical pulp with an optional coating. Being virgin fiber paperboard with consistent purity for product safety, the combination of inner layers of mechanical pulp and outer layers of chemical pulp creates a low-density, bulky board with excellent folding and printing characteristics. Major end uses of FBB include:
Frozen and chilled packaged foods
Liquid packaging board
Take-out boxes
Health and beauty products
Electronic packaging
Confectionary.
SBS is purely constructed of bleached chemical pulp with a coated top side that creates excellent printing characteristics with moderate strength. These boxes are popular with most industries and used to package pharmaceutical products, food, cosmetics, tobacco and frozen food.
The Future of FBB and SBS Markets
China is the dominant market for coated carton board and is expected to remain the leader for the near future. This makes sense, considering majority of coated carton board capacity is targeted to the Asia-Pacific region. In fact, Asia's carton board capacity will continue to boom as 8 million metric tons of new capacity has been announced through 2025.
FBB's growth is due to such factors as growth in the frozen food market and plastic substitution. However, it's also important to note that $1.5 billion of investment is flowing into North American carton board production, with some of that going towards FBB production.
North American bleached paperboard capacity has been flat to declining for the last decade. In December 2021, Swedish pulp and paper manufacturer BillerudKorsnäs AB (now referred to as Billerud) announced its acquisition of North American coated papers producer Verso Corporation. Since demand is decreasing for SBS, as many of the assets used to produce the grade are older and have higher costs, Billerud is currently planning to convert its Escanaba, Michigan mill into a scale-size FBB mill, with the first machine expected to be converted by 2025 and another by 2029.
However, on November 10, Sappi North America announced the approval of a $418 million capital project to convert its PM2 (a coated freesheet machine) at its Somerset mill in Skowhegan, Maine to increase capacity and SBS production. The planned project at the Somerset mill is slated to come online early in 2025. With the increased awareness about excessive plastic pollution, Sappi's goal is to pursue the growing area that is plastic replacements, and SBS is a more environmentally sustainable alternative to plastic packaging.
Still, after looking into the carton board market and some of the announced investments, a number of questions arise, including:
Will there be long-term demand to support 2.5 million metric tons per year in North America and 6.4 million metric tons per year in new capacity without significant machine shutdowns?
Will some of the folding carton business, particularly SBS and FBB, switch to recycled or brown fiber to promote environmental sustainability?
With the entry of FBB production in the North American market, will it turn out that imports have paved the way for rapid growth in this efficient substrate? If so, in which products?
(Photo credit: Getty Images/MirageC)